A New Bet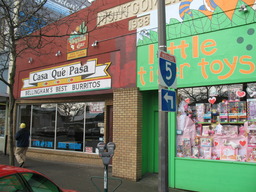 Downtown Bellingham

Bellingham, USA
February 2, 2010

"Everybody I know is planning to hide inside and not step out until it's all over," Tiffany related while we drank coffee this morning.

Her statement brought on a vivid sense of déja vù. But, unlike true déja vù, I was able to pinpoint exactly when this sequence of events had previously transpired:

"Tiffany, I remember you saying those exact words two years ago. Remember when I was visiting you in Beijing over the Mayday holiday? You said those precise words.

"You know what it must be?", I asked in all sarcasm. "It's some sort of plot: the Olympics are following you! First Beijing, now Vancouver. Where are they going to be held next? That's the city where you'll have just moved in 2012, I'm sure of it!"

This conversation shouldn't have been happening. I was supposed to leave town yesterday. I'd already said farewell to Tiffany and René the previous afternooon. However, the clinic where I had my immigration examination performed wasn't able to provide a required chest X-ray (to prove that I will not spread tuberculosis upon arrival in Canada). I had to go get the X-ray done at a separate government clinic this morning. (In a way, it's fortunate that Ben wasn't able come along this trip. He wanted to make it a day trip; instead I've stayed two nights.)

In another conversation yesterday, Tiffany and I made a new bet. I don't know how we've fallen into this weird pattern of placing long-term bets based on where we'll stand in our personal lives--I certainly don't have this arrangement with any other friend. Still, we decided to renew our lighthearted wager--but under fresh terms. Chatting over dim-sum--with René sandwiched between us--I threw around hypotheticals: Would I have my Canadian green card before the end of 2010? Would Obama be re-elected in 2012?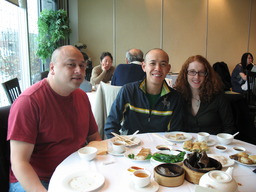 Dim-sum at Sun Sui Wah 新瑞華

Tiffany dismissed those: "Let's keep the stakes personal, the way our last bet was. But, let's make it about you this time. What are the odds you'll be in a long-term relationship soon?"

"Hmm. I dunno. We could go with that. Timeline?"

"Well, Chinese New Year is coming up. So, let's say that Chinese New Year two years from now will be the end date."

"What is that? The Year of the Snake? Or Year of the Dragon, is it? Okay, I'm game. How do we define 'long-term relationship'?"

"If you're married or living with somebody, that's pretty clear," Tiffany began.

"Okay. I'll further acknowledge that if I'm seeing somebody with whom I make plans, say, three-years out, that's got to be a long-term relationship, too. Deal?"

"Deal."

We shook.

The terms for our new bet are not dim sum. This time--in a similar vein--we'll go out for tapas at a restaurant selected by the winner. The loser treats.

It's a good bet for me. If Tiffany loses and has to buy, I get a free meal. But if I lose, well--that will mean that I'm in some serious relationship--and in a certain leap of logic might credit Tiffany with "bringing us together".

We're all winners!