Quandry II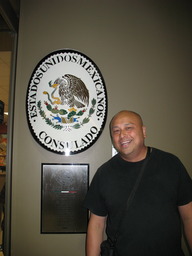 Estado Unidos Mexicanos
Consulado

Indianapolis, USA
July 22, 2010

I'm relieved to have maintained my tradition of "being out of the country on my birthday" for another year--if perhaps only in my own mind. Maybe I didn't use that ticket to the Bahamas. But, I did just step out from the lobby of the Mexican Consulate. I'll count that as "setting foot on foreign soil" for this year.

I had no business at the consulate other than to maintain my birthday ritual. All the same, it seemed a bit anti-climactic to step into then immediately out from the consulate without doing anything at-all while inside. So, I paused, skimming what pamphlets were on offer. A narrow stand along a lobby wall held various brochures, all in Spanish. I took two. One looked like directions of what to do if your employer should be violating occupational safety standards. The other interested me not for its content, but for the paper on which it was printed: rough, unbleached, and--though 4-color--not-at-all glossy. I assumed that it was published in Mexico. It didn't look like the kind of thing I'd ever see in the U.S.. Of all things, it was seeing this flimsy leaflet in another language that made me feel as if I actually had stepped into some other country, momentarily.

As I've already accomplished what I came here for, the rest of the day is open. I intend to pamper myself. At the moment, I'm back at the South Bend Chocolate Co. Cafe, the same place where Louise and I took dessert a couple weeks ago. I have a free hour to wait on Ruth E.. She played chauffeur for this birthday mission up to Indianapolis, picking me up from campus after this morning's class was only half-over. But, over this next hour she has a telephone call she needs to be on. So, while she's engaged, I'm nursing a large cup of coffee and nibbling at an even larger snickerdoodle. Those should whet my appetite for wherever it is we take my birthday dinner.

I don't know Indianapolis well, but am sure it won't be hard to find somewhere to splurge, to find somewhere yummy to go out to wish myself a happy birthday.