Family Tree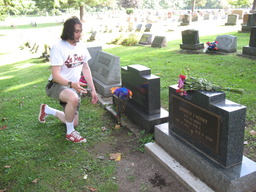 Bloomington, Ind., USA
August 25, 2010

Ben and I drove to four cities across Indiana; visited two cemeteries; laid flowers on four graves; met half-a-dozen distant relatives for the first time; and, in accordance with her wishes, scattered Great Aunt Mary's ashes in the place she requested: all in just one day.

We had to leave Chicago early Monday morning to squeeze everything in. First stop, La Porte. I think Ben and I were the first relatives to see Grampa's headstone since it was added to his plot. His stone was cut identically to the one fronting Grandma's grave, though her death preceded his by nearly four decades. The template that was a standard option when she died was no longer available when Grampa died. To have matching headstones meant a custom job cutting the stone.

Ben and I washed the cruft and soil from grandma's headstone, laid flowers atop both grandparents' graves, took our breakfast (bagels and cream cheese) near their plot, then drove east to stop number two: Ligonier.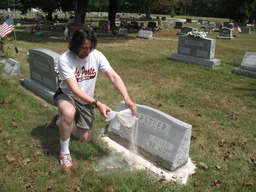 In Ligonier we located our great-grandparents' graves. This alone was an accomplishment, as tracking the plot down had confounded family members on one occasion years prior. Great Aunt Mary's wishes before dying were that her ashes be scattered on these very graves: her parents' graves. Family members had made the trip to that cemetery once before to attempt to carry that request--but couldn't find the plot.
But this time, weeks before Ben and I left Chicago, Aunt Kathy and had I collaborated to research the exact location. I found resources on-line: the name and address of the sexton of the cemetery as well as a website, "findagrave.com" that connects volunteers living nearby to photograph specific headstones.
Aunt Kathy wrote a letter to the sexton. He sent back a map with the location of the graves marked. To be sure, we also posted an appeal to findagrave.com. Within a day somebody living in the area had posted a photo of the plot.
It was almost too easy. Great Aunt Mary is now at peace.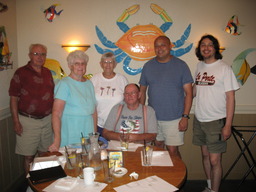 Distant Relatives: Phil, Esther,
Jan, George, David, and Ben

Stop number three: Goshen. That's where we pondered the answer to the question:

"What is the relation to you of your great-gradfather's niece?"

Whatever the true answer (we thought it might be "second-cousin-once-removed") that's who Esther is to us. Meeting her and her family was truly pleasant. Even in her eighties, she was spry and sharp. It was only a few days before arriving that I tracked down her e-mail address and sent her a note, realizing that these two cemetery visits would mean we'd be passing through her area. She communicated immediately and fully via e-mail and her cellphone, inviting us to stop by.

Esther had alerted other family living near Goshen that we'd be coming over so it wound up being a fair-sized gathering. We first met at her home. Most of the conversation revolved around her sharing what she knew of our branch of the family tree. Her knowledge turned out to be extensive--Esther has more than a casual interest in genealogy. I was fascinated to hear descriptions of her recollections of people including my great-grandfather and Great Aunt Mary. Of those two relatives, I had met only the latter and only when I was a child. I wasn't sure if was polite to mention that we'd just strewn her ashes in a cemetery 30 minutes down the road.

I could have stayed on listening far longer, but Esther noticed that we were already late for reservations at a Goshen institution: Dandino's Supper Club. We continued to get to know one another over a dinner of steak and lobster. Thank you Esther, for your stories, for your time, and for dinner.

Four hours further down the road Ben and I made our last stop in Indiana, returning to the town where I spent this past summer: Bloomington.
---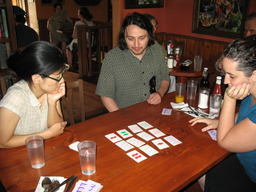 Jia-Yi, Ben, and Ruth E. Play
SET at the Runcible Spoon
Since that long day of driving and calling on family--deceased and living--Ben and I have stayed two nights as guests of Ruth E.'s family. Her family has again shown such hospitality. Not only did they host us, but they cooked up another full dinner of Persian food. There were more games: both Indiana family favorites (i.e., euchre) and Seattle family favorites (i.e., Anagrams.)
I allotted a full day around town to show Ben the places I became familiar with while studying here for SWSEEL 2010. Ruth E., Ben, and I strolled around campus. I showed them the building where I studied every day. For some reason (hordes of incoming freshmen?) we didn't see any of the rabbits that were teeming across the campus throughout the summer.
Yesterday morning was a mini-reunion of the students of the intensive Uyghur language program. Chris and Jia-Yi met us for brunch and games at the Runcible Spoon Cafe.
Two nights was just enough time in Bloomington. We'll have the same amount at our next stop down the road: Nashville. I've never been there before so hope that's enough to get a sense of the city.