Grumpy Kitty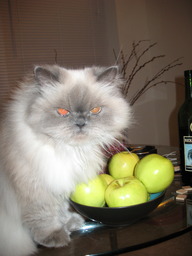 Naomi's Cat: "Dagny"

Washington, D.C., USA
September 11, 2010

I've been laying low in Washington, D.C. for over a week--housesitting for Naomi's grumpy kitty.

Love cats as I may, this one is particularly hard to get along with. Most of the cats I've met who are skittish around unfamiliar faces tend to run off and hide when encountering anybody new. But, Dagny stands her ground. She first approaches and sniffs in the manner of friendlier cats. Then, she yowls. She hisses. She claws. She bites.

Over this time I've been cat-sitting, Dagny and I have gradually started coming to a better understanding of one another. She's less-often alarmed when I pass near. She's even begun approaching me, mournfully mewing and brushing her face up against my leg as-if she wants to be petted. But, if I actually do extend my hand to stroke her, she hisses and yowls again.

Last night, Dagny spent half-an-hour licking a bowlful of apples. What a weird cat.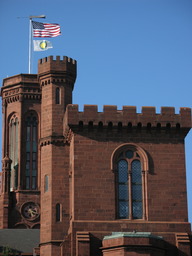 Smithsonian Castle
Naomi herself is away for a couple weeks. She's off on a family vacation visiting Peru. That leaves me with the run of her place: car and cat included. Naomi and I did manage to overlap our time here by an evening. But, it won't be until after she returns from her vacation that we might have a proper chance to catch up. I've allotted some days in-town to spend together once she's back. But, even with that time set aside we'll see how often our schedules synch. Naomi is extraordinarily busy. After returning from vacation, she'll start a new job. Whatever time we do have together will likely be thin...
---
Over Naomi's absence, I've spent much of my time driving around Washington, D.C.. I've been playing the tourist and casually calling on people who I know around the area.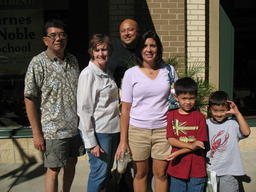 Uncle David, Aunt Nancy, David,
Cousin Melodie, Isaac, and Eli

Calling on people has been good. I started with relatives in the area. I have seen Uncle David frequently over recent travels around Asia. But I hadn't seen his wife, Aunt Nancy, for at least 10 years. They invited me to a service at their church (where Uncle David is a pastor) and to stay for a few nights at their family home. Staying with them meant juggling commitments: I not only already had a place to stay (Naomi's) but also had a cat (Dagny) to care for. I figured leaving Dagny's food and water dishes topped off for a short time wouldn't hurt so was able to manage a couple nights (and one church service) together with Uncle David and Aunt Nancy.

I'm really glad I did spend time with them. That facilitated meeting up with my cousin, Melodie (their daughter). We hadn't seen each other since her wedding--and that was over ten years ago. In the time since we last saw each other she's become mother to two. She remains active with her church and still manages to work part-time. It's been good to re-connect with all the D.C. relatives after all these years.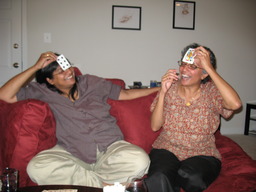 Indian Poker: Mala & Vega

In addition to seeing family, I know just enough people in the area to put on a night or two of game-playing. Having both a venue to host and a quorum of overly-educated friends around town has made for some fun nights playing card and word games. I asked Naomi before she left if it would be okay to have guests over. She said, "Make the place your own," which I interpreted as inviting over people who similarly love to play SET and Anagrams.

The same faces have shown up for drinks and games on consecutive weekends: Mala and Vega moved to Washington, D.C. from Seattle a year ago. Allison and her husband, Jason, (both of whom I first met while studying Uyghur this past summer in Bloomington) are Ph.D. students in the Washington, D.C. area. Olga, with whom I became re-acquainted in Uyghur class this past summer, lives in the area, as well.

Though it's meant a long drive to Naomi's apartment in Arlington from places as far afield as Laurel, Maryland, people always seem down for games.
---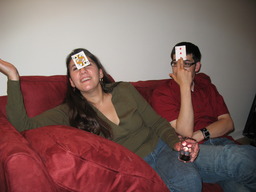 Indian Poker: Allison & Jason

This isn't my first time visiting Washington, D.C.. But, it had been so many years (seven) since my last visit I wasn't sure if places I recalled liking would measure up to my recollection. So, when going about town I started with my favorites: the Sackler and Freer Gallerys of the Smithsonian. Despite their small size and despite that I've seen so many East Asian and Middle Eastern works of art while traveling over recent years, I still found a visit to their collections (fine examples of Chinese and Persian calligraphy in the Freer!) rewarding; a walk across the tidy courtyard between halls of the Freer Gallery soothing.

But, it wasn't until Megan came to town that I really got out and took in the sights. She's jetting around this month on that un-limited pass she bought on jetBlue. She took the first legs of this month away from Chicago by breezing through Washington, D.C. for three days: her first visit. The two of us spent a couple intense days running around town visiting memorials and buildings. I can't believe how impressed I am with the caliber of so many of the attractions, let alone that admission to most everywhere is free.

Playing the tourist with Megan, my favorite stops had to be the National Archives and the Bureau of Engraving and Printing. Something about the scent of printers' ink and seeing reams of freshly printed piles of paper being jogged into stacks of uniform ridge brought back fond memories of when I ran presses myself back in high school. That the piles being aligned in the jogger were genuine currency--uncut U.S. 100-dollar bills--enhanced the allure.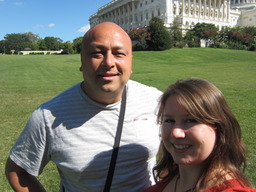 David and Megan Outside Capitol

We didn't stop terribly long in the National Archives; perhaps I'll take a more leisurely visit another day. Aside from everything else in the permanent collection, what I liked so well in the National Archives was one specific object. On-display was one of the oldest surviving copies of the Magna Carta. I couldn't believe that I was standing in front of an 800-year old manuscript written in Latin. It was housed there for anybody to stroll in and see. No admission charge. Before we left the building I took a detour to have one final look at the document. There were no other people standing anywhere nearby. Maybe other visitors to Washington, D.C. have other objects of interest, but I couldn't understand how such a treasure could not be constantly mobbed by crowds wanting to take a look.

Over the next five days I'll be away from Washington, D.C.. I bought a ticket on the Megabus line up to New York City. I'll spend my time there similarly: seeing uncles, aunts, cousins, and friends. (Cat-sitting has been subcontracted to pet-sitting service, "Fur-Get me Not".) But, I'll be back soon enough. I already have my return ticket back into D.C. (also on Megabus) leaving Thursday. That should be enough time for me to tidy up. Naomi returns next Saturday. I'll pick her up at the airport. We'll spend some days together. And then... I leave the U.S..

It's time for another long trip. I plan to make another overland journey from Asia to Europe, similar to the one I made three years ago.

I just bought my ticket back to Asia (well, cashed in 32,500 frequent-flier miles and paid $5 in security fees.) Next week, I'll start my long journey: beginning in Vietnam.