Grumpy Kitty II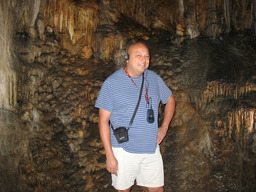 David inside Luray Caverns

Washington, D.C., USA
September 22, 2010

"Wait." Naomi held up her hand. I paused in my tracks. "Listen."

I heard nothing. I strained my ears for a second before realizing that was precisely her point: impossible silence. There was no ambient noise. No chirps or tweets from the natural world. None of the mechanical sounds of the city. I realized that I had never stood anywhere so utterly quiet.

That morning, we had driven out from suburban Washington, D.C. and into rural Virginia. Our plan had been to make a leisurely Sunday drive along the Skyline, a scenic road running through the Shenandoah National Park. But, long before we reached any intersection with the Skyline, we fell into this diversion. Naomi had noticed signs along the road announcing an attraction I'd never heard of:

"DISCOVER THE LURAY CAVERNS!"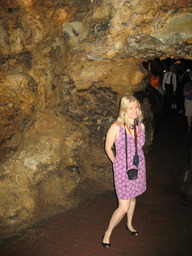 Naomi inside
Luray Caverns

"Oh, I've always wanted to see those. Shall we stop?", Naomi said in a tone that somehow fell between the interrgoative and the imperative.

"Sure," I replied.

I had no idea what to expect. I pictured us pulling over by the side of some river, wandering into the mouth of some muddy cave, then quickly heading back out again after finding we couldn't go very far inside without flashlights. Instead, the caverns turned out to be a major tourist attraction. Built-up around the main entrance were: an enormous parking lot, a classic car museum, a stand selling fudge, and a maze of manicured hedges in which to wander and get lost. I became even more skeptical after Naomi paid for our entrance tickets. We were given small electronic devices with headphones to dangle around our necks: players for a self-guided audio tour. The whole aura oozed tourist-trap.

We stepped down a staircase behind the ticket counter to enter the caverns.

Once below, it felt as-if we had landed on some other planet. The air tasted crisp, cool, and clean. The bulbous stone formations were somehow simultaneously eerie and beautiful. We wound up spending the better part of our day-trip from D.C. inside the caverns and the lesser part making our planned drive through the Shenandoah National Park. At day's end, we were both happy we'd spent more time inside the caverns.

Our impromptu visit to the Luray Caverns was the one full day Naomi had free before starting her new job. She's left work in the non-profit sector (the American Red Cross) for work in the lots-of-profit sector (Microsoft). Fortunate for our time together catching up, Naomi's initial work-hours have been loose. Even after our Sunday drive we've managed to get out and have more adventures together around D.C.. My favorite place we went together in the city: Georgia Brown's, a restaurant with a creative take on traditional southern cuisine. Thanks for dinner, Naomi!

Saying goodbye to Naomi's grumpy cat, Dagny, wasn't the easy brush-off I expected. Since I've returned from New York, she hasn't been the wholly bothered ball of fur she was before I left. She's begun allowing me to stroke her and give her belly rubs without snapping and clawing at me. But, I've found there's only one specific way she'll allow this. As long as I use my bare feet rather than my hands, Dagny remains a content kitty.
---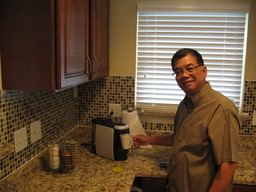 Uncle David Prepares Coffee

I did manage to see familiar faces other than Naomi and Dagny the Grumpy Kitty on this return through D.C.. Uncle David and I took coffee at his home one afternoon. We were both free in the hours after I picked up my passport from the Vietnam Embassy. He was kind enough to present me with a Barnes & Noble gift card--which I've already traded in for a Vietnam guidebook. Finally, he dropped me off at the metro station nearest his house, bidding me farewell by saying that he would "pray for me".

I even managed to squeeze in beverages one evening with Mala and Vega--though of the alcoholic rather than the caffeinated variety. Along with drinks, I was given something from Mala that will be great to have while out on the road: an iPhone.

It's actually Mala's old, broken iPhone. And "broken" doesn't adequately convey the state it's in. "Shattered" would be more accurate. The screen is in shards. It's possible to use only at the risk of rolling my finger over minuscule slivers of glass.

Despite the sorry state it's in, repairing it strikes me as a fun project. Before flying back to Asia I'm going to leave behind both my iPod Touch and my clunky old mobile phone in the hope that I can find a replacement screen somewhere in either Vietnam or China and repair the old iPhone myself. I've already manage to jailbreak it, so know that--theoretically--I should be able to fix it.
---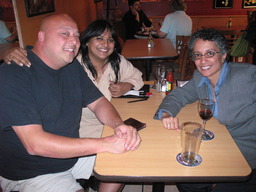 So Long, and Thanks
for the iPhone!

Now, I'm waiting on a flight at the airport nearest to Naomi's apartment: DCA (a.k.a., Reagan National Airport.) This is my first leg back to Asia. My initial flight is to ORD, O'Hare, then on to HKG, Hong Kong. The final leg is to Ho Chi Minh City--the former Saigon. I'm hoping to miss the longest leg, the one from Chicago to Hong Kong.

I deliberately booked the shortest possible connection I could through O'Hare, just under an hour, to get from one plane to the next. I have two reasons for doing this. First, catching a later flight meant that Naomi and I have been able to wake up later this morning, take breakfast at the Alexandria branch of I.H.O.P., and make a leisurely drive over to the airport.

Second, with such a narrow margin in Chicago, I'm guessing that if I miss my flight, United will put me on the same routing a day or two later. That would mean a free trip back to Chicago. Megan would be out-of-town, still off traveling around South America on her jetBlue pass. But, it would be nice to spend more time hanging out together with Aunt Kathy--and her grumpy kitty, Mollie.

What happens will be revealed in my next dateline: which will be either Chicago or Ho Chi Minh City. Though, I suppose I could be ambiguous and just label whichever city I next write my weblog in, "Chi-Town".