Whither Winter VII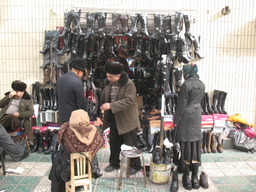 Boots for Sale, Kashgar

KASHGAR, China
November 23, 2010

Nisagul and I are traveling together around Southern Xinjiang. We just stepped off a train and into Kashgar, a 25-hour journey from Urumqi.

My initial plan had been that from Urumqi we ride the cross-desert sleeper bus not to Kashgar, but to Hotan. Any onward direction I'm likely to head out of China would make Hotan the more sensible next point after Urumqi. But, as the two of us were walking down to Urumqi's San Tun Bei bus station, we realized that neither of us felt like making the long trip by bus.

Traveling by sleeper bus may be more comfortable than making any long journey sitting in a regular bus seat. But, what neither of us felt like enduring was lying in a cramped berth for over 24 hours, wrapped in dingy sheets and blankets that--in all likeliness--would not have been washed after being used by previous passengers.

So, we opted for the cleanliness and comfort of the train. As there is no railway line leading to Hotan we had to change destination. We instead came to Kashgar.

Our itinerary around Southern Xinjiang is still open. We're hoping to take our time leisurely exploring some of the smaller, historic Uyghur cities. We'll probably still make it out to Hotan, but that will have to be as a spur from Kashgar.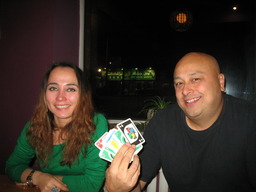 Nisagul and David Play UNO

My likely route out of China is via Pakistan. That would mean backtracking here to exit through the Khunjerab Pass. Nisagul did look into the formalities of traveling to Tibet. It seems that arranging permits to enter from Xinjiang would require not only signing up for a tour, but joining a group and chartering jeeps. That's not my style of travel.

Though the route through Tibet would be difficult for several reasons (the least of which are arranging permits and transport) I haven't abandoned the idea. Nisagul and I will likely be passing through Kaghalik, anyway... which is where the road to Tibet starts. I figure it's worth it to linger long enough there to make enquiries as to whether there's any transportation heading down to Ali. But, I'll more likely have to backtrack here to Kashgar and head down to Pakistan.

Whichever direction I take, I have to exit the country sometime before December 12.