Old Friends III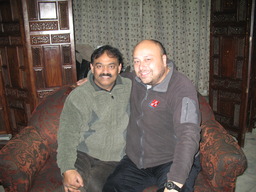 Razaaq and David
in Program Center

LAHORE, Pakistan
January 7, 2011

Today was so pleasant. I took the afternoon catching up with Razaaq over tea.

Razaaq was office manager of the Urdu language program I was studying under the year I lived here. Sadly, that program--the Berkeley Urdu Language Programme in Pakistan--is now finished. For the past decade, rather than directing students to Lahore to study Urdu, students have been sent across the border to India.

BULPIP hasn't closed up entirely. They've folded operations together with another long-standing organization carrying out local research: the American Institute of Pakistan Studies, centered up in Islamabad. Several of the staff who were working as BULPIP employees back when I was a student are still here: In addition to seeing Razaaq, the cook from my days--Mushtaq--is still working in the kitchen. Also, my old calligraphy instructor, Junaid Sahib, evidently comes by on occasion for specific assignments, too--though he wasn't at the program center this afternoon.

Razaaq is as I remembered him: often smiling, energetic, laughing. He's the kind of guy I think anybody would immediately feel comfortable being around. It was fun sitting together over tea: re-living past moments, talking about former classmates and colleagues, and hearing what he's been up to over the years. There have been changes, but things seem well, overall. The program location has shifted from the central neighborhood of Shadman Colony way out to the Lahore suburb of DHA Phase II. Razaaq himself is now father to three, his oldest now a teenager. I find that mind-boggling, as he was nowhere approaching marriage back when we spent our days together.

Razaaq gave me the phone number for Junaid Sahib, the calligraphy instructor. I called Junaid this evening and invited him to meet up tomorrow. I chose tea at the Awari, a fancy hotel on Mall Road. I'm really excited to meet up with Junaid. He was my first calligraphy teacher and the most talented calligrapher I've ever seen in action. Naturally, I'll bring along the calligraphy pen and the jar of ink I travel with when we meet up tomorrow.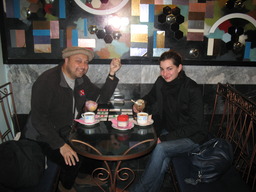 David and Irina Take Coffee
at Yummy Ice Cream Parlor

Though it's been good to see old friends here in Lahore, my routine hasn't yet adjusted to parting ways with a new friend: Irina. Having spent the last two weeks traveling from Lahore to Peshawar then on to Islamabad together it feels odd to now spend days without meeting up.

Along with taking in the tourist attractions: bazaars, mosques, museums, hookah lounges, etc.--we did manage to accomplish a few tasks over our days together before parting ways. Together we tracked down and met with the head of the Pashto Academy at Peshawar University where Irina hopes to take the next months studying for her Ph.D. She's finally memorized the entire Urdu alphabet after numerous rounds of me waving colorful flash cards designed for children in front of her. (Alif is for am [mango]. Be is for burger.)

We also managed to watch the entire first season of an old TV show, The Apprentice. I remembered Michael excitedly recommending it when I saw him once last year. When happening on a pirated set of the discs at a shop in Islamabad Michael's recommendation flashed back into my head. I figured it was worth chancing 300 rupees ($3.50 USD) for the box, even if the show didn't turn out to be any good. Irina and I were hooked immediately and plowed through the entire season in just three days.

Best of luck studying Pashto in Peshawar, Irina. I'll see you again further on down the road should I pass through Vienna this spring...