Rail or Road?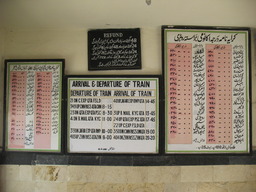 Timetable and Fare Chart:
Quetta Railway Station

QUETTA, Pakistan
January 31, 2011

Quetta should be my last stop in Pakistan. I don't think I'd have come through here if getting to Iran overland didn't necessitate passing through.

I've found this city isn't bad, at-all. Ringed by mountains in arid desert hours from anywhere, Quetta feels less polluted and less chaotic than any of the other cities I've visited around Pakistan. I've been attending to small tasks on my to-do list before leaving the country. Go to a barber for a shave: both face and skull. Go to a tailor to patch up my pair of jeans that's started to fray about the knees.

If the cost of those two errands is any indication, Quetta must be not only one of the most remote, but also one of the cheapest cities in Pakistan. The barber who shaved my face and skull, using little more than warm water and a straight-edged razor, asked for 80 rupees: less than $1 USD. The tailor who mended my jeans insisted that there should be no charge for the work he did stitching them up: I am a foreign guest. I insisted to the tailor that was kind but far too generous and placed the amount of rupees I thought he would charge a local on the table between us.

I will leave Pakistan either today or tomorrow, depending on whether I go by road or by rail. Both options are yet up-in-the-air: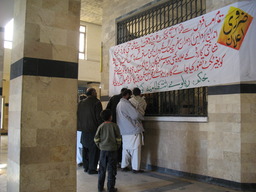 Ticket Counter:
Quetta Railway Station

The train runs only twice a month, on the 1st and 15th. If I don't leave until tomorrow, I'll go by train. But, an official at the railway station discouraged me from buying a ticket. He said that the journey would be long, slow, and uncomfortable. There are no sleepers: just wooden seats. Even without adverse conditions (e.g., a standstorm delaying progress along the tracks) it could easily take 26 hours before arriving at Zahedan in Iran.

But, the bus journey might not be so straightforward, either. The receptionist at the hotel where I'm staying, Bloom Star Hotel, said that they can no longer book tickets on any of the bus lines that serve the Iran border. I asked what happened:

"What, have the buses been stopped?", I asked him.

"No. They're still running. There are several companies whose buses leave each day. But they won't sell tickets to foreigners."

I was concerned hearing this. Had there been some recent incident I hadn't heard of?

"Why?", I asked, hoping that whatever had happened wasn't anything too bad.

"It's the checkpoints. The local passengers hate the delays to their trip every time one or two foreigners have to get out to sign their personal details in a log book every so-many kilometers down the road."

"Oh... so it's not a safety concern, then? It's not because the journey is too dangerous?", I said, reassured.

"No, no... not at all. But you'll probably have difficulty getting any line to sell you a ticket."

So... we'll see just how I wind up exiting the country. Either way, it will mark the end to a wonderful leg of my journey. When I crossed into Pakistan I thought I'd take about two weeks crossing the country. That was two months ago... and I wouldn't even mind staying on longer.