Gulf Languages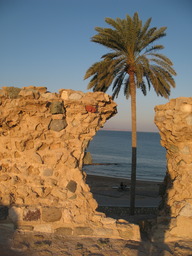 Portuguese Castle, Qeshm

QESHM, Iran
February 13, 2011

I guess this leg will be as close as I'll come to a beach holiday on this trip. I'm on an island in the Persian Gulf. Sun, palm trees, salt air: the climate here feels so nice.

A few nights ago when I arrived into Bandar Abbas, the port city on the mainland, I spent my first evening just sitting on the sea wall, staring out at the Gulf. It was a warm night with lots of other people out: families taking picnics; groups of teenagers who would pull up, three-to-a-motorcycle to also sit alongside the wall; and hookah vendors who were doing brisk business preparing pipes to smoke for 20,000 rials ($2 USD). I was tempted to rent a hookah myself, but abstained.

As I sat on the wall, I realized that the last time I had seen the sea was four months ago, back in Vietnam. Just gazing across a vast body of water with the scent of the sea in the air... I found that for no other reason, just being back in such a setting made me feel refreshed and happy.

Nice as it is to be on a sub-tropical island, I can't spend more than a few days on Qeshm. Prices across Iran have doubled since I was last here just three years ago. Food, accommodation, transportation--everything is so much more expensive now. I've developed a rough measure to gauge prices today. I calculate what the cost would have been when I was last traveling throughout Iran, double it, then throw some change on top for good measure.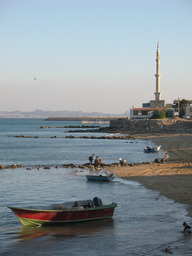 Seashore Minaret, Qeshm

The prices here around the Persian Gulf have spiked even higher than elsewhere in the country. I've just spent what I had budgeted for an entire week in only three days.

One unrelated quirk of spending money down here: people often ask which currency I want to pay in. Do I want to pay in rials (Iran) or in dirhams (Emirates)? I suppose it's a fair assumption. I'm clearly foreign, with different features and accented attempts at speaking basic Farsi. Around town, I've seen many people who have come here from Arab states on the other side of the Gulf, apparently for shopping or leisure. Those other countries lie just across the water, making this area far more proximate to the Arab world than to any other major city in Iran. I'm sure that right now I'm closer to Dubai and Abu Dhabi than I am to whichever town I'll next move along to within Iran.

Still, I find it amusing that people can't immediately peg me as having come from somewhere beyond the Gulf. Sometimes a shopkeeper will pepper his conversation with basic phrases in Arabic. "Welcome to Iran," or "Thank you," are often said to me in Arabic; I'm happy to carry along with the misconception of that being my native language.

I had been hoping to get out to explore more of the island. I was planning to track down those welcoming boat-builders I'd shared an afternoon with halfway across the island when I visited here three years ago. But, with costs so much higher than I anticipated, I've been keeping entirely to the city of Qeshm itself--just relaxing and taking in the scenery.

I have chatted with some of the locals. A few words of Farsi really do go very far. Just in the short time I've been on this small island, I've met (among others) an archaelogist who works at one the few remnants of European colonialism in the Gulf, a Portuguese castle; a friendly old man working at a hookah cafe who gave me gratis plates of raisins and nuts; and a large group of men visiting from Shiraz, one of whom gave me his phone number and insisted that if I were to come through Shiraz he would have to host me. None of them spoke any English.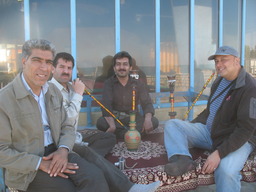 Chatting with Tourists
from Shiraz

Unexpectedly, I found that there is a group of people now living here with whom I could communicate easily. In a small shopping mall, I found a few shops run by people who had all come to Qeshm within the last year--some of them even in this past month. Most of them didn't speak much Farsi, either. They were merchants from China, trading in simple goods manufactured back in China: plastic slippers, dishware, and toys bearing the image of cartoon character 喜羊羊 "Pleasant Goat"--whose show was all the rage when I last left China.

I think we were mutually baffled to equal degree to encounter one another on a small island off the coast of Iran:

"You speak Chinese? Where are you from? What are you doing here?", a bemused woman who was checking bags at a shop entrance asked me in careful Mandarin.

I had been wondering those exact same questions about her.