Chicken Liver Sandwich II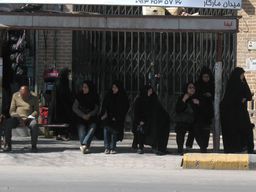 YAZD, Iran
February 21, 2011

I've been doing a whole lot of nothing in this city for the past week. It's been great.

Yazd is the same city where I fell into a similar stretch of idleness the last time I was traveling throughout Iran.

Much of what keeps me here is how pleasant and compelling the city itself is. Yazd is an ancient oasis. Many streets are old lanes winding through low adobe houses. The traffic is less crazy and less noisy than other cities in Iran. As with everywhere else in the country, it has some spots of pretty Islamic architecture. Yazd must be one of the last places on the planet with a significant Zoroastrian community. Coupled with all that, the inviting, relaxed feel of Yazd today make it one of my favorite cities.

Another attraction keeping me here is the great place I'm staying. I'm again in the same hotel where I lingered three years ago, the Orient Hotel. It has to be one of the best-maintained and most atmospheric places I've stayed, a traditional building surrounding a courtyard with fountain at center. Each room is just off the courtyard, entered through a little alcove capped by an archway. The wooden doors are of a very old style and use clunky chains drawn through a bolt to seal shut. High ceilings, private bathroom with piping hot water, modern furnishings, clean and well-kept--it's easy for me to stay on here for a long while.

I knew that I would want to stay for some time so negotiated a lower room rate when checking in. I said that I would stay for at least 10 nights. But, that time is already drawing to an end. I think that I'll extend my total stay here to two (maybe even three) weeks, it's so comfortable.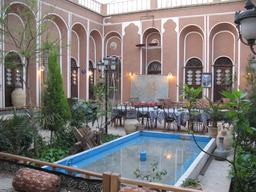 Orient Hotel Courtyard

Costs in Yazd have risen in-line with the inflation (roughly double in three years) I've encountered other parts of the country. Still, it remains one of the cheaper cities I've stayed in Iran. While splurging a little on nicer accommodation, I've been tighter with my other daily expense: food. The hotel provides a delicious breakfast buffet: cream cheese, olives, dates, halva, cucumbers, tomatoes, flatbread, hard-boiled eggs, and coffee or tea. That's usually enough to see me through to evening. I keep it simple for supper. As with my last stay in Yazd, I've developed favorite spots about town where I go to pick up a basic meal. There are a couple delis near the Orient Hotel where I usually go for a sandwich. Falafel is cheapest, at 5,000 rials, (50¢)--though I do often spend twice that amount for my favorite, chicken liver. I've been keeping large bottles of doogh--a Persian drink similar to buttermilk--in the mini-fridge of my hotel room.

The main reason I'm trying to stay frugal is because there is no way for me to withdraw more cash within Iran. None of the ATM's are linked to any international networks. What money I have in my pocket now will need to see me through my entire time in the country.

The final reason why I've decided to linger: I need to pause to focus on a translation. A few months ago I was contacted by my Uyghur instructor from this past summer in Bloomington. He asked if I'd like to join a project translating short stories written by Uyghur authors for compilation and publication in a book. I'm happy to participate, but have procrastinated and put off doing anything more than an initial pass through the text. All translations are expected to be complete come March so I've really needed to break my journey to get this done.

Though I do go out for a walk about town everyday, most of my time has been spent idling in the Orient Hotel. I feel some twinges of guilt that I'm not getting out to see more of the sights. I suppose I have already seen most of them before and will also have more time later. After I've completed the translation, I'll likely yet linger on for several days thereafter... I am so enjoying being back in Yazd.