Journey to the West II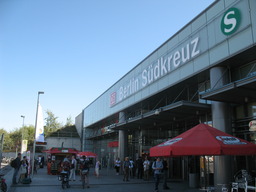 Berlin S-Bahn Station

BERLIN, Germany
June 29, 2011

People were walking around in clothes similiar to those that might be worn on any street back in the U.S.: blue jeans, t-shirts, even some baseball caps. Unlike most cities in the U.S., the majority of people on the street were coming and going on-foot or riding along bicycle paths throughout the city center. It all felt normal and familiar in a way I hadn't felt for a very long time. I may have technically crossed into Europe over a month ago, but nowhere I've passed through along this trip felt quite like being in the western world... until I arrived here.

Stepping off the inter-city express train and through Berlin's main railway station was clearly stepping into another phase of my trip. That was the first moment since beginning this journey at the end of last summer when I felt a sense of being back in the developed world, as I know it.

I took an escalator up out of the central station and pressed into a crowded train on one of Berlin's subway lines, the S-bahn. Then, just as quickly as it struck me, that sense of familiarity disappeared. Something different was going on with the fashion. Why were so many men wearing garlands? It looked as if Berlin might be celebrating some Hawaiian festival: half the people standing in the subway car had a lei draped around their neck.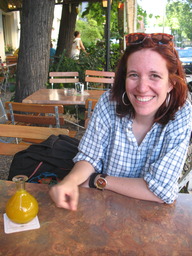 Friederike Drinks Mead

I finally understood when I stepped off the S-bahn at the Nollendorfplatz station and began walking toward Friederike's apartment. Costumes on the street were even more flamboyant than those on the train. One man walking ahead of me wore nothing but sunglasses, a flat leather cap, and leather chaps. Another man with a huge mustache was dressed not in traditional lederhosen but cross-dressed in dirndl, a la a Bavarian barmaid. An enormous flag made up of rainbow stripes hung off the side of the station.

Berlin's annual Gay Pride Parade had just passed through the neighborhood. What a way to step back into the first world.

My time in Berlin has been purely about social calls. The same friends I caught up with the last time I passed through have been the same people I've spent my last four days together with: Friederike, Jenn, and Uwe.

I felt I owed time with all of them. Friederike and I had been hoping to catch each other while making separate trips around the Middle East earlier this year. At the beginning of the year she took six weeks on a solo journey throughout several Arab states, among them the very countries I had most hoped to tour, myself. But, I made my way west too slowly. Not only did I miss the opportunity to connect with Friederike, but by the time I attempted to cross into Syria it was too late to travel anywhere in that country. Civil strife had begun; I was denied entry. So, she and I had to wait until I made it all the way here for this much briefer catch-up.

Friederike's Nollendorfplatz apartment must be at the heart of quite a scene. Early the morning I arrived she was woken up by a chorus of men streaming out from the bar across the street, all singing the theme song to a 1970's animated children's series, "Heidi". Next to her front gate stands a shop with the English name "Leather & Rubber". Lined up inside display windows are mannequins clad in the most astounding wares.

Funny place, this. How could I have missed the base character of the neighborhood while visiting three years ago? Even if I wouldn't be inclined to step into most bars or shops around Nollendorfplatz, I am sold on one location a ten-minute walk from Friederike's apartment. Bejte is an Ethiopian restauarant that not only has one of the tastier meat and vegetable combination platters I've eaten, but has the best tej I've ever drunk, a sweet, rich, homemade mead served up in bulbous glass flasks.

Friederike herself has been generally well. Her job teaching in Berlin allows enough flexibility and time off for her to travel to places around the world she finds interesting. Her working hours have improved recently, gradually settling into regular shifts at better hours of the day. I'm really glad that we managed to re-connect, talk at-length, and go out over my few days here in Berlin.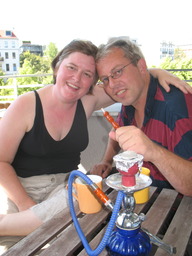 Jenn and Uwe

There was another reason why I felt I needed to arrive into Berlin some days ago. Jenn and Uwe, a married couple I know who live just over in the Kreuzberg district, are moving out of Berlin. I wanted to catch them here before they left.

I think a lot of what has kept Jenn and me in-touch is how we've made coincidentally parallel decisions with our life direction over recent years. We were co-workers together until about eight years ago. Within the same year, we'd each left corporate America to move off to another continent and begin a new life. I went to Asia. She came here to Europe. Now, we're both heading back to North America this summer. I'm bound for Canada. Jenn is looking for work teaching in the Washington, D.C. area; she's sitting on a trans-Atlantic flight as I type this. Uwe will be following along in a few months.

I hadn't seen either Jenn or Uwe since my last visit to Berlin. It's good to see them doing well, embarking on yet another phase of their life together.

I've been so happy to catch up with friends around Berlin. Sometimes we meet at either of their apartments, other times we meet out over a drink or meal. Friederike, Jenn, Uwe: I do hope to see all of you again before long here in this city--or perhaps in some entirely different, faraway location.
---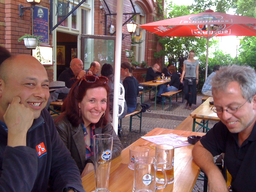 David, Friederike, and Uwe

I'm on my way out of Berlin now, myself. Booking an onward ticket wasn't straightforward. Even searching weeks in advance, all the fares I found available on Deutsche Bahn's website for a train to the southern part of the country were shockingly expensive: 79 EUR, 89 EUR, 99 EUR. Maybe I need to accept that expensive tickets are another part of being back in the first world. But, those fares--nearly $150 USD for six hours on a train--seemed far too high. There had to be some sort of deal.

So, I asked all my friends in Germany what they would do. After asking enough people, I finally figured out the secret to riding trains in Germany, cheaply. Uwe mentioned some special ticket he'd recently heard about but had never actually traveled with. A "Quer-Duruchs-Land-Ticket" allows unlimited travel over any single day on trains throughout all of Germany. The ticket costs only 42 EUR. The sole restriction is that all travel has to be made on the slower, regional trains rather than the speedy intercity lines.

I think the slow train should work for me. I'm about to find out. I just got off the city bus from Nollendorfplatz to board the first of five rail segments out of Berlin.

Next stop: Munich