Alpine Getaway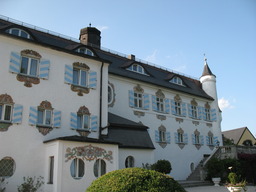 Hotel Bonnschlössl, Bernau

BERECHTSGADEN, Germany
July 5, 2011

Naomi is here!

Her initial e-mail last month was brief, unexpected, and has led to a welcome diversion along my journey:

"Where do you think you'll be over the weekend before the 4th of July?
I'm thinking of taking a 4 or 5 day trip over that weekend... "

We exchanged messages to work out in which cities we could potentially rendezvous:

"How about Berlin? I'll be there through the last days of this month.
Or, either Prague or Krakow could be easy for me to get to... "

---

"How about Barcelona? We've each been there before, but it is a fun city... "

---

"I'm still trying to make this an overland journey all the way to London. To get
to Barcelona I'd have to cover a lot of ground, quickly. After Berlin, I'll be
visiting a friend in Munich. Want to meet up there and explore Bavaria, together... ?"

---

"I bought the ticket!! I'll check into the cars, try to get us something fun :-) ..."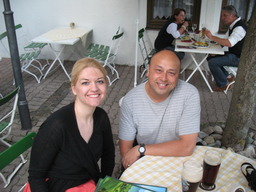 Naomi and I have known each other for ages. We both grew up in Seattle: a city neither of us have considered home for many years. Despite that she's run off and established her life in Washington, D.C. and that I've run off and refused to settle down, we somehow do manage to see each other, often.

It seemed fitting that I should take the S-bahn to the Munich airport to pick her up: she was the very friend who dropped me off the last time I caught a flight--back when I began this trip nearly a year ago. Since we re-connected a couple days ago, we've been having a blast.

With so few days away from work, Naomi decided to power on through and stay awake after her red-eye flight. From the airport, we dropped her bags back at Jochen's family home then returned to central Munich to spend the day.

We started with brunch at Cafe Glockenspiel up above the central plaza: coffee, weisswurst, and pretzels with sweet mustard. Unfortunately, Naomi's first day in town was a Sunday--so most shops and businesses were closed. Come afternoon, we strolled through the Englischer Garten and stopped outside the Chinesischer Turm, a fanciful replica of what a Chinese pagoda might have looked like in the imagination of people in the 18th century who had never seen an actual pagoda. Even on a rainy Sunday afternoon, the scene in the center of the park was lively. A brass combo was playing pop standards and traditional Bavarian music on one of the upper storeys; a beer garden was situated beneath. We sat at a table and ordered a couple glasses of hellas, a local lager.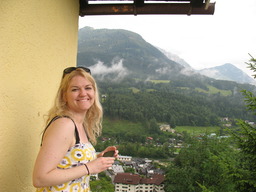 Naomi above Berechtsgaden
The two of us caught up, sharing where each of our lives has taken us since we last saw one other. She'd already gleaned an up-to-date idea of where I've been and what I've experienced by skimming this travelogue. My sense of her latest news was just the opposite. As one of the few people not on Facebook today, our beer-garden conversation was the first I've heard about how so many things have been in her life over this past year.
Since we last met, Naomi's experienced a lot. She moved to a new apartment. A grandparent passed away. The job that she had just begun when I last saw her has matured into an established routine--but keeps her busy, exacting 12-hour days.
So, this get-together has been the perfect getaway for her to distance herself from a heavy workload. I can't imagine anywhere better than a jaunt here to rural Bavaria to escape from a busy life within the Beltway.
Though I was already out on the road, Naomi's decision to take this trip has also made for a different experience for me. Yesterday, we rented a car to drive around villages throughout the Alps for a few days. I hadn't driven in over a year, let-alone on the Autobahn. If I weren't meeting up with this friend who has limited time to travel, I doubt that I'd be renting cars, driving from rural Bavarian village to rural Bavarian village. This is a quite different leg to my journey. I'm having fun.
We're now in Berechtsgaden, a town near the border with Austria. I'm surprised how I find myself taken in by the most basic of charms in a Bavarian village: clock towers chiming the hour, churches built from stone with tall steeples pricking the sky. The Alps are rolling and green at this time of year. The sun was hot so we splashed around in Lake Chimsee yesterday. We also splashed out (figuratively) on the hotel in the last town where we stayed, Bernau. A palace constructed in 1477 has been converted into lodging. Sleeping in palaces, swimming in Alpine lakes: this whole experience is almost too cute and too quaint--but I am very much enjoying it.
We're taking it as it comes, keeping our options open. Tomorrow, we might take a hike through a section of the Alps. Or, we might make a day-trip to Salzburg, just a few minutes drive into Austria from where we are, now. I know we'll have fun, whichever we wind up doing.