Festival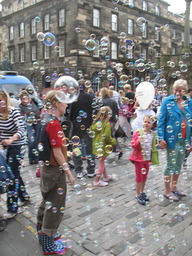 Royal Mile

EDINBURGH, United Kingdom
August 8, 2011

Whenever I mentioned that my next stop was Edinburgh everybody gave the identical response:

"That's such a nice city. Are you going up for the Festival?"

I hadn't heard of this festival. But, since arriving yesterday, I can't see how I could not have heard of the Edinburgh Fringe Festival. It's huge.

For a full month every summer the entire city is transformed into a performance space. Cafes, pubs, restaurants, shops--it seems nearly every commercial establishment doubles as "venue". Inside will be music, theatre, dance, cabaret, or an exhibition. With hundreds of stages across the city and several acts at each venue every day--I've never seen so much performing art on in one place.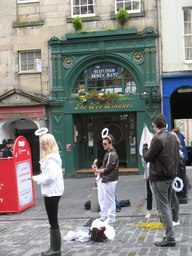 Festival Promoters

I skimmed through the schedule and found a couple acts with interesting titles and descriptions. Both were performances held last night at the Royal Mile Tavern, a pub near where I was staying. Both were stand-up comics. The first show was dubbed Living in Syntax. The second, A History of Pornography. Promising as the titles and descriptions were, neither comedian had a very polished act. Neither had very funny jokes.

I guess I'll have to plan ahead, pick better, and return another time. The city of Edinburgh itself was charming: compact, filled with ornate old buildings, and surrounded by green hills. And with so much going on over the Festival... I could see myself spending an entire summer here some future year.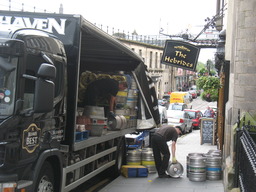 Kegs Unloaded Along
Edinburgh Street

This was my first trip to Scotland. Before arriving, the only thing I specifically decided beforehand was to seek out somewhere to sample haggis. That turned out to be easy. Haggis was on the menu at most pubs. It wasn't bad, but it wasn't as good as I expected it would be. Back when living in Xinjiang I developed a taste for kebabs of all sorts: liver, heart, and kidney were common and I enjoyed eating each of those often. I reasoned that haggis, an assortment of some of the best organs diced up and cut with oatmeal, would have to be delicious. The meal wasn't bad at the pub where I ate yesterday--but I think I need to compare more recipes. Perhaps I really will have to come back to Scotland on another trip and spend longer experiencing the food and Festival one day...

My final night in London was wonderful. I finally met with Victoria, a friend I hadn't managed to spend any time together with over this stay in the U.K.. We met at the Hackney Overground station and walked to a pub along nearby Broadway Market to catch up. She's doing well. Victoria is now finishing her Ph.D.. Her topic is rather a departure from the Uyghur language we were studying together years ago. Her focus is now feminist philosophy. Though her university is in Liverpool, she has been spending a lot of time back down here in London. She's recently begun a relationship with a new boyfriend, Sam, who lives just down the road.

After our drink and conversation we strolled over to Chris and Hannah's apartment for dinner and games. When co-ordinating plans over e-mail to meet and play games Victoria specifically requested a game I had introduced to her back when we were all living in Urumqi: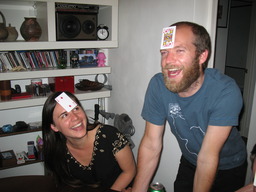 Hannah and Chris
"Can't wait to see you! And can we please play the one where we stick cards on our heads?!"
She of course meant Indian Poker.

I don't know if there are actual rules to Indian Poker or if that's even the correct name for the game in which each player sticks a card on his forehead. The way I play it was a product of one night when my brothers and I were children. We decided to play "Indian Poker", but nobody knew what the actual rules were. So, we devised a system of two rounds:

Without seeing the card on their own forehead, each player first has to state aloud how many of the other cards they think have a higher number and how many have a lower number than their own card. Getting the initial estimate correct of how many cards are higher and how many are lower isn't important. The real point is on the second round. After hearing feedback of what all other players have guessed, each player then guesses the number on their own card. There is no betting.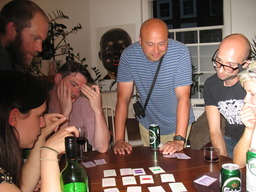 Hannah, Chris, Daniel, David,
Sam, and Victoria Play SET

These may be silly rules made up by children but playing is immensely fun. I've never had a night playing the game when people aren't constantly laughing and smiling at one another. It's unexpectedly thrilling to guess the number on your own card correctly. Most every night there's one player who is somehow so attuned to what every other player is stating that they have a streak of correctly guessing their own number five-, six-, even ten times in a row.

It was a wonderful final night in London not just for playing silly parlor games with dear old friends, but for also spending my last night together with a dear new friend. I invited Emma to come along and join in the games. She's been a traveling companion for so many legs of this journey: back throughout Pakistan, Iran, and Turkey. It seemed logical that we should have one last evening of fun together at the end of my journey.

Emma and I left Chris and Hannah's together, took the Overground to the Underground, and said a final farewell to each other on some platform along the Victoria Line. There, she transferred to a train heading back to her Shepherd's Bush apartment. I carried along to Victoria Coach Station to catch the Megabus up here to Scotland.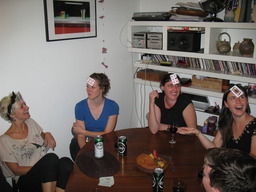 Victoria, Eva, Emma, and
Hannah Play Indian Poker

Given all the levels of transport I've taken crossing Asia, it somehow felt appropriate that the final leg of this overland journey should be on an overnight, discount (£8) bus. I've now gone as far as I can by land. Saigon to Edinburgh over one year without a flight feels like a proper trip. I'm content with the length of time and the experiences I've had. I'm so happy to have met so many people new to me and to have renewed so many long-standing friendships.

I'm now waiting on a return flight back to the U.S.. But: even though the strictly overland portion of my journey is complete, even though I'll be back in my home country for the first time in nearly a year--I'm not yet done traveling. I'll continue to be out on the road for at least several more weeks, continuing on throughout North America...

Next stop: New York