Blackberries and Bicycles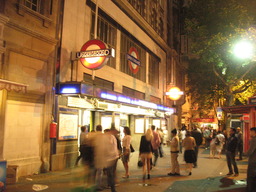 Holborn Underground Station

LONDON, United Kingdom
July 31, 2011

"I emerged in London rain... "--Berlin

Can I really have been in London for 10 days, now? It's gone by so fast. My time here has been divided between seeing two friends: Tristan and Emma.
---
Getting together with Tristan has been easy. We've spent at least part of every day together. Though he is busy with work (Tristan manages a section of a photography gallery in Chelsea) I've been his guest, staying at the home near Queen's Park he shares with his girlfriend, Charlotte.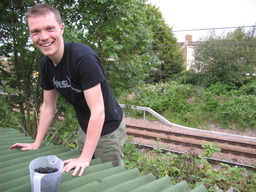 Tristan Plucks Blackberries

It was my first time meeting Charlotte. She's the type of person who would be impossible not to get along with. She engages immediately with everybody. She has lots to share. I liked how when we met she first mostly listened, spurring me to share an overview of my long journey. When it came my turn to listen I learned that she's recently switched careers. After many rewarding years as a freelance photographer, she's now decided to take up gardening.

Upon first seeing Charlotte, one fact was clearly apparent. Neither she nor Tristan needed to state the obvious for me to infer the good news: this autumn, she and Tristan will become parents. It was only late last year they decided to start a family together so they're eager and excited that this will happen so soon.

Regrettably, our time together was short. Charlotte had to leave for a family holiday abroad just two nights after I arrived. I'm looking forward to whenever we next meet. I can't wait to see how those two will turn out as parents.

Before Charlotte left London, I did manage to spend one long, enjoyable evening with her, Tristan, and a sampling of their interesting friends. They hosted a dinner party the evening after I arrived. Tristan prepared a batch of his signature dish: an ox-tail stew. Making conversation with everybody seated around the table that night afforded one of the more engaging gatherings I've been a part of over this trip. In part, that might have been because I'm finally back somewhere I can speak my native language after a year away from it. Moreover, the dinner guests were all fascinating people to speak with.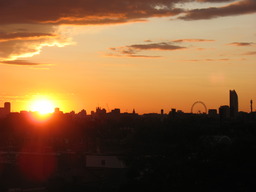 London Sunset from
atop Peckham Car Park

There were a couple of curators from major London museums. There was also the curator of a photography gallery in Japan, here on a business trip from Tokyo. The woman seated to my right had a long background in cinema production and had been offered a two-year gig in London as part of the body orchestrating the opening ceremonies for next year's summer Olympics.

I don't know why I didn't feel the odd one out: long unemployed, no connection to the art world, and having spent the past year flitting around the globe as a backpacker. But, there was no pretense amongst the company. Conversation continued flowing easily, until some hour well past when the Tube had stopped running.

At some point after we'd had our fill of Tristan's ox-tail stew the final course was served: vanilla ice cream covered with fresh blackberries that Tristan and I had harvested earlier in the evening. The backyard of the house next-door is overrun with brambles. Tristan and I have spent at least a few minutes every day crawling along the brick wall dividing the properties, plucking any ripe berries within reach. I don't know if Tristan actually asked permission from his neighbors or is just poaching their blackberries--but we do see them looking out occasionally and they don't seem to mind. Whichever the case, their yard is so overrun with thickets that there would be no way for these neighbors to step out and access their own fruit, unless they came over to this side of the property line.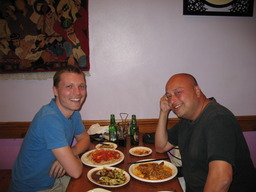 Tristan and David Share
Xinjiang Cuisine

In addition to backyard blackberry harvesting, Tristan and I have been taking time together around London over the days since Charlotte left. Last weekend, we began our evening at a "pop-up" bar. I'd never heard that expression before. I guess it's a term for a makeshift, temporary business. The place we went was on the top level of a multi-storey parking garage in Peckham. Hundreds of people were sitting around up top, enjoying the clear weather with a drink in hand. Open summer weekends only, the location had an amazing view of central London. Tristan and I downed a couple pints of lager and watched the sun go down before taking a long walk west across town. He knew of a Xinjiang restaurant that somebody had opened up in the Camberwell area.

When we stepped through the door of the Silk Road Restaurant, the host eyed me and paused before approaching. At first I presumed the restaurant might be about to close and he was debating whether to seat us. But, after taking our order he asked:

"Did you used to live in Urumqi? You carried a water pipe around and had more hair... "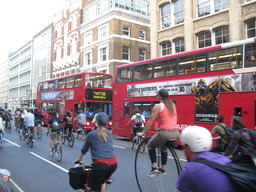 Critical Mass, London

It turned out that the restaurant had been opened by somebody who had either worked at or frequented the Fu Bar regularly. Small world.

With Tristan along it's been easy to engage in more of London. He was curious about exhibitions running at several locations around town. So, we took another day to go around London visiting various galleries. Friends of his who worked at both the Haunch of Vension and at the Foundling Museum not only welcomed us to the exhibitions, but gave us guided tours of the collections on display.

This would be a very different visit without such a good friend along to connect me to the city.

Tristan and I finished our gallery day with an entirely different activity, outdoors. We met up with a couple of his friends who I met when I last visited London, Chris and Hannah, to ride along in the monthly Critical Mass ride: a convergence of bicyclists pedalling en masse out of the city center. I hired a "Boris bike", a rent-a-cycle which is available for temporary hire from docking stations throughout Central London. (It was evidently begun under a scheme initiated by London's present mayor, whose first name is "Boris".)

Though bright turquoise and clunky, my bike wasn't of much interest compared to some of the others pedalling alongside. There were several folding bikes, more than one tandem, and multiple "penny-farthings".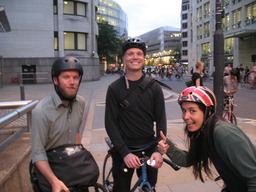 Chris, Tristan, and Hannah
Ride Critical Mass

I hadn't previously known what the name for those bicycles with a huge front wheel and tiny rear wheel was. I can understand the analogy of differently sized wheels to the ratio between the old Britsh coins--large old pennies next to tiny farthings. But, do we have some different name for that kind of bicycle in the U.S.? Along with "pop-up bar" I suspect that "penny-farthing" might be another peculiarly British term. Or, maybe I've just been away from the language for too long.

Though I will spend more days in London, my time together with Tristan ended yesterday. Saturday morning he took a train to Europe to follow on and join Charlotte's family vacation.

Now on my own, I did get out and explore independently today. My main sight-seeing activity was an afternoon tour of the BBC Broadcasting House to see how radio productions are made. It was well worth the ticket price; I loved seeing the studios and reading a script aloud along with other tourists in a mock recording of a radio drama. But, activities were so much better over previous days, spending time together with an old friend I haven't seen for several years. Thanks so much for playing host and guide, Tristan!
---
Even before Tristan left town, I was already balancing my time around London meeting up with another friend who happens to be here over the same time I am: Emma. By chance, Emma's travel itinerary has meshed with mine at so many points around the globe. We initially met in Pakistan. We traveled together for two weeks throughout Iran. There was a brief rendezvous in Turkey. We missed each other by hours in Berlin--but have managed to meet up most days since I came into London.
Emma is doing great. She's been here for a little under a month yet has already landed a job in her field of graphic design. She's living in a flat crowded with too many fellow Australians in the Shepherd's Bush area of the city--but she'll probably get a place of her own if she decides to stay on beyond the months remaining on her work visa.
Emma and I usually meet up somewhere informal--over a meal or a drink somewhere. More than once we cooked dinner together at Tristan and Charlotte's while they were away. We managed to take in a pub quiz together. (I was happy that we didn't come in last place.)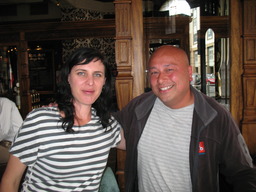 Emma and David meet over
Pints in Hammersmith

Meeting up repeatedly across different countries with the same fellow travelers when on an extended journey seems improbable, but it happens so often. There must be some logical, mathematical analysis that could demonstrate why there is so much synchronicity. Maybe it's something to do with how most travelers visit the same cities and sites? A limited number of routes between those points creates a likelihood of chance re-encounters? Maybe it's just that Emma and I are interested in spending time in the same sort of places? Whatever the case, it seemed perfectly normal that Emma and I should text each other to arrange to meet up at a pub near her new apartment the afternoon after I arrived into London.

Just a few minutes after we sat down at a pub across from the Hammersmith Underground station, Emma beat me to it in bringing up the topic most on my mind:

"So, I heard you and Irina got together at some point after we all saw each other in Istanbul. What's going on?"

"I was hoping you might be able to help me figure that out," I said. "It seemed to me that we were so much enjoying being together and traveling together. But, when I tried to talk specifically about how things might carry on between us after we'd finished traveling she'd avoid the matter, entirely. She wouldn't say, 'yes,' she wouldn't say, 'no,' she wouldn't even say, 'I don't know.' She'd just change the subject. I don't know what's going on in her head."

Emma and Irina spent a lot of time traveling together in Pakistan over times separate to when I traveled with either or both of them. As Irina herself keeps so mum, I was hoping to hear Emma's perspective on where things might stand. Did she think there was any hope of carrying on the connection we had beyond the summer?

"Irina definitely likes you. She sent e-mail mentioning me how much she was enjoying her time on the road with you back when you were in eastern Europe. But she just doesn't talk openly about a lot of things," Emma said.

"Well, I feel in limbo."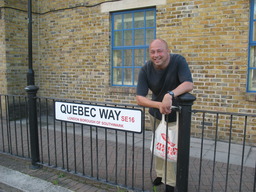 Foreshadowing

"You just need to be really blunt with her. Express whatever you have to say directly," Emma advised.

"Maybe there's a chance that could be face-to-face. We might be able to see each other in a couple weeks. I've gone as far west as I can on this trip without a flight. My journey is nearly over. She'll be on her way to begin her research in Central America about the time I finally return to the U.S.. Maybe we might have some overlap in New York," I said, half-wishfully, half-presuming that such a meeting should be logical and inevitable given how often we'd managed to cross paths over recent months.
---
I leave London, tomorrow. I will be back and hopefully spend some more days here with Emma, having more converstaions, cooking up more dinner together, and seeing something more of the city. But first, I'm making a short getaway to see yet other friends who I first met back in Urumqi: Bonnie and Matthew.
Next stop: Winchester