2005.04.17 Urumqi, China
Nearly a year has gone by since I wrote my initial Cast of Characters entry, giving brief biographies of people mentioned throughout my website. It's well past time to post a second chapter, once again connecting names to faces.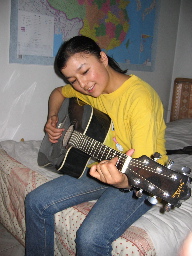 Shamsiya
Shamsiya was the first off-campus friend I made after arriving just over a year ago. She had been a student at Ghulja's medical university but dropped out after her first year when she couldn't afford to pay another year's tuition. I met her working at a Muslim fast-food joint just off of Urumqi's Grand Bazaar. Trying to figure out what to do after leaving school she floated for awhile, flipping burgers to get by.
While my present diet mainly consists of traditional Uighur dishes (laghman, polo, chuchura, et cetera,) I frequented Shamsiya's restaurant often the first month or two I lived in Urumqi. We got to know each other; I began to give her guitar lessons. She eventually quit the burger gig and enrolled in a local language school, learning Russian.
A few weeks ago I connected Shamsiya and Nisagul to the owners of Urumqi's new ex-pat watering-place, the Fu Bar. They're both working at the bar now: a relatively desirable job. The contact with foreigners and opportunity to chat with native English-speakers is a benefit many people in China would even pay for. While Shamsiya is now making about the same wage as the restaurant paid, the Fu Bar demands far shorter hours.
A restaurant job in Urumqi pays about $2 U.S. per day, with shifts of 8 to 12 hours, seven days a week. (Tipping is not part of the culture.) One year's tuition at a medical school in Xinjiang is about $1,000.
First referenced in Social Butterfly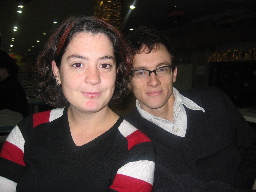 Rian & Laura
Rian and Laura are an American couple I see often socially. Both are graduate students at Harvard. Laura's focus is on west-African literature, making Xinjiang an unlikely place to live. However, she opted to spend a year together with her partner while he researches his area of study: Central Asian history. She teaches English and writes her dissertation, he studies the local history and languages, both Chinese and Uighur.
They came to Urumqi in September of 2004 and plan to go back to America this summer. I share class with Rian--our Uighur abilities are roughly par, though his Chinese is far superior to mine.
First referenced in Weekend Excursion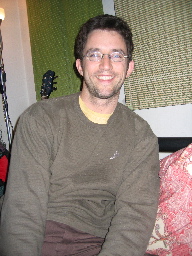 Aaron
Aaron was a classmate of mine in Seattle over the summer of 2003. That was right after I quit my job and decided to come out to Kashgar to study calligraphy and languages. I enrolled in a summer Uighur session at the University of Washington; Aaron was finishing up a Master's degree in China Studies there.
I've kept up with some of the other students from that session, especially those who came to Urumqi in summer of 2004. However, I've seen a fair bit more of Aaron than the others. Rather than return to the U.S. he opted to take a year of Chinese language study at Beijing's Tsinghua University. He shares an apartment with his American girlfriend, Susan, on the campus of Beijing's Medical University--she teaches there. I've stayed with them occasions I've passed through Beijing. I hope to connect with them again when visiting Beijing at the end of this month.
Aaron is one of those kinds of guys everybody loves. He's neither self-conscious nor image-oriented, always maintaining a goofy sense of humor. Intelligent and interesting to talk with: very much fun to be around.
First referenced in The Pad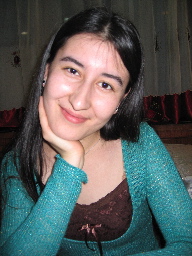 Rahila
I first met Rahila in spring of 2004 through Nisagul. I didn't see much of her until Michael was passing through Urumqi in October of that year. Michael went with Nisagul and Rahila to Turfan for a few days. We all attended a circumcision ceremony together, after Michael left for Kazakhstan Rahila and I continued to spend time together regularly.
Like Nisagul, Rahila is majoring in mathematics at Xinjiang University. The past few weeks the two of us have been going often to cafes to play chess.
Rahila is from Kashgar.
First referenced in Grandma's Polo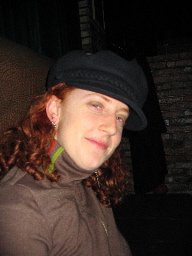 A native of southern California, Tiffany was actually setting off for a year living in Paris when she ended up in Urumqi. After several months of travel around southeast Asia she enrolled in an English teaching certification program in Suzhou, decided to shelve the France plans, then came out here to teach in Xinjiang. She worked for a bit at English First and was Catherine's roommate during her time there. They both left that school; Tiffany now works at a rival upscale English language school: Web International.
Tiffany is the best player of SET I have ever met.
First referenced in Cozy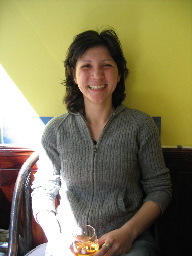 Catherine
In many ways who Catherine is, is who I would be, given the slightest changes of detail: we're both half-Cantonese but she grew up in Hong Kong with a Chinese mother. Catherine arrived in Urumqi in late spring of 2004, burnt out on the life of an investment banker she'd been leading at Ernst & Young in London. She decided to get as far away from that as she could and wound up teaching at English First's Urumqi location.
Catherine left Urumqi at the end of 2004, moving to Ghulja in Xinjiang's far west. Her sole reason: love. Last summer Catherine met an Englishman who does volunteer work out there. She passes through Urumqi occasionally; we've been catching up this weekend while she's here on one of her sporadic journeys to the big city.
First referenced in Social Butterfly