Ten Weeks with Friends and Family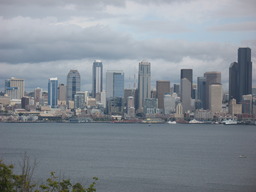 Seattle, USA
September 20, 2011

I'll be staying on in Seattle through most of autumn. I want to spend the next couple months visiting with family and friends.

This afternoon, I dropped by the leasing office of the Chinatown apartment where I used to live. The manager said he'd be willing to let me a unit for just two months. The rent would be affordable, especially-so for such a central location. I'm still mulling over whether it will be worthwhile to move back into my former building over the months of October and November. It would be nice to have a place of my own for a time. I did love living in that old, brick building. But, I suspect it will make more sense to stay with various people around town, instead.

I think I eventually perfected the routine of calling on people close to me through repeated visits back to Seattle. I've concluded that shifting hosts around town, staying between a few days and a week with various siblings and friends, is a better approach than having one base over a stay of around ten weeks. The benefit is in spending more time with more people, overall. Meeting up with somebody happens every day without any need to plan or to venture across town.

It was only after spending the better part of a five-week visit at Mala and Vega's several years ago that I learnt how it was better to hop around rather than to base myself in one place. They were accommodating hosts with a spare room with a comfortable bed, so I made their home my base. It was just too easy and too cozy to leave. But, when I was about to fly on from Seattle at the end of that visit I realized how staying at Mala and Vega's meant that I'd seen so much of them--and seen so little of most everybody else.

Bopping around from host to host may mean continuing to be in travel mode, living out of a bag and schlepping stuff around town, but it's far better for spending time with everybody I want to see.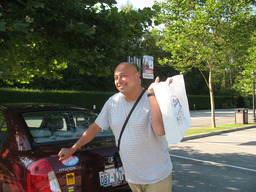 Canada/US Border
Duty-Free Stop for Gin

So, I'm currently staying at my brother Ben's apartment on Lower Queen Anne Hill. He's away at the moment with his new girlfriend, Anna. Well, Anna is new to me--I think they've actually been together for several months. But, as I've been away out on the road so long I've only just met her. I've managed to also work in time with the rest of my family members here and there. Just hours ago, Greg rang me up for an impromptu lunch. He and I just met up in Chinatown for dim sum this afternoon--perfect to combine with a visit to my former apartment to enquire about unit availability and rates.

After this autumn in Seattle, I'll become more settled. I'm planning to finally make use of my long-sought permanent-resident status in Canada. I'm already making preparations. This past weekend, I went up to Vancouver for a brief jaunt just to get a SIN (Social Insurance Number) issued. That's something I'll have to present to employers, to banks and probably at many other stages of integrating myself into the system.

But, before I head back north, I have other journeys planned. Early December, Zach will get married down in Los Angeles. Ben, Anna, and I are planning to drive down to attend the wedding. Then, after the wedding, I'm hoping to keep on going south, taking the beginning of winter around Central America. That should put me finally settling up in Canada sometime around around the end of January.