On the Road Again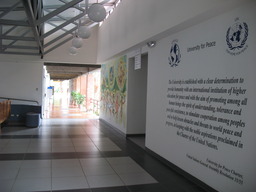 Foyer, Universidad para la Paz

CIUDAD COLÓN, Costa Rica
December 17, 2011

For all the spectacular nature I've heard about around here, I've seen little of Costa Rica. I don't have much of an excuse. I have been in this country for over a week, now. What I've mostly been doing has been staying in the small city where Irina's university program is set.

She's taking this year attending Universidad para la Paz, a school set up by U.N. mandate. Evidently, there was a charter insisting that a school specifically devoted to study of peace had to be established. Somehow classes from one of the master's programs they offer here will transfer over into required course credit for Irina's Ph.D. program back in Vienna.

Her term finished yesterday. We're planning on spending the next month traveling together. We're off to Nicaragua tomorrow. I'm not in such a hurry to leave Costa Rica and would like to see more of the natural beauty this country has to offer. But, as she's already been here for four months, Irina is keen to get out and see anywhere else.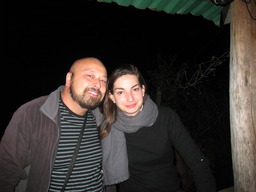 Ready to Hit the Road

I had considered that if, rather than west to Nicaragua, we instead went east across Panama and into South America, that would make four continents the two of us would have traveled on together in this same calendar year. (We first met in Pakistan exactly one year ago, then traveled throughout eastern Europe together this past spring.) But, it probably does make more sense for us to journey west across the other nations of Central America. Aside from sounding like a compelling part of the world through which I have traveled little, eventually parting ways in Mexico a month from now makes sense, logistically. It should be fairly easy for Irina to either fly or make the reverse journey overland back to Costa Rica in time for her next semester. I'll carry on north--likely crossing the border into Texas then making my way on up to Canada.

It somehow feels so perfectly normal. Finding the two of us together in some country I've never before visited, making attempts in some local language that I don't really speak--I guess that's a rhythm that we've already maintained for such a long time across such long distances.

Seems like a return to the routine we followed earlier this year. This is going to be fun.

Next stop: Granada, Nicaragua