Coming to Québec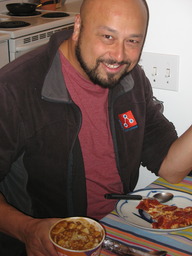 Eating Poutine

MONTRÉAL, Canada
February 5, 2012

Winter isn't so bad here. My main impression of life in places with harsh winter weather came from years living in Urumqi. That's where fallen snow was turned black overnight by pollution and the sidewalks were never shoveled--leading to inevitable skidding, slipping, and falling hard. I took a tumble at least once every winter I lived there.

As those winters coincided with a six-week break from class, I found the best strategy for dealing with the weather most years was to skip town and head somewhere thousands of miles away where temperatures were too warm for snow.

But, they seem to have winter figured out in Montréal. Liberal amounts of salt keep much of what's on the ground in liquid state. Shortly after each snowfall people come out from shops and houses to shovel the snow aside, never allowing it to accumulate into those slick, tramped-down patches that I would inevitably slip and fall on back in Urumqi. The temperatures may be similar (falling into the -20°s) but I can already tell that experiencing cold here won't be the trial I expected.

Frigid temperatures and heavy snowfall aren't the only connection I have between Urumqi and Montréal. I've spent my last days as guest of Gwen, whom I first met back in days playing Frisbee in the former city. (Sometimes I feel as if everywhere I go the people I meet up with are all friends I first met somewhere back in Asia.)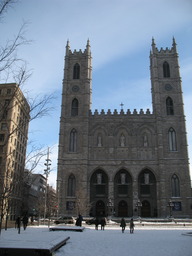 Notre-Dame Basilica

Gwen is cool. She's a professor of archaeology at McGill. She has years of experience living and working all throughout Asia (especially in China) that stretch back to periods well before I ever set foot anywhere on that continent. Despite that she is not just far more of an academic than I'll ever be but also specialist in a field in which I have no background, we do have good conversations. Topics might include the wackiness of life back in Xinjiang, nuances of Asian languages with which we both have familiarity (e.g. Japanese and Chinese), and the travails of an American settling in Québec.

Especially on account of that last topic, there could be nobody better to play host over my first days settling into life here. Gwen also grew up in the U.S. and has landed in Montréal only in recent years for her current academic position. This means she's already endured the bureacracy that baffles everybody who moves to Québec, evidently including Canadians who come from other provinces. We've had more than a few conversations that end with me being surprised by differences in how things work here:

"Huh? A flashing green signal means you can turn left at an intersection? Okay... "

"What, it really costs $88 per year for a Québec driver's license! That works out to over 10 times what I paid for my U.S. license. No... "

Gwen has drawn several humorous yet insightful comparisons between adjusting to life in Québec and adjusting to life in China. Bureaucracy; corruption; inefficiency; and, with or without snowfall, unique traffic conditions--I'll consider myself forewarned.

UUU Reunion: Professor
Gwen and David

In addition to catching up with Gwen, I've been lining things up for the next phase of my life. I've registered for a nine-month course of intensive French study offered to new residents. I think that will be the ideal way to begin integrating myself into life in Canada. Monday, I went to a language assessment which I hope I failed miserably. What French I've studied was one ten-week school term taken back when I was a teenager. I really ought to be placed at Level 1.

I hope-hope-hope that I can begin the course this term. If so, I'll be attending class starting tomorrow in Québec City. But, I haven't received word of whether I'm enrolled. Evidently there are always students who never show up or who drop out over the course of the first week. So, I am still hopeful that I'll begin this coming week--even if I have been waitlisted.

Thanks Gwen, for taking me in, for all your advice, for sharing good meals and conversation, and for plentiful time to play with your cats. I hope you can make it out to see my part of the province sometime when the weather is better.

I'm on my way out of Montréal, now. I've lined up a ride leaving town at 4:00 P.M..

Next stop: Québec City.