Aunt Kathy's Closet II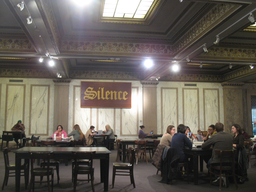 Chicago Cultural Center Cafe

Chicago, USA
March 11, 2012

I had no idea there was such a utensil as a "tomato server"--let alone that one of those very objects had been passed down through generations of my family. Now I'm trying to figure out how to get rid of the thing along with dozens of other antique dining implements.

I am in Chicago, again. Whenever I pass through Chicago I call on Aunt Kathy. And when calling on Aunt Kathy, I try to make myself useful helping out with projects on her to-do list that she would find too difficult to accomplish on her own or has just put off completing out of sheer procrastination.

There was the fancy new curtain rod she wanted hung up to replace the previous flat, dull rod from which her curtains had dangled over the last decades. Getting that up and in-place took one short afternoon with the both of us using hammer, screwdriver, and electric drill. (That was an educational task for me as well: I learnt there is a name for those ornate spirally doo-hickeys that jut off the end of curtain rods, a "finial".)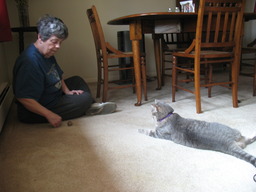 Aunt Kathy and Mollie
Play with Catnip Ball

There was the matter of the lousy cellphone service she'd been wasting money on over the past several years. Aunt Kathy was savvy enough to avoid a more-costly monthly plan by carrying a cheap pre-paid phone for the rare times she might be out and actually use the device. But, even paying nothing more than the minimum to keep her basic phone active she'd racked up hundreds of dollars in unusable airtime. She couldn't run that balance down despite making a concerted effort to use the phone as often as possible. So, one call to her carrier gave up the secret key sequence to unlock her phone. Then, an in-person visit to a rival carrier's shop down Lake Street bought a new SIM card retaining her number for about one-third the amount she was paying before.

But, the largest task remains to be dealt with. What do we do with all this silverware that's been cluttering up her closet for so many years? She doesn't want it anymore--if she ever did to begin with.

The bulk of the silver came from Aunt Kathy's mother's (my grandmother's) kitchen--though there was also a smaller amount inherited from Great Aunt Mary. I sorted through a jangle of hundreds of pieces. Many were loose and unrelated to one another. Fortunately, most items that were originally part of a set were still organized together. Four sets were kept in custom-sewn cloths to wrap around the utensils. One set was held in a small wooden chest with rows of slots in which to place like implements. Few individual pieces were sterling and all items in the sets were merely silverplated. (Intriguingly, an odd few table knives were engraved with names suggesting they had been pilfered from coffee shops and restaurants many decades ago. Those struck me as of far more compelling provenance to speculate about than the remainder of the collection. Just what were my ancestors up to on their nights out on the town?)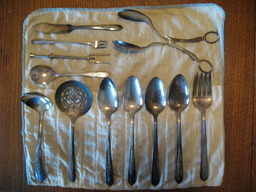 Great Aunt Mary's Silverware
Tomato Server 2nd from Lower Left

Though I'd never examined silverware before, even to my untrained eye none of the sets appeared to be of high quality. There were a few brochures lying inside the wooden chest urging housewives to complete their collection. The language of some of the advertisements gave the impression that an individual spoon or set of six implements would be sold cheaply as a come-on to "collect them all". One set of six "Loxley Pastry Forks of Sheffield, England" came with a pamphlet bearing a romantic, though admittedly apocryphal, origin story invoking Robin Hood.

I took a look on eBay to see how much similar items were selling for. There were a lot of listings for sets of those six Loxley Pastry Forks to be had at under $20. Some of those offerings included the original cardboard boxes, which we didn't have. Many pieces from the collections in Aunt Kathy's closet were tarnished and bore nicks, scratches and other evidence of wear. What complete services we did have from from various silversmiths--Community, W.M. Rogers & Co., Oneida, Crown--all seemed to be going for between $70 and $200. That didn't seem like a large amount to spend for a set of several-dozen pieces of antique silverware. I wondered if buying those same spoons and knives piecemeal 70 years ago wouldn't have totalled the same dollar amount--or more, even--as what they were selling for on eBay, today.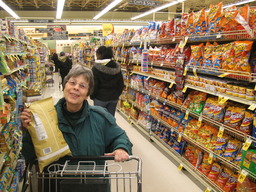 Aunt Kathy Buys Tortilla
Chips for Taco Night

After organizing the collections a couple days ago I sent e-mail to see if any of the siblings back in Seattle would be interested in inheriting the lot. No responses yet far. In the meanwhile, I've inventoried and photographed Great Aunt Mary's table service to post as a trial auction on eBay, myself. If somebody out there actually wants to pay us money to take this stuff off Aunt Kathy's hands and out of her closet, so be it. Maybe we'll manage to get rid of everything that way. If not, Aunt Kathy is happy to leave it for the neighborhood metal scavengers or take it all to some charity shop.
---
I'm now no longer staying at Aunt Kathy's Oak Park condo, though will be be staying on here in Chicago for one more week. I'm composing this entry at the original Chicago Public Library, now become the Chicago Cultural Center. It's one of the grander old buildings I've explored in this city, with details such as massive stained-glass domes and fine Tiffany inlay composed using abalone and other unusual elements. (I took the afternoon tour of the building a couple days ago and am considering going back again.)

Next stop: Blue Line train to Logan Square to call on Megan.