Synchronicity

Gallery Place/Chinatown Metro

Washington, D.C., USA
January 27, 2012

Megan and I clock a certain synchronicity around the planet. It seems that every year or so one of us hosts the other on our spare couch in some city or another. We've maintained this ritual since we first met back in Ulaan Baatar some six years ago. Megan has to be one of my favorite people to check in with regularly and share where life has brought each of us.

We've fallen into this reciprocal crash-'n'-catch-up pattern in-part by cirucumstance and in-part by both being good about planning. Megan has crashed on my couch a couple times while she was passing through places where I happened to be, starting back when I lived in Urumqi. Since then, she's hosted me well too many times at her apartment in Chicago. My most recent visit there was this past summer--with my nephew Nicholas along as guest, too.

This time around it was again Megan playing the host. She'd come to D.C. on business. We worked out well enough in advance when our time here might overlap, so she booked her reservation for a room with an extra bed so that I could crash over some of the days she worked here.

I feel nostalgic thinking back to the time we were bopping around the capital playing tourists around town together at the end of summer 2010. Despite that trip being scarcely over a year ago, we've each been to so many other places and experienced so much more since that previous connection here in D.C..

Goofing Around in
Furry Terrycloth Bathrobe

So, what updates have we shared since when we last met in-person half-a-year ago? It seems like Megan is doing great, certainly as employment opportunities go. Since I saw her last in Chicago this past summer she's been doing far less work for her own independent graphic design agency and far more work for a group that oversees corporate business meetings throughout the country.

The venues where she's sent for this new gig always sounded stuffy to me. It's usually some upscale business hotel or convention center where corporate bigwigs gather for whatever meeting. These corporations have the budget to splash out for extra help to coordinate their affair, which is where Megan comes in. She plays different roles, with her artistic skills most often falling into task of "knowledge worker". This usually means standing up in-front of the central whiteboard in the meeting room writing down what's being said throughout a session. She's not just taking down points discussed. She's also immediately interpreting and rendering the conversation. Having a flair for design she's choosing specific colored markers to draw out flow charts and add illustrative sketches to compose an overall visual presentation that makes the discussion more comprehensible.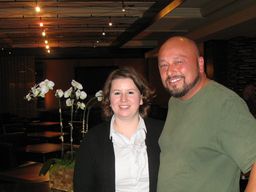 Megan in Professional
Attire - David, Not

Megan is extremely well compensated for this work. It sounds as if she's likely to get sent to other continents for events held further afield before long. Go, Megan! I don't know which of us will next be hosting whom in which city on the planet, let-alone when. But I am sure that we'll see each other again, soon. Thanks for the company, for the stay at the Ritz, and for all the mooncakes and other treats you filched for me from those meetings. Do let me know about any plum gigs upcoming in cool cities with an open couch...
---
The other half of my stay in D.C. was spent staying with Cousin Melodie and her family. It was the first time I'd stayed at their home in suburban Rockville. It's always good to spend time with her, her husband Ben, and their boys Isaac and Eli. Everyone is just carrying on through life. Both parents are still working at the same places as when I saw them last; both boys are still excited to share whichever toys and games currently fascinate them. (Beyblades and Wii, presently.)
I decided before arrival that the best way to visit with relatives would be not to interrupt their routine by going somewhere out of the ordinary but just to join along in whatever activities the family normally engaged in. That meant my first night with Cousin Melodie's family was spent attending a concert at the boys' elementary school. Isaac (my cousin-once-removed) was performing. He's been practicing the clarinet. I contemplated how many years it must have been since I was last in a public school gymnasium. I contemplated what it must have sounded like when I was performing at recitals and school concerts at that age.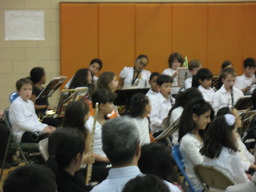 Isaac (Center) Plays Clarinet
in School Band Performance

Uncle David and Aunt Nancy both came along to see their grandson play clarinet. Though they live in Friendship Heights, relatively near to Melodie's family, we didn't spend as much time together over this visit. They're both extremely busy finishing up their final months of work. They'll each retire from their respective career--Uncle David as pastor, Aunt Nancy as schoolteacher--within a few months. Spending time together was again a matter of me participating in whatever they chose to do. Last night, they invited me to dinner and a Bible study session at their home.

I'd never been to Bible study before. Several of their parishioners came for dinner then gathered in the family living room. People seated around the room took turns reading aloud five verses from Romans 10 until the chapter had been fully recited. My relatives led a discussion interpreting the scripture and applying its meaning into modern life.

I wouldn't have ordinarily attended a Bible study group, but figured that if that was how the relatives I was calling on wanted to spend their time, I ought to join along.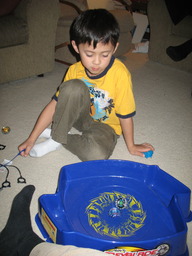 Eli Plays Beyblades

It worked out well to have all my time here so focused, evenly split between relatives and Megan. Though... I had been hoping to call on so many more people around town. So many friends have wound up settling in this city. I did manage to squeeze a quick after-work hour over coffee in with Mala--though her partner Vega was out of town. In fact, most of the people I had hoped to catch up with around Washington were also either out of town or just so inundated with work that we couldn't manage to fix a time to get together.

Oh well. I'll be back through D.C. again to re-connect with more friends and relatives before long, I'm sure.

I spent most of yesterday visiting various museums. Megan had made a good suggestion: spend a full afternoon at some museum I'd never been to. I do have certain favorites around town that I always gravitate toward, so I probably would have left without seeing anything fresh if she hadn't offered up that advice. I hadn't settled on just where that would be until I happened by the Holocaust Museum a few blocks after exiting the Metro. I'm glad that I went. Horrific as the topic was, the museum put forth a well-organized presentation that left me feeling I had a better understanding of the enormity of the atrocities when I finally walked out.

David Wong x 2
Uncle David and David

Even after spending the better part of a day at the Holocaust Museum, I did still fall back on my favorites. Whenever in town, I pop into the Freer Gallery. There might or not happen to be any particular temporary exhibition running that would interest me, but seeing certain pieces from the small permanent collection of Islamic Art on display always makes me happy. I also made a return visit to the National Archives, one of the places I went for my first time when Megan and I were here running around town playing tourist in late 2010. This time felt disappointing as the object I most wanted to see again, an original Magna Carta, wasn't there. I assume it was lent-out elsewhere, but there was no trace of even the display case I remmber housing the document in an alcove off the rotunda.

This trip is over. Right now I'm sitting at Union Station killing time waiting on a northbound Megabus departure. I'm already looking forward to having any excuse to pass back through this town again. There's a lot here I like.

Next stop: New York City.