One Week in Wash.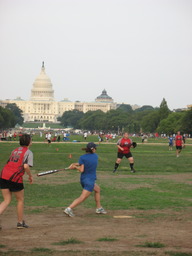 Softball Players,
National Mall

Washington, D.C., USA
August 25, 2011

What made me decide to include Washington, D.C. as a leg of this trip? It was because, over the years, so many people I know have wound up moving to this city. Schoolmates from language courses past, relatives, former co-workers... there were enough people I wanted to visit who now live around D.C. that I decided I'd need at least a week in the area to catch up with them all.

Here's a breakdown of my times catching up with friends and family over the past week: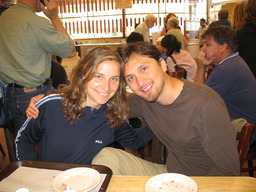 Devon and Alan at Katz' Deli
Alan & Devon
I managed to synch up with brother Alan and his girlfriend, Devon a few hours before catching the Megabus from New York down to Washington, D.C.

They don't live in this part of the U.S., but are taking a two-week vacation to visit New York and Quebec.

It's been over a year since I last saw any family; there's been a lot to catch up on. The two of them have moved into an apartment together in Seattle's Capitol Hill neighborhood. Devon has been continuing to work at a school south of the city; Alan has been doing well out contracting on his own, training instructors and leading programs to engage "at-risk" youth.

We met up over sandwiches at Katz' Deli then went to a nearby coffeehouse in the East Village. I wish we had longer to catch up, but at least we managed to connect in-the-flesh. I should be back in Seattle this autumn, so there will surely be more appearances of Alan and Devon in this weblog, soon.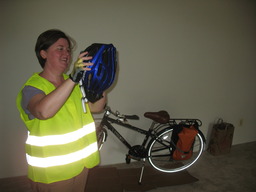 Jenn Prepares to
Bike to School
Jenn
Jenn and I rode the Megabus down from New York, together a week ago. She was the rare friend who I had actually seen in-person over recent months: we met up on more than one occasion while I was passing through each New York and Berlin.

Jenn just moved back to the U.S. after several years abroad living in Europe and Africa. She still considers Germany her base, but has decided to see how life back here in the motherland goes for a year. This week she's begun working as a middle-school teacher for a suburban school district outside of Washington, D.C..

I'm glad we were able to hang out and spend a few days together before her busy school year begins. (And to take advantage of a period over which we would be anywhere proximate to each other on the planet.) We didn't try to take in any special exhibitions or go anywhere out on the town. It was just good time spent together with an old friend. One day we went shopping, first for groceries, then for essentials for her new apartment. (We came back with a second-hand wireless router that wasn't too hard to configure.)

Jenn's husband, Uwe should be following on from Germany this autumn. Good luck with your new life back here in America, Jenn and Uwe!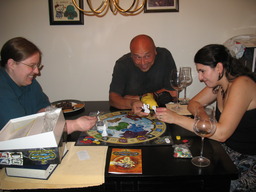 Olga, David, and Allison
Around Board Game
Olga, Allison & Jason
Last Saturday was something of a mini-reunion of the Uyghur-language SWSEEL students of 2010. A 50 per-cent turnout doesn't sound too bad--until recalling that there were only six students across all three levels of instruction.
I proposed a night of games with the two other students who have both wound up here in the D.C. area: Olga and Allison. I had assumed that we would meet up at some central coffeehouse for a few rounds of SET and Anagrams. Messages went back and forth proposing potential places around D.C.--but we couldn't settle on anywhere ideal. Finally, Allison did us far by better by offering to turn our casual evening of games into a proper dinner hosted at the Alexandria apartment where she lives with her husband, Jason.
My sole classmate from last summer, Olga, was kind enough to drive hours out of her way to bring me out-to and back-from our dinner party. But, I had made a point to see if Olga would have more time to catch up earlier in the afternoon, one-on-one, before our night of dinner and games.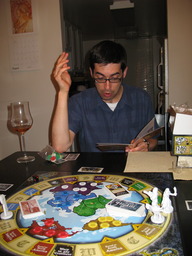 Jason's Turn:
"Playing Gods"

On our way driving into Alexandria, we came upon a strip mall close to our destination, a building filled entirely with Ethiopian and Eritrean businesses. We picked a cafe at random: Members, then ordered from the menu at random: one serving of tiramisu, one avocado shake, and one mango shake. The tiramisu was disappointing but the shakes were delicious, made from fresh fruit. Olga and I chatted and caught up. It turns out that she's nearly done with her second Master's degree in a field completely unrelated to the discipline from which I know her (Turkic languages.) She's now nearly finished with a degree in herbal medicine. Olga is cool.

Good as it was to catch up over fruit shakes with a former classmate doing well, the evening only got better from there. When we arrived to the dinner party, Allison was just finishing up in the kitchen. It was clear that she'd devoted a fair portion of her day to preparing dinner. She had crafted a variety of small dishes from the traditional cuisines of Italy and Spain. Prawns in a chili sauce. A kind of whitefish wrapped with prosciutto. Rare steak in yummy marinade. Something like bruschetta--but better. Lots and lots of wine.

We started with the standard games that we played back in Bloomington last summer. Anagrams and SET were trotted out. After months traveling in areas where English is not a first language or people around me weren't familiar with SET it felt so good to be up against stiff competition in both games. To finish the evening, Jason proposed playing a board game he'd picked up some time ago but never had the opportunity to inaugurate: "Playing Gods".

The game turned out to be a spoof on the world's religions and how attachment to their scriptures has led to conflict. Each player chose an icon from a familiar world religion, an alternative cult, or any other random following to wreak havoc upon the other.

Thanks for the games, the dinner, and the evening of fun, Jason and Allison! My turn to host when- and wherever we next meet...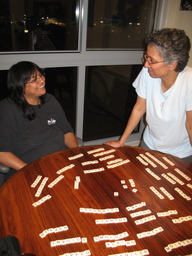 Mala and Vega After
Round of Anagrams
Mala & Vega
Staying with Mala and Vega for several nights felt like a flashback to many previous periods I've been their long-term houseguest back in Seattle.
Everything about their day-to-day lives is different from when we last met up a year ago. They're living in a new apartment in another part of Maryland. They each have a new job, both of them now work in Dupont Circle.
But they still remain the same sweet, loving, and giving couple.
Mala and Vega: you two have the biggest hearts of anybody I know.
Naomi
Naomi and I managed to synch up only twice while I was in town, each time over a meal. She's been too busy for much else, keeping on top of her job that demands so many hours. Further limiting our attempts to get together, just a few days after I came to town, she had to fly back to Seattle to help her family move.

One bonus in seeing Naomi: I've been re-united with objects I haven't seen in a year. It was at Naomi's home I had been stashing the items I didn't want to take with me on my long journey when I left this city a year ago. Chief among them: a ruby-colored hookah pipe--which I am quite happy to be re-acquainted with.

Naomi and I did meet up in Germany just a couple months prior, so there wasn't as much news to catch up on with her as with other friends. Since she returned from that trip, she's been working long hours in other offices around the country: Chicago, Seattle, Birmingham. She seems worn down by her demanding schedule, but, as always, she remains sunny and fun to be with.

It's a shame that she's had to run back to Seattle in the middle of my visit--but I know we'll catch up again elsewhere before long...
David and Cousin-Once-Removed
Isaac Finish Round of Qwirkle
Uncle David and Family
I must have arrived at the worst possible time to call on Uncle David and Aunt Nancy. The day I came to stay was the day Aunt Nancy returned to begin her final year of teaching elementary school. Uncle David, as a pastor, is always busy on Sundays. He additionally had to make preparations to officiate at a funeral. Despite my poor timing, they welcomed me to stay in their home, taking pains to accommodate me.
I did manage to weave in time with them, with their grandchildren, and with my cousin and cousin-in-law (is that a real relationship term?) The extended family attends church service every week; I came along this past Sunday morning, as well.
Cousin Melodie and her husband Ben are years into a regular rhythm as family with children. Their boys Isaac and Eli are going back to school this week. I got to know all of them better when the children stayed with their grandparents and we all spent time playing games together.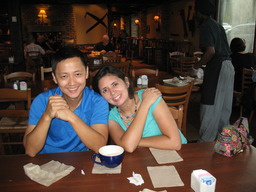 Cousin Melodie with
Husband, Ben

Both boys are currently in a fanatical state over a certain toy. Much of their play this past weekend was holding competitions between some sort of high-tech spinning tops, Beyblades. Each top is named after a sign of the Zodiac. They're spun into motion by ripping a specialized cord, then dropped into a plastic "arena" (which I mistook for a dog's water dish the first time I saw it.)

The whole thing is evidently part of a children's television program as well; we played for hours and hours and hours...
---
Yesterday was my last full day in Washington, D.C., I decided to be less social for my last day in town. I returned to the Freer Gallery--the museum I was standing in when the earthquake struck--to finish my interrupted visit. I had enough time to also take in parts of the adjacent Sackler Gallery before it closed. Across the Mall, extended hours at the Natural History Museum allowed me to visit a new exhibition on racial identity. This has been a good, full visit.

Now, it's pouring down rain and I'm on my return Megabus journey back up the east coast.

Next stop: New York