Member's Lounge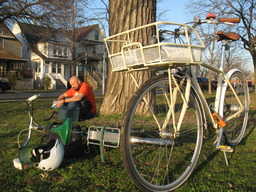 David Reads in Brands Park

Chicago, USA
March 15, 2012

The old man at the door tried to dismiss me:

"The Member's Lounge is for members only," he told me firmly.

I was on the ground level of the Art Institute of Chicago standing outside a door far-removed from any gallery. Though I am indeed not a member, I wasn't trying to sneak into anywhere I shouldn't have been allowed.

Just before he tried to turn me away, I'd shown him a large leaflet I'd picked up at the building entrance. Among other self-guided "mini-tours" offered by the museum, the Cultural Distance: Quarter-Mile Tour B directed visitors through galleries housing works by the likes of Max Weber and Picasso. But, rather than leading on to one more painting or sculpture as all other points along the route had, the final stop of this particular tour was more like coming upon a clue in a secret treasure hunt: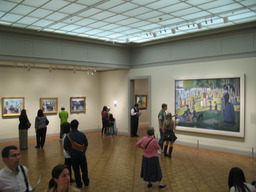 Patrons at an Exhibition

"Take the stairs down another level to the Member Lounge, and reward yourself with a complimentary cup of coffee! Nonmembers, present this tour for one-time admission to the lounge."

I pointed again to the text. This time the doorman actually read it over, literally scratching his head while interpreting whether I could be allowed in.

"Well. I haven't seen this one before. Uh... please come in, then. Sir."

I had assumed that several times every day the lounge would see nonmembers dropping in flashing the printed guide--if not for the free beverages for somewhere pleasant to sit and relax after a long day walking through galleries. Evidently few people must complete that particular self-guided tour.

I availed myself of the complimentary coffee.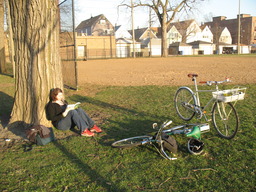 Megan Reads in Brands Park

Though I was on my own exploring the Art Institute today, most of my time this week has been spent visiting with Megan. She's been abnormally busy this month, working consecutive long, full days. At the end of this week she's again heading to the east coast for two straight weeks of business trips. But, her schedule happens to be completely open this week so we've been hanging out running around the city together.

Megan is an active cyclist who regularly joins along in group rides throughout Chicago: there's Critical Mass, there's Critical Lass, and there's also something called "Tweed Rides" for which participants dress up in spiffy old-fashioned clothing. I'm not sure which impresses on me more her dedication to cycling: that she often does graphic design work, sometimes pro bono, creating the posters for various cycling events (most recently "Kidical Mass") or that she never got off her bike and onto the L all through winter.

Much of our time has been out and about. Megan surrendered her better bike to me, the one she herself would usually ride to get around town. She tuned up a flimsy old 3-speed down in her basement so we could pedal about together. On one day we rode a huge circuit, cycling down the Lakefront Bike Path between the Loop and Lake Michgan, pausing at a beach somewhere around East 33rd Street, circling back up through downtown to pass through the country's tallest skyscrapers, then working our way across neglected formerly industrial neighborhoods into trendier places such as Wicker Park and Bucktown before finally returning home.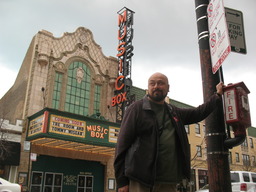 David Outside Movie Theatre

Another day out biking was spent more casually, keeping close to her place off Logan Square. We ran errands at the Apple Store. We sat under a tree in a park, reading. We rode over to nearby Kuma's Corner for a dinner of enormous burgers and ale.

It may technically still be winter, but most days have felt like summertime. The weather has been not just unseasonably warm but has set record high temperatures over several of the days I've been in Chicago. I happened to come through town at just the right time.

Despite the non-stop perfect weather not all of our activities have been spent outdoors. Megan introduced me to a TV adaptation of a series of novels she's nearly finished reading. We managed to finish an entire season of Game of Thrones in just a few days. Another day, we rode (buses, not bikes) across town to an old cinema, the Music Box, to see an Iranian film we were both curious about, A Separation. It's been good to have lots of free time to catch up with a close pal.

Our time together on this visit isn't over, yet. We have far too many plans for St. Patrick's Day ahead this weekend. Everything I've heard makes it sound like that's the biggest, or perhaps craziest, holiday this city celebrates every year.