Free French II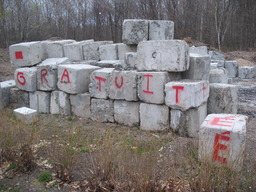 Université Laval Campus

QUÉBEC, Canada
May 6, 2012

My first week as a language student once again has finished. I'm quite pleased.

These courses are a serious endeavor. I have two instructors who combine to teach for six hours every weekday. One focuses mostly on grammar and construction. The other focuses mostly on conversation and participatory activity. Both seem experienced and at-ease in front of a class. Both are Québecoise native speakers of French who refuse to allow one word of any other language to be spoken.

Stepping back into the classroom is a perfectly comfortable routine for me. Now that I think about it, many years of my adult life have been spent in some language-learning setting or other, often-as-not getting somebody else to sport the tuition through scholarship or other funding.

My only background in French was one ten-week session back as a teenager. That places me far from the top of the class. But, I'm far from the bottom.

I'm pretty sure that I am tops when it comes to time spent as a language student. Those drills integral to all language courses: substitution and variation on a sentence structure, fill-in-the-blank-with-the-right-pronoun, written dictations--that stuff is old hat to me. Many of the other students are still working out the formula, trying to understand what's being asked of them when we engage in various exercises. I find it ironic that I'm often the one who's most attuned to the task-at-hand as half the other students are native speakers of a fellow romance language, Spanish. They may have the advantage when it comes to familiarity with cognate vocabulary and grammatical structure. But I have the advantage when it comes to classroom language learning techniques.

I was surprised by where most of my classmates hail from. I had expected to sit alongside a lot of people who had emigrated from East Asia. I presumed that there would especially be a lot of Chinese. Initially, there were two students from China--but they were the only ones who had zero background in French. Both dropped out within the first couple days. There's nobody at-all representing East Asia at my level.

Rather, an even half of my classmates are from Colombia. There are a couple from Iran, a couple from Egypt, a couple from Ukraine, one from Moldova, and one from Iraq. I'm the only student from what would be considered a developed, western country across the entire program. I get the sense that I'm a curiosity to the students, teachers, and administrative staff alike.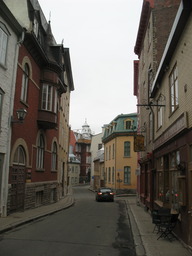 Vieux Québec

Settling into Québec City is going well though yet an act in progress. I moved into a room in a well-furnished house just off-campus. The proximity can't be beaten. I can walk to class in 15 minutes. However, the house has just been sold. I'll have to move elsewhere by month's end. I'm sure I'd stay on in this same place through the end of term if I could, but perhaps it's just as-well I can't. The university and its surrounding neighborhoods feel suburban. There's little distinctive out in this end of town. Even though it will mean a daily commute by bus or bike, I think I'm going to look for accommodation either closer to or within the old city when I find somewhere new to live come June.

I've signed up for a library card at the Réseau des bibliothèques de la Ville de Québec. It's come in handy already. Rather than pay for more books I don't really need to own, I checked out a couple of the required textbooks: a French/English dictionary and something called a Bescherelle, a book listing tables of every possible verbal conjugation. I also checked out a couple oversized cartoon books meant for children (Tintin and Popeye) which are about my reading level. They're fun.

Thursday we were given a tour of PEPS. That's the campus gymnasium. The structure is an enormous warren of sweaty exercise venues. It's neither as new nor as nice as the community center where I worked out while cat-sitting back in Notre-Dame-de-Grâce. But, if I understood correctly what the manager said when touring the facility, a basic membership at PEPS will be free when they've issued my student card. I'm hoping to get back into my routine of swimming laps every other day.

I'm really liking this next phase of my life.