Placement Pending II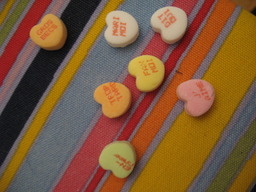 Dit Oui

MONTRÉAL, Canada
February 17, 2012

Distinctions abound between how things run where I'm from and how things run up here--some subtle, some glaring:

There was the shopping I did at the Persian grocer down the street--a box of Bam dates and a bottle of doogh--both products of Iran. Then, there was the radio advertisement I heard offering vacation packages to Cuba. None of that could be on offer back in the U.S..

Starker still are the language differences. Most signs are in French. Those that have English translation do so using a font minimized to one-third scale the version français. Sandwich shops in this city offer "12 pouces 5$", a slogan I am more familiar with marketed under the banner of "$5 Footlongs". (Yes, the dollar sign trails the numerals in pricing across Québec, even when the accompanying text is in English.)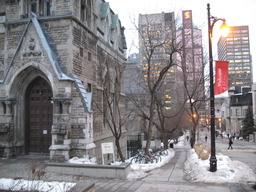 Morrice Hall, McGill University

I've learnt the special synthesized greeting that baristas and shop cashiers use to address unfamilar clientele. It seems to come in three variations, most often as "bonjour-hi" or "bonjour-hello". Occasionally I've been greeted with "bonjour-hey". Anybody interacting with the public in this city seems to function as easily in either language. That is, except for the stubborn government officials at the Régie de l'assurance maladie du Québec who sit behind monolingual signs (not in English) declaring that, "In Québec French is spoken!"

Last night I found St. Valentine's Day candy had been discounted at the local Provigo supermarket. (I have a weakness for traditional confectionaries: lemon drops, jawbreakers, Necco wafers--what sweets were common back before everything along the candy aisle turned into something chocolate-based.) It didn't strike me until I'd opened up and looked inside my box of pastel conversation hearts that those too would have to be bilingual. The standard English fragments "NICE GIRL" or "UR A 10" I was familiar with were coupled with equivalents that should help me improve my rudimentary French:

AMOUR
BEAU YEUX
BON REVE
CEST AFAM
CEST TROP
CEST VRAI
DIT OUI
ENCORE
FAX MOI
GROS BECS
J'AIME
JE 7AIME
JE VEUX
MARI MOI
MON ANGE
MON CHOU
NUIT REVE
OUI CHER
POUR TOI
T'ES BEAU
TRES BON
TROP TARD
VEUX TU?
VIENS ICI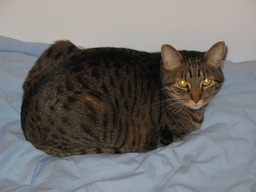 Catsitting with Ogodei

Hmm... could those candy hearts have been the original SMS-speak?

I never did hear back from the language intergration program or the potential English teaching position I had hopes to begin last week in Québec City. So, presuming that nothing will start until next term, I've returned to Montréal. I'm disappointed not to begin life in Québec City right yet, though the timing has worked out well. It's mid-semester break at McGill. Through the end of this month Gwen will be away catching Mexican sunshine. This means I have the run of her cozy apartment replete with two content cats.

Where I get to cat-sit is in the west end of Montréal, a neighborhood called Notre-Dame-de-Grâce. It's a traditionally anglophone area, though now populated by a mix of immigrants who come from places where languages other than French and English are normally spoken first. I've already frequented several stores opened by people who have come here from farther afield that I have: Rocky Montana's Fruit is a comprehensive grocery stocked with not just produce, but all the spices, grains, and legumes found in any shop in India. Akhavan is the Persian supermarket where I bought my Iranian dates and doogh. Super Dollar down the block is run by a couple from China.

Though I'm here for just a couple weeks, I've begun a routine in the neighborhood. Every other day I go to the Côte-des-Neiges Notre-Dame-de-Grâce. Whatever that translates as, it seems to be the local gym and community center. I arrive for the noon swim, which--incongruously for such a nice, new facility--is free. No membership card. No session fee. Lifeguards on duty. I really like what I'm finding on offer around Montréal.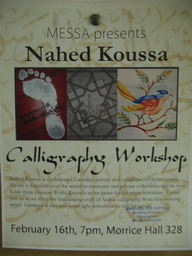 Flyer for Calligraphy
Workshop

Yesterday was one of my better moments for happening into offerings around this city. I met up with Gwen on the McGill campus before she began her afternoon class. After she headed off to teach I took in an exhibition that happened to be on display at the main library on the life and writings of al-Ghazali, an Islamic philosopher some 900 years ago. I next wandered over to the Islamic library where I found several books on Persian art and literature that Gwen was gracious enough (using her faculty card) to borrow for me. But, best of all I chanced on a flyer posted to the bulletin board outside the main entrance advertising a participatory demonstration of Arabic calligraphy with a master calligrapher from Syria--to be held just a few hours later that very evening. I skipped dinner to attend the session which was held almost entirely in French with the occasional lapse into standard Arabic. Whichever language was spoken didn't matter--I knew what the artist was talking about so felt I could understand every word.

This city is alive. I'm going to find myself torn not to pack up and just settle here after I finally finish up my language integration program back in Québec City. Whenever it is that course begins...