P.O. Box II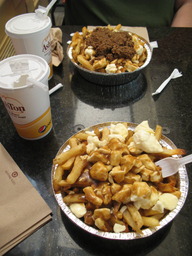 QUÉBEC, Canada
June 3, 2012

Wow! People are actually sending me physical mail.

Even times when I'm not out on the road I still keep in contact frequently by postcard and letter. But, that's been something of a one-sided endeavor. Having no fixed address over recent years meant I'd forgotten how pleasant it is to receive a personal, physical note from somebody living far away.

When I peeped inside my new post office box after class Friday I found several postcards and a couple envelopes lying inside. All were addressed to me. Each was handwritten. But not all were sent by the friends and family I'd assumed might write. Some were sent by near- and utter strangers.

The most distant connections were with people I'd met either once in-passing or never at all. A postcard from St. Louis was written by a friend of Rian and Laura's whom I'd met while attending their wedding--but hadn't communicated with since. Another letter came from a fellow I've never met who lives in Ontario--just the next province over. He evidently stumbled onto this weblog years ago and has followed what I'm up to ever since.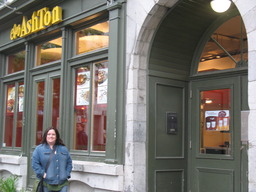 Kim outside Chez Ashton

Those, along with all the other cards and letters I've received, are now adorning the otherwise spare desk of the room I just moved into off-campus. I promise to respond in kind to every letter and postcard I receive. I may write back soon. Or, I may write back six weeks from now when I'm off traveling again over summer vacation. Regardless of which place I do write from, I promise to perpetuate the correspondance.

(Confidential to Greg in St. Louis: please send me your mailing address so I can write you back.) Unconfidential to everybody else who might write: do include your current return address as well.

I wonder if more cards and letters will come--and who might send them. There must be other lurkers out there. But, I've never checked the server logs to see what traffic this site receives. I've composed all my entries presuming that nobody out there actually reads whatever I happen to write. I do maintain a basic listserv for those who want to be alerted each time I post a new entry to the site. But, the e-mail update messages I send out to what few-dozen people do subscribe seldom generate any responses back.

I'm largely carrying on my communication as if technology hadn't developed since the turn of the century. (The turn of which exact century, I'm not sure.) My pen-and-paper correspondence aside, I do recognize what digital contact I keep stopped adapting decades ago. Yes, I know the site design for this travelogue resembles what the Web looked like circa 1996. I find it amusing that narrative 'blogs in general have become a near-extinct medium. I must be old-fashioned. Or perhaps I'm just plain old.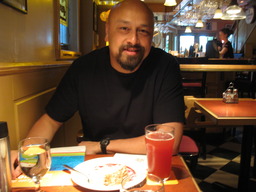 David at Café du Temps Perdu

The past days I've engaged in an even older way of maintaining contact with friends than by 'blog or by pen: the in-person visit. I've had my first guest from out-of-town come calling. Kim followed on after me coming here to Québec City after our holiday weekend in Montréal last week. Without prior guests or close friends here to run much around town I'd largely been sticking to austere student mode. These past days it's been fun to have somebody to get together with to go outside and play when I get out of class.

One night we took dinner at a location of beloved local poutine chain Chez Ashton in Quebec's old city. We weren't able to finish the two enormous orders of french fries drenched in gravy and cheese curd that we ordered. That won't stop me from placing a similar order the next time I go: leftover poutine still makes for a fine brown-bag lunch the day after. Another day spent together after class I guided Kim along a walk around what areas I know of the U. Laval campus and the neighborhoods surrounding where I live. We strolled along a trail through a small woods off the school grounds and wound up out on a stretch of Avenue Myrand lined with a few shops and restaurants. We idled the rest of that afternoon at one place in particular, Café du Temps Perdu.

It was a cafe I'd walked past on occasion. I was curious what menu was on offer that made it such a popular place. It was always bustling with people sitting around meals at tables shaded beneath large umbrellas along the sidewalk. I did have enough ability in French to recognize that the place had a cool, hipster-sounding name. But it was Kim who recognized the name for the Proustian literary allusion it was. Maybe my language ability will be as good as hers one day. Though, I do suppose she's had a head-start of several decades of French on me, starting her Free French in public school even back before we first met as elementary school classmates...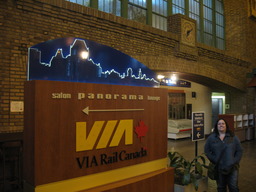 Kim at Gare Central, Québec City

Last Wednesday, Kim took Canada's national VIA Rail back to Montréal to connect to an Amtrak run down to Yonkers for her reunion. Before she left, I asked if she would play "cross-border mule" by delivering "something small" after making it out of the country.

"Yeah. Sure. What do you want me to bring?", Kim asked in an unsurprised tone suggesting she already knew I wouldn't ask her to transport anything illegal or potentially problematic.

I handed her a stack of over a dozen postcards I'd already written out, addressed, and stuck U.S. stamps onto.

"Can you just throw these in whatever mailbox you first come across?", I asked. "I don't care if the postmark says 'Manhattan', 'Bronxville', or anywhere else. It's just that the postage costs 50% less to international destinations and 70% less to domestic addresses if they go through the U.S. mail system rather than Canada Post..."

It's a shame Kim didn't come to visit after I'd checked my p.o. box on Friday. I would have had far more letters to hand off to her.
---
For those who missed the entry in which I gave my new mailing address, that can be found here.