Waterfall Excursion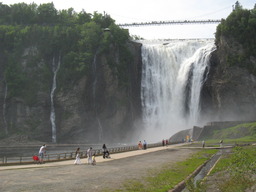 Chute Montmorency

QUÉBEC, Canada
June 10, 2012

I slathered peanut butter and orange marmalade between four slices of bread to make up a double PB&J (PB&M?) picnic lunch. I topped off my large travel mug with cold water then strolled over to the bus stop.

I'm yet in my initial stages of getting to know the Québec City area. Today, I decided to make an easy day-trip. I rode Métrobus route 800 out to the end of the line: Terminus Chute-Montmorency.

It was a presentation by fellow students in class that inspired me to go see the tremendous waterfall on the outskirts of the city. Last week, Madame É. had us break off into groups to deliver a presentation of different attractions around Québec City. I was happy that my group drew Musée de la civilisation, a site I had visited myself on my first visit to this city. I'd been through the entire building so could speak somewhat authoritatively about the permanent collection and some of the temporary exhibitions still on display.

However, the best presentation of our class was crafted by another group of students who presented professional-looking mapped itineraries and a slide show that could have been created by Tourisme Québec. My classmates' presentation certainly sold me on visiting Chute Montmorency. Knowing there would be no admission fee or additional fare to get there and back using my monthly bus pass sealed my plan.

Beyond the Waterfall

The weather was perfect for an aimless day exploring outside. I walked across a footbridge suspended above the falls to skirt Parc Montmorency. An enormous wooden staircase at the other edge of the park gradually brought me down to the base of the falls. I lingered at different stages offering pleasant vantage points eventually finishing down below on a park bench where I ate up my PB&J's.

On the other side of railway tracks outside the picnic area was a base station for a cable car running back up to the top of the falls. I refilled my water bottle there and picked up identical brochures (one in English the other in French) presenting an overview of the waterfall and its setting. The first paragraph emphasized that the height was 83-meters (272 feet) so 30 meters higher (98.5 feet) than Niagara Falls.

Yeah, sure--it may be a taller waterfall, but I don't know that necessarily makes it a more spectacular waterfall.

Beyond the cable car base station was a highway off-ramp connecting with a bridge to Île d'Orleans. I was tempted to see if there was a footpath running alongside the shoulder of the bridge. Several people have recommended a visit to the island, most recently Madame G., who described, using a voice near-imperative, strawberries grown there that "might be small and expensive" but absolutely worth going out and splurging on.

Despite the gushing description of strawberry fields, I thought better of extending too thin my explorations today. I climbed back up the enormous wooden staircase, cut through an art fair in the park, and came back to the bus stop where I'd first arrived. I'll come back this way again sometime by bicycle, sometime when I can really explore the area.