Cross-Border Party III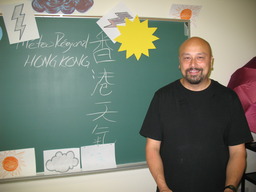 Classroom Exercise of the
Day: Mock Weather Forecast

QUÉBEC, Canada
June 13, 2012

Another long-standing friend has come calling. Astrid just passed through Québec City to drop in, say hello, and re-connect for a time. We spent the better part of this past Monday renewing our friendship by touring historic sites around Québec City, sharing a dinner of traditional French cuisine, and generally catching each other up on where we've arrived in life.

Respect to Astrid: it's a fair 8- to 10-hour drive to get here from the suburbs of New York where she's been living these past couple years.

Astrid is doing all right. She's still employed by the same college not far from her family home, the same one where she was teaching when I saw her last summer. It seems like a reasonable status quo for her to maintain--though that hasn't stopped her from putting in applications for positions at a couple other institutions. Maybe she'll land somewhere that could offer a bump in pay, a cut in teaching hours, or more opportunities for career growth. In addition to those job applications she has yet to hear back from, Astrid's evidently made the short list on funding that could take her back to Uzbekistan for further research this summer.

I'm doing so well myself with my present direction (i.e., Free French)--hearing about Astrid's opportunities shouldn't make me jealous. But, the prospect of receiving funding to return to Uzbekistan... wow, thinking about that gave me a twinge of longing. Has it really been five years since I was out there exploring that country?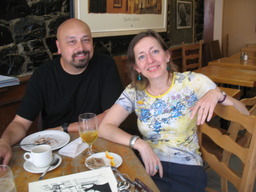 David and Astrid
Take Coffee and Cake

We took in a slice of the well too-many historic sites throughout the old city. Why was there a bust of Louis XIV in the center of the plaza where we were sitting, we wondered? Wasn't he on the throne well before the development of the new world? Or, perhaps not... this city does have to be one of the oldest on the continent. I suppose either of us could have called up the facts of historical dates with any mobile device connected to the Internet, immediately. But, it was far more fun to contemplate what we were taking in based only on what we already knew.

Astrid came here along with her mother, who was generous enough to insist that our dinner at Restaurant le Saint-Malo had to be on her. It was Astrid's birthday, after all. Blood sausage, steak tartare, and a surprise birthday cheesecake for Astrid's dessert--a lot richer fare than what I've been cooking for one each night. We realized over dinner that Astrid made a similar birthday excursion crossing into Canada exactly two years ago to come celebrate my immigration to this country. For such a big world, it's funny to see the patterns of how we keep running in the same loops.

Yesterday, Astrid and her mother turned around to drive back down to the U.S.. Before they left, I asked the same favor I asked of Kim when she took the train down to New York. "Would you toss this stack of postcards into the first big, blue mailbox you come across?"

So, more correspondence will be arriving all the sooner to loyal weblog devotees who have been writing me at my new p.o. box.

More letters; more visitors welcome!