Le Weekend II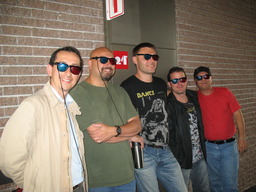 Colombia, USA, Ukraine, Cuba,
and Iraq in 3-D on 31st Floor

QUÉBEC, Canada
July 8, 2012

Class sessions have de- (or is it, e-?) volved into a continual cocktail party. It's almost impossible for me to distinguish le weekend from les jours de semaine these days.

The sessions with Madame É. were always meant to be about fun and interactive games to practice the language, anyway. And Madame G. does still introduce her grammatical concepts and leads her drills according to textbook and photocopied handout. But, over these waning sessions of class--with both teachers--it's felt like we've more often than not all been out on some field trip, sharing a potluck picnic, or enjoying drinks together somewhere around town.

Though the Ministère de l'Immigration et des Communautés culturelles may be beneficent enough to pay for certain field trips on top of our daily classroom sessions, I doubt that our addition of picnics; drinks; and hookah pipes are the precise curriculum envisioned by those higher-up who bring the Free French. Whatever. Going out with colleagues in various informal situations has to be better for everybody's French language advancement than repetitive drills conjugating the recent-past tense.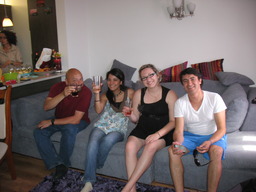 Drinks Chez Ukrainiens

One ministry-approved field trip took us on a guided tour atop the tallest tower in Québec City, the Marie-Guyart Building. That was followed up by ministry-unapproved martinis in the park. The next official field trip took us to the open-air market in nearby Sainte Foy. In theory, we finished early enough that we could have all ridden route 800 back to the Université Laval campus to reflect back in the classroom on the excursion and what lessons were learned. But, it was such a more rewarding exercise for the entire class to stroll over to the nearby apartment of the Ukranian couple who were able to whip up an impromptu afternoon of blinis, flambéed bananas, and a wonderful cocktail selection.

At Chez Ukraniens I solved the mystery of the "martini" that one of our other classmates brought to our first field trip. I thought it was some sort of home-brewed moonshine the foreign student erroneously referred to as a "martini". It's evidently the brandname of a certain bottled bitters. Am I the only person alive who didn't know this? This seems to be everybody's drink of choice today; the Martini flowed freely again after our field trip to the public market.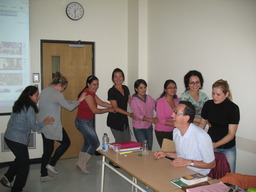 Classroom Conga Line

Even outside class more fun is taking place all over town. The Cirque du Soleil carries on; I went back for a repeat performance of the flashy production and hope to do so again before the run ends in September. Québec City is in the middle of a ten-day music festival held on stages all around town, Festival d'été de Quebec. In the days since it's begun I've taken in some diverse acts: LMFAO from L.A., Sidi Touré from Mali--I just got back from a performance by the Slobodan Salijevic Orkestar from the Balkans.

Is it to make up for the long winter that all Québec City turns into a non-stop party in the summer?

Over a group conversation exercise one day last week Madame G. shared in all earnestness that over her twelve years of teaching for the Ministry she's never had a class that holds such camaraderie.

But change to our routine is coming. Final exams are imminent. There will be a written exam tomorrow, a composition the next day, and then I have my final individual oral interview scheduled for Thursday. I'm not sweating the tests. I may be a long ways from fluency, but I do feel confident in my language ability relative to everybody else in class.

Even with two more terms of language intergration on the horizon I am a touch sad that this session is about to end.