10-Hour Layover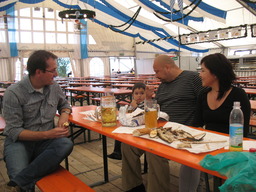 Jochen, Toby, David, and
Gulaim in Bavarian Beer Hall

MUNICH, Germany
July 13, 2012

Yesterday afternoon after my last class I headed directly to Québec City's airport to begin my summer travels. I could have chosen a shorter itinerary with one fewer transfer. But, when booking my ticket on-line a routing came up offering a 10-hour layover in Munich before arriving at my final destination. I had to choose that one. I knew I'd have some folks around town to say "hello" to.

Uli picked me up at Munich's airport. We last saw each other nearly 7 years ago. She, as with so many people I keep up with, was somebody I first met over a period while we were both living in Xinjiang. Over the time I was studying at Xinjiang University Uli was across town teaching English.

She wound up quitting Urumqi a couple years before I did, back in 2005. Even back then I knew that when I finally left town I wanted to do so by making a long, overland journey as far west as I could. Uli and I had spoken occasionally about the prospect of making that trip together when it came time for her to return to Europe. But, I kept delaying my departure. She beat me out of Urumqi by two years. We didn't make the journey together. The two of us fell out of contact after she left... until just this past week.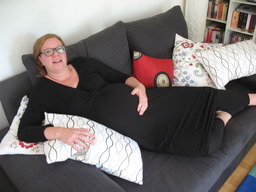 Uli Expecting

Uli came and picked me up at MUC. She is doing well with lots of news. She's recently married. She's currently 9 months pregnant with her first child. We spent the morning and early afternoon catching each other up on where we've come in life in the years since we were both living in far-western China. We're both doing so well; it was surprising to find how we're now both leading such wholly different lives from when we last saw each other in China.

Thanks for the coffee and for the lifts all around the city, Uli. Best of luck with motherhood and all else that life brings you! Promise me that it won't be another 7 years before we next have contact...

Buzzing through Munich I, of course, had to call on Jochen and his family. Jochen is still that same character I've called a friend for decades. He's still working for the same company that sent him to Korea and Russia. He's still in the middle of his multi-leg 10-year walk from his hometown in Germany to his wife Gulaim's hometown in Kyrgyzstan. He's still constantly seeking out potential trips, contacts, and projects in any arena at-all he finds captures his attention.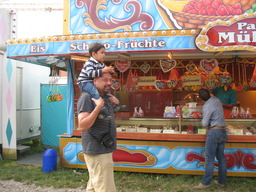 Toby Rides on David's Shoulders

The children are growing older: when she came home from school Begam-ai greeted me with a huge hug and her hair bouncing about in a new perm. She is now seeing her first boyfriend, somebody who sounds in many ways very similar to her--though it's a long-distance relationship as he lives up in Berlin. (Good luck, Begam-ai!) Tobias is growing up, too. He can now articulate so much more than when I saw him here just last year. Though we share no common language he is happy to ride piggyback atop my shoulders and share his Legos and toy trucks so we can play together.

Jochen's family and I took our afternoon out together at a traditional Bavarian beer garden. We ate some kind of smoked, salty fish called Steckerlfisch. Jochen specifically ordered another local dish unique to Bavaria as well, Obatzda, knowing that I would be intrigued to sample a treat unavailable elsewhere. (Obatzda is a fatty dairy delight, mushing together two parts camembert to one part butter with onions, paprika, and other spices all cut in together.) Jochen opted to drink a radler (beer and soda pop combination) rather than a regular beer as he was driving me back to the airport after our short reunion. He pointed out how many of the locals sitting across the beer garden from us were wearing dirndl or lederhosen--clothes which I would otherwise imagine being impossibly stereotypical images of German culture. But, I guess they do still hold onto their traditions here in Bavaria.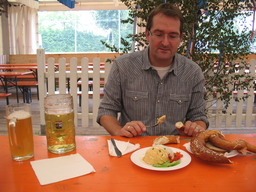 Jochen Contemplates Radler,
Obatzda, and Pretzel

Thanks for the beer and Bavarian specialties, Jochen! It's always so good to renew our friendship, no matter whether it's here in Munich, in Korea, or Kyrgyzstan. Perhaps somewhere in Québec, next?

This 10-hour transfer was just enough time to call on good friends all around town. Though it has been so good to catch up with people who I met many, many years ago, I do leave Munich wondering to myself: why is it that even here, even in Germany--everybody I keep up with is somebody I first met back in Xinjiang?

Next stop: Tallinn