Hostels Revisited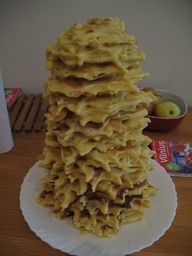 Fresh Birthday Cake

VILNIUS, Lithuania
July 22, 2012

It had been years since hostels had last been my choice of lodging when traveling. But for the beginning of this journey I decided to see what staying at them is like, today.

Ordinarily, I would tend to stay in just about every other type of accommodation while out on the road. Much of eastern Europe works well for short-term private apartment sublets. CouchSurfing is great for meeting and staying with people across western Europe. Throughout Asia and Central America I usually stay in basic guest houses or hotels. Anywhere around the globe where I happen to have friends who are able to host, theirs is always the best place to stay.

But, none of those options quite fit for this leg across the Baltic states. I'm not close friends with anybody in Estonia, Latvia, or Lithuania. I did try sending several requests through CouchSurfing to stay or just to meet up with people while in town--but nothing came together.

After spending these last 10 days in the hostel system of today, I've found they've evolved from what they were like when I used them more regularly many years ago:
All hostels now offer free wi-fi.
Rocking up to the front door without a reservation booked on-line is confusing to many of the receptionists. Evidently well over 90% of guests book in advance. I still make my way from city to city the old-fashioned way: sans reservation. I do understand the convenience of being sure that you'll find a bed when you arrive into town. But, booking in advance would feel to me like taking something away from the flexibility and chance aspects of travel. Why lock yourself into an itinerary knowing just which place you'll head to next, just where you'll stay, and for just how long once there?


Remains of Birthday Cake

Another aspect of the hostel experience, their more communal nature, now seems absent. I remember staying at places where performing basic chores was required as part of logding (e.g., sweeping the back steps, cleaning the kitchen.) That's completely vanished in all the places I've stayed this summer. Another staple of what I remember of hostels has changed: no more curfews. I remember not just late-night curfews but day-time lockouts, as well: being forced to wake up by a certain hour to leave the premises during the day. In a sense that wasn't such a bad idea as it maximized time for exploring and visiting an area. But, late-riser that I am, I'm glad hostels are much more flexible with their hours, today.
They're not really "youth hostels" anymore. Though the vast majority of people who stay are travelers in their twenties, I'm never the oldest guest. A family with children was also staying at the hostel at my last stop in Riga. Here in Vilnius, I chatted the evening away with a guest who I would guess was probably somewhere in her early sixties.
The names remind me of pubs. Or perhaps drinks? I stayed at the "Purple Goblin" up in Tallinn. I was at "Cinnamon Sally's" in Riga. (I was advised against staying at "Jimmy Jump's" in Riga by another traveler who said she'd been bitten by bedbugs while staying there.) Nor was I tempted to stay at an Australian backpacker party hostel, dubbed the "Naughty Squirrel". But, here in Vilnius I've found my favorite hostel of them all: a small, simple place called "Home Made House".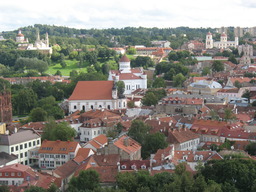 Vilnius Town

I would have loved the Home Made House for its own merits: tidy, filled with games, and in a central location. But, when the owner, Lina, noted that I would be staying over my birthday she went well beyond any necessary role as hostel owner. She bought a unique homemade cake for all the guests to share, a cake which is baked for traditional festivals and special occasions in Lithuania.

I'd never seen anything like it. The cake resembled some sort of ragged, elongated volcano. Lina, the hostel owner, brought up a video on YouTube that demonstrated how such cakes are made. A conical spit rotating above a fire is slathered in batter, which is then daubed about in another thicker batter once the base becomes crispy. It was delicious.

Eating that was simpler than any other birthday cake I've eaten. Just tear off the edge of whatever forms the summit and pop it into your mouth. There were neither candles nor frosting, but I suppose those wouldn't be traditional. These cakes are evidently found at all celebrations here, including Lithuanian weddings, as well.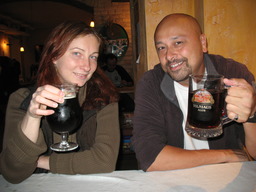 Lina and David Share
Birthday Dinner

For my birthday dinner we went out for traditional Lithuanian fare: pig ears with sauerkraut and mustard and a side of something that looked like chick peas but tasted like corn. There was an appetizer of local cheese sprinkled with cumin all washed down with a hearty dark beer.

Thank you, Lina! I hope your Home Made House will still be in business should I ever visit Vilnius again. It's been a very happy birthday, indeed.

Next stop: Berlin