2-Day Sublet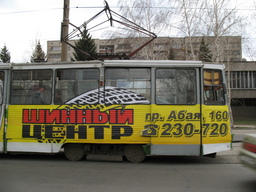 Ust-Kamenogorosk Tram

UST-KAMENOGOROSK, Kazakhstan
April 15, 2008

Would you pay to stay in a total stranger's apartment for the night? Not in the place of some friend-of-a-friend, but somebody who you literally just met on the street?

This is a fairly common practice in countries which were part of the Soviet Union. It's how Rian and I spent our first night in Almaty last year. We arrived into the city late and found all the cheap hotels full--so resorted to the people outside the railway station holding signs announcing "ACCOMMODATION". On a visit here two years ago, Bonnie B. and I hopped around several different flats when we met here in Kazakhstan. On this present trip, I've spent my past couple nights having the run of somebody's apartment in Ust-Kamenogorosk.

By default, I do check the hotels first. However, it's become pointless to bother enquiring at hotels in Kazakhstan today. Over the past few years prices have shot well beyond any reasonable rate. Everybody grumbles how expensive the country has become, but nobody I've asked has given an explanation which I can understand as to why prices are so high. Most often people cite a recent boom in construction as driving prices up--I'm not sure how having more buildings would raise hotel prices.

I didn't find the current place where I'm staying though somebody holding a sign on the street. I had the help of an energetic young Kazak, Talgat, who I met through CouchSurfing. He couldn't host himself. After getting to know each other over coffee and baklava, Talgat drove me to several hotels around town and enquired as to the rates. When it became obvious that nothing would be affordable, I asked if he knew anybody who let out apartments. Talgat made a few calls and found the perfect solution. There was somebody with a flat available in a quiet neighborhood not far from the city center. She was willing to let it go for about $20 USD per night.

Every time I've done one of these informal sublets, I've entered with vague trepidation. "What if I get lost and can't find the place again?" (Most apartments are in anonymous residential blocks away from the city center.) "What if they keep a spare set of keys and come back and swipe my stuff when I'm gone?"

I do realize that the concern should probably be greater from the other side: "Can I trust this random person to not trash my house and steal my stuff to make an extra twenty bucks?" Every person I've sublet a place from has asked to see identity documents. Some request to hold a passport as collateral.

Then, every time I finish one of these informal sublets, I always think what a great system it is--for both parties. None of those far-fetched scenarios of my imagination has ever happened to me. I get a nicer, larger, better-furnished place to stay, and pay only half of what I would pay for a dingy hotel. The local makes two-to-three times an average day's wages for each night they let out their place. Their main inconvenience is having to crash elsewhere on short notice--I presume at some family or friend's place.

Every time I've done this, the apartment is immaculate. The flat itself is seldom fancy--standard-issue Soviet style--but floors are all swept, mopped, and vacuumed. Fresh towels and sheets are provided, there's usually at least a bar of soap in the bathroom. The kitchen will have the expected range of utensils, dishes, and pans. Each place I have stayed has had a television as well.

Well-furnished as the apartments come, it's obvious what the situation is. There are never any personal belongings left around the apartment. The fridge will be completely empty. There are no pictures hung on the walls of the flat I'm in now. The cupboards are bare. I presume the people who are willing to let their apartments out this way must have somewhere else they store the possessions they care about. I can't imagine maintaining such a spartan existence in my own space, day after day keeping everything clean and ready for some potential lodger. When the owner of the apartment handed her keys over and left, she carried just one small plastic grocery sack. I think it contained mostly items from her fridge she didn't want me to eat.

Probably the best of these short-term sublets I've done was one up in St. Petersburg many years ago. The apartment was not far from a metro station. The apartment was old, well-kept, and well-furnished. It had a lot of charm: hardwood floors and a grand piano. I hadn't played for years, but remember sitting at the keys, surprised by how--with a few false starts--so many of the exercises and pieces I had learned so long ago could still come out. I recall buying potatoes and pasta at the market, then preparing them in that kitchen's apartment--singing my wrist on the gas stove when I held the match the wrong way.

Burning oneself may not sound like the most romantic of memories, but--somehow--everything about existence there brings back fond associations. I was in that apartment for only three nights. It's a shame that I was at the end of my visa and couldn't stay on longer. That sublet was only $10 USD per night.