Summer Bar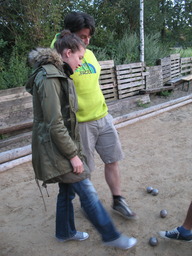 Saarke and David P.
Play Pétanque

ANTWERP, Belgium
July 31, 2012

I've just finished checking back in with the same friends I saw in this city exactly one year ago here. Everybody's doing just fine.

David P. and Bo are all right. Since I last saw them they've spent much of their time renovating a house they bought together up on the north end of Antwerp. Even without any previous experience in construction or home repairs, David P. decided that work such as laying down floors, taking out walls, and installing new plumbing were all tasks he ought to be able to do himself. As his realm is really in the IT sector and as he and Bo do have jobs to go to during the day it's been a long, slow process. But the couple expect to finally move in within a few months.

Saarke and I have had more time together to catch up. We talked late into the night updating each other on where we've come in life this past year. I think that she's possibly been better-traveled than I have yet far this year. She's certainly been to a broader range of destinations: Saarke was touring Colombia at the beginning of this year. She just returned from a visit to India to attend a wedding. Next, she's off to Malawi in a few weeks to join a project her sister is involved in.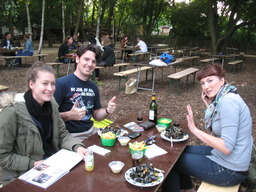 Mussels and Fries: Saarke
David P., and Bo at Summer Bar

I suppose I shouldn't be envious given how far I've managed to get out and see the world over this and previous years, myself. But, of the countries Saarke's traveled to over these months I've been to only India--and my last visit was nearly twenty years ago. I'd love to return there and would love to see the other two, as well. Someday...

Saarke, David P., Bo, and I all managed to catch up together one night at the Antwerp Summer Bar. Not far off the river is a temporary area set up for the season with stools, beach chairs, an outdoor "lending library", the odd sculpture, a couple restaurants, and tables scattered throughout to eat upon.

Nice atmosphere; nice food. For dinner most of us opted for typical Belgian fare: mussels and fries. Though Saarke abstained, enigmatically stating that she "gave up drinking at 16," the rest of us did take advantage of the "bar" portion of the Summer Bar. I now have a favorite new brand of beer, a local Belgian brew called Chimay. The bottle with the blue label is small, but the beer is strong--with a full, hearty taste.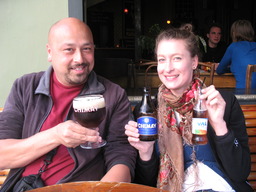 Chimay Blue Label = Yum!

The part of the Summer Bar that most intrigued me was a pétanque court. I'd never heard of the game, before. The rules sounded boring: Toss a cork out somewhere along a long, sandy strectch. Each player then takes turns standing at one end of the court, throwing out their set of large, metal balls, attempting to land them as close to the cork as possible.

Playing was a lot more fun than I'd expected. The balls were different from anything I'd seen used in sport, heavy globes of metal etched with unique designs to mark which ball belonged to which player. Evidently, pétanque originates in the south of France, that very area I'm heading to for a wedding next week. I'm hoping there will be a pétanque pitch to play on as part of that party.

Thanks for hosting, Saarke! Best of luck with fixing up your new home, Bo and David P. Perhaps we can all next meet for that disco-themed housewarming party when it's finally finished!

Next stop: Paris