Scrimp 'n' Splurge II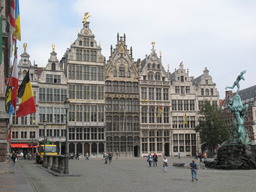 Central Antwerp

BRUSSELS, Belgium
July 21, 2011

Since arriving in western Europe the cost of transport has become a far greater concern. Traveling across points in Asia and Eastern Europe earlier along this journey there would be no difference in fare whether I bought my ticket one month or one hour in advance. All throughout destinations further east fares were low enough not to be a concern, no matter how far the distance. That's changed. Since crossing into Germany, I've paid a lot more mind to booking in advance. I've found the walk-up fare could be 300% the fare that I actually pay with a little planning.

For anybody who wants to travel between Germany and Belgium at minimal cost this summer, I advise you to ignore the advice of both the friendly lady at the Aachen tourist information center and that of the stern ticket agent in the information hall at the Aachen railway station. Both insisted that the best, if not the only transport, between Aachen and Antwerp would be by rail.

Digging around on-line I found that there was a far cheaper alternative that didn't take much longer. Local bus route 14 brought me from Aachen, Germany to Eupen, Belgium for €4. Once in Belgium, I hopped on an SNCB (Belgium state railways) train connecting on to Antwerp. SNCB is running a summer promotion to travel anywhere within the country for €7.50.

The regular rail fare from my last stop, Aachen, to my next destination, Antwerp, would have been €34.10. I paid €11.50 by taking local transport and taking my time.

 € 4.00 Route 14 from Aachen to Eupen
+€ 7.50 IC 537 from Eupen to Brux.-Nord ; IC 2015 from Brux.-Nord to Antwerpen-Centraal
______
 €11.50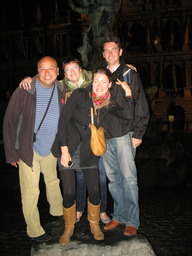 After Meal at Persepolis
Restaurant: David, Bo,
Saarke, and David P.

Most of my time in Belgium has been in Antwerp. I arrived into that city knowing little about it other than that most of the global diamond trade flows through there. I chose Antwerp as a destination chiefly because that was the hometown of two travelers I met when first visiting Iran four years ago.

When we first met long ago, I happened to be staying at the same hotel in Shiraz along with David P. and Saarke. I remember crossing paths with David P. in the lobby and him exuberantly asking me:

"Do you want to join a tour to Persepolis? My friend and I have arranged for a car to take us to all the ancient sites in the area, tomorrow. It will be cheaper if we all share the expense."

That made sense to me. I hadn't realized at the time that I could make it all the way to Persepolis on local transport for a sliver of the cost. The three of us took a day around Persepolis together, another day touring Shiraz, then caught up again in Yazd a couple weeks later.

Though I did maintain some level of contact with both, coming to their hometown was the first time I'd seen either David P. or Saarke in four years. Both are doing well and were so much fun to catch up with. I spent one night staying at each of their Antwerp apartments:

Saarke defines her job as being a "data detective," trolling through corporate ones-and-zeroes to maximize profit. Since we met, she was sent to New Jersey for several weeks on business. Her stint there didn't leave a positive impression of the U.S.. I'm hoping that Saarke might soon change her mind: she'll make her second trip to the U.S. this autumn. She's an avid dancer; she's booked a tour of New York, Washington D.C., and New Orleans, visiting sites significant in the history of the Lindy Hop.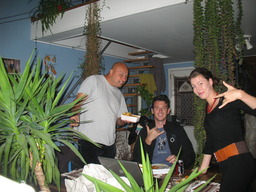 Frites for Dinner
at Saarke's Apartment

David P. has spent his recent years as an IT consultant. He's recently purchased a home with his girlfriend, Bo, which they're in the process of renovating. I was happy to get digital copies of the photos he shot over the time he, Saarke, and I met in Iran. It feels peculiar to see images of yourself captured several years prior that you've never seen before.

We held our initial re-union at a restaurant in Antwerp's old quarter, a Persian restaurant appropriately enough named, "Persepolis".

Knowing nothing in advance, I've found Antwerp to be an unexpectedly lovely city. Its old buildings are built in a style of terraced facades that look as-if they might be steps leading to the apex of the structure. A mammoth cathedral, which everybody I spoke with insisted was the tallest in all Europe, looms above Antwerp. I hadn't realized that I was a sucker for European architecture, but I find myself continually charmed over this leg of my journey.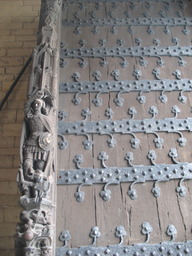 Door to Brussels
City Hall

Supper my second night in Antwerp was Belgium's national pride: french fries. Saarke had already stopped off at a market on her way back from work and bought fresh vegetables and other fixings to prepare a full meal cooked at home. However, when David P. rang her to say that I was interested in having a traditional Belgian meal for my last night in the country, she happily stuffed everything into the fridge to opt for Belgium's national dish of deep-fried meat and potatoes.

David P. and I took a train from Antwerp down to Brussels this morning. Today is a national holiday in Belgium: Independence Day. We decided to take part in the festivities. Though he worked in Brussels for several years, he said that he'd never taken the opportunity to play the tourist. Together we gawked at the detail of the architecture in Brussels' central square, then wandered over to the Parliament House. On that day only, the seat of national government was opened to anybody who cared to wander through and visit. As we walked through the building David P. mentioned, more than once, "This is a room I see all the time on the newscasts... ."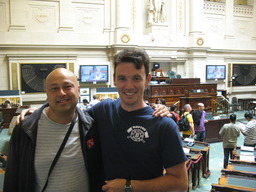 Brussels Parliament

We tried to take in a parade skirting by the Parliament House and around a central park, the Warandepark. But, the weather refused to cooperate. Rain, turning into torrents, kicked in not long after the start of the parade. After getting soaked outside for over an hour, we chose to finish our time together at a cafe near the Brussels-Midi railway station. David P. ordered a glass of beer and another large serving of frites. I drank a special kind of beer unique to Belgium, kriek (cherry)-flavored. When we were finished with our treat, we strolled over to the railway station and caught trains going in opposite directions. He's on his way back to Antwerp; I'm on my way across the Channel.

I'm now at Brussels-Midi waiting for a departure on the Eurostar. Tight-fisted as I've been transiting Europe, I decided to splurge for the final leg of my overland journey. It's a birthday present to myself. I could have spent half the cost of a ticket on the Eurostar and still made it overland all the way from Saigon to the U.K.. by booking a bus-ferry-bus connection. But, I have crossed the Channel by sea, before. I reasoned that if I didn't cross the Channel through the tunnel this time, I probably never would.

Next stop: London