Olivier & Logan's Wedding II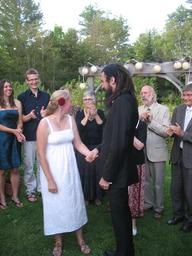 Franconia, USA
August 19, 2012

The second wedding took place here, yesterday. Olivier and Logan are now legally husband and wife.

The same core faces were in-attendence on both sides of the Atlantic. Even so, the ceremony and reception last night were far from a carbon-copy of the wedding in France.

There was no theme, let alone the global naming of dinner tables and Central-Asian menu that set the first wedding. This wedding was catered by a local New Hampshire restaurant with decidely North American flavors, including wild rice and salmon. An advance request for guests to provide as many desserts as possible filled the table. It also brought one commonality to both occasions: the bride and groom again dished up servings to all the guests after dinner. This time, homemade rice pudding, coconut cupcakes, banana cream pie, and ice-cream cake were the conclusion to wedding dinner.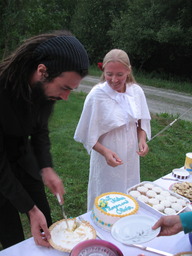 I think I overheard Logan say that it's tradition at French weddings that the marrying couple serve dessert.
My French seems to have atrophied in the two weeks between weddings, which isn't a surprise. I've been speaking nothing but English with all the friends and relatives I've been calling on since arriving back into the U.S.. I initially felt bad for not making much more than small talk with Olivier's family. Then I noticed that even that minimal amount of communication was a deeper level of contact than most of the other local guests were able to sustain. I felt better. I'm hoping my French will all come flowing back when I'm thrust back into the classroom again at the end of the month. I hope.
Logan's father's home, where the wedding was held, is in one of those rural areas of New Hampshire where the next neighbor literally lives miles down a dirt road. Still, accommodation wasn't a problem. Within walking distance was a ski lodge, Hocheberge. Being the off-season it wasn't difficult to book for a weekend to accommodate the dozens of guests coming in from out-of-state, myself included. Everything about this wedding felt comfortably well-planned and organized without feeling mechanically scripted.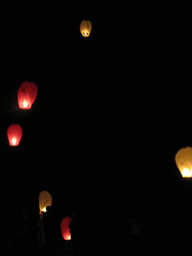 Chinese Lanterns

If there was an informal theme to this wedding it might have been "fire". After dessert a fireworks display lit up the night sky for ten straight minutes. Then, members of the wedding party lit Chinese lanterns to float aloft and burn overhead with the stars. If that wasn't enough, an enormous bonfire was maintained well into the night. That was still burning strong when I was finally exhausted and returned to the ski lodge to sleep sometime around 1:00 A.M..

Thanks for including me in both of your wedding celebrations, Olivier and Logan! If you do wind up settling in Vermont we'll be neighbors. I'm sure I'll see you both again soon, one side of the border or the other.