Olivier & Logan's Wedding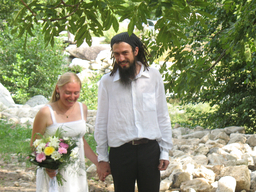 Logan and Olivier Marry
in South of France

BURZET, France
August 5, 2012

It was quite the party yesterday. Olivier and Logan got married.

All three of us initially met over years working, studying, or traveling in China. This spring they finally put an end to their many years living in Asia in a grand way. They made a departure similar to the one I made when I finally quit China, crossing overland west from Xinjiang to travel throughout Central Asia, voyaging through several countries whose names end in "-stan" to come here to get married. I last saw the couple two years ago while they were still living in Kunming.

Olivier originally hails from Ardèche, this region in the south of France. The celebration was held on his family's land. The large stone house in which his parents live was originally a rectory set upon a hill above a church that is still active, today. His family has recently renovated the building to be comfortable to live in as a modern home. But 21st century furnishings and amenities aside, touches such as an engraving above the hearth bearing the date "1304" and the colossal stone walls of the structure itself remind me that, for all its charms, my new hometown of Québec City does not reign supreme in the "cute and quaint" department.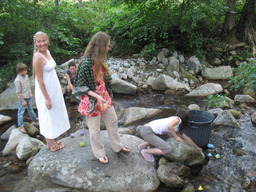 Retrieving Floating Animals
from "Rubber Duck Race"

The chateau was filled with the closest of guests: grandparents, in-laws, and other immediate family members. Even Logan's sister had to camp out on family land over her time attending the celebrations. I was lucky to borrow and then pitch a tent in a nearby clearing myself to have ready access to all events of the wedding.

Logan originally hails from New England. I was surprised that I was one among very few guests from the U.S. to attend the event. Out of 130 on-hand, I think perhaps five Americans came. I was happy to finally be introduced to Logan's father, "Fitz". It was good to see Logan's sister, Becky, once again--our first encounter in over five years. We laughed that it's been only in remote, out-of-the-way places we've ever met. This present time here we've connected in rural France. We last saw each other when the three of us shared a bus to the Chinese/Pakistani border when she was visiting Logan for the summer.

I suppose it's logical that there weren't very many other Americans in attendance. There will be another ceremony--the official, legal marriage--held in the U.S. in two weeks.

The affair was quite simple. Olivier's mother and Logan's father each gave a speech. Both choked back tears. Olivier and Logan exchanged vows. A guitarist strummed and sang as guests nibbled hors d'oeuvre. Then, everybody played games until dinner.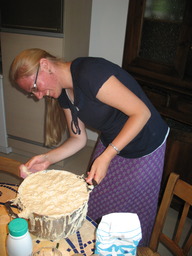 Logan Prepares Dough
for Uzbek Nan

The first game was a challenge I'd never heard of though is evidently a common feature of French weddings: a quiz based on knowlege of the couple. Questions that required familiarity with both the bride and groom (e.g., what is the difference in their ages?, who visited Africa first?) were posed to teams. Each team had to agree on the answer, then place a stone marked with their team number at the base of a tree bearing the letter (A, B, C, or D) corresponding to their guess.

The second game was a rubber duck race. Each guest chose a distinct plastic bath toy. Upon being given the cue to begin, the stream flowing beneath the family land was filled with dozens of colorful toy animals. This was evidently not a traditional part of French weddings but a nod to an annual rubber duck race held in Logan's hometown in New England.

I was surprised by how mischievously competitive many of the adult guests were. Stones bearing team numbers would disappear, only to turn up in the pocket of a competing team member some rounds later. A small woman with grey hair was pumping her fist alongside the stream shouting out, "Allez le grenouille! Allez le grenouille!" as her plastic frog floated downstream. Some guests sought advantage for their bath toy by splashing competing creatures backwards with long sticks. It was all good fun.

Band Perform After
Wedding Dinner

Throughout the wedding I made conversation as I could. Three months of French lessons have allowed me to carry out a bit more than basic communication though I'm not able to understand everything I hear or express all the nuances of what I'd like to say. Several times people here have told me that I don't have a Canadian accent. Whatever they're teaching me in class back in Québec must be a more standard form of the language. That would explain why, unexpectedly, I have found it easier to understand people on the streets of Paris and the guests here in the south of France than when I attempt to run errands around Québec City.

There was a theme to the wedding dinner: the couple's travels. Tables were identified by names of cities both had visited together. (I was seated at the table dubbed Samarkand, Uzbekistan.) Songs were dedicated and toasts made to the couple by family members. During the day two lambs had been barbecued up on a spit to serve as garnish for an enormous Uzbek polo. Logan baked up a batch of Uzbek nan herself, the night before. French wine and champagne flowed. Three desserts (four if you count the cheese platter) including chocolate mousse, ice cream, and a cream-puff tower concluded the evening. What a wedding.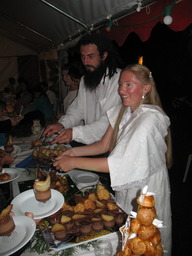 Olivier and Logan
Serve Dessert

Now, everybody is moving on. I'm about to get a lift from Logan's father and his ladyfriend to Lyon in their rental car. They'll catch a train to Paris before returning to the U.S. for the second wedding ceremony. I'll fly directly out of Lyon to end the European legs of my summer travels.

Then, the bride and groom will leave France a few days later not just for their second, official wedding ceremony, but to begin a new life in a different part of the globe. Olivier is retaining the position he held in China working for a French NGO. The nature of his work allows him to be based anywhere on the planet. Logan will look for a new job. After their second ceremony the couple will settle down somewhere in the U.S. to be closer to Logan's family in New England.

Their new location sounds just great to me. If they do wind up in Vermont as they're speculating they'll live just across the border from where I am in Québec.

Thanks for inviting me to your wedding, Olivier and Logan. It's been a unique experience for me. I can honestly say I've never attended a similar wedding and likely never will.

Congratulations and best wishes for your new life together!