Free French V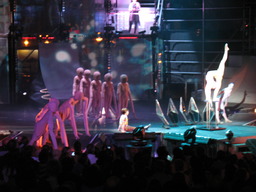 Cirque du Soleil - Québec
City, Summer 2012

QUÉBEC, Canada
September 4, 2012

Spiked, blond hair peaking up in a ridge that rose just short of a mohawk. Cargo jeans and snaggletooth necklace. Buddhist bracelet of round wooden beads wrapped several times around the wrist. Tight shirt on top; skateboarder shoes on bottom. Both ears pierced with matching large, black discs punctuating the lobes.

No, this wasn't one of the costumed characters of Québec City's summer Cirque du Soleil. This was the first appearance of our new teacher, Monsieur C.

Non-conventional image for a university professor he may affect, all of the class respects Monsieur C.'s role as teacher for our second term of Free French. He is very good with the grammar. With neither notes nor hesitation he often charts out tables on the chalkboard that put into perfect clarity the paradigm of whatever verb we're talking about. He's obviously fluent in English and Spanish as well as the French he's teaching us. There are times he draws comparisons across the grammatical structure of all three languages in one breath.

We all loved Madame G. as teacher of our initial term of French but it's clear that Monsieur C. is going to be the instructor who offers us a solid linguistic foundation in the language. Aside from referencing parallel syntax in English and Spanish he occasionally transliterates French words into the specialized script of IPA (the International Phonetic Alphabet) to tease apart sounds unfamiliar to our foreign tongues. (E.g., "je paye" = [ʒə pƐj].) To top it all off, he's natural at the subtler aspects of classroom management necessary for teachers from kindergarten- to university-level to engage and retain student attention. Tricks such as performing an overly exaggerated action to impart meaning, making the class laugh with a silly language example, and making a sudden and funny unexpected sound all help make the morning conjugations flow by.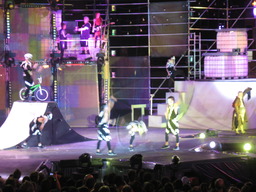 Cirque du Soleil - Québec
City, Summer 2012

Overgrown punk-rock persona or no, having Monsieur C. as our professor this term is going to be good for everybody's French.

Eighty percent of the classmates from level one are back again for term two of Free French. Only three students have left. The two Arabs and one of the Colombians from last term have been replaced by two additional Colombians and two new Ukranians. Perpetuating the camaraderie, Madame É. is back for a second term as our afternoon activities facilitator. She's sporting something of an edgier look, herself. In addition to growing out her hair and going brunette she showed off a facial piercing poking through a spot above her cheek that she acquired at some point over the summer. I unintentionally winced when she pointed that out; she laughed long and hard at my reaction.

After an entire summer out on the road coming back to my little mother-in-law apartment, humble as it is, felt like coming home. I'm on auto-pilot when walking the Université Laval campus and the streets of Québec City. My existence here feels right.

I'm looking forward to this second term of study.