Christmas Traditions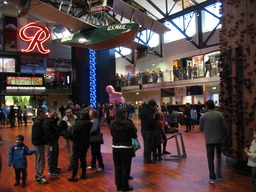 Opening Day: MOHAI

Seattle, USA
December 30, 2012

Christmas was held at Jen's family home this year. Whenever they host any holiday gathering her family always cooks up a huge traditional feast. Central dishes of this year's Christmas dinner: roast beef and Yorkshire pudding. Jen based the latter on our grandmother's recipe; tasting that brought me right back to our childhood.

Our extended family has certain quirks that have become enshrined into tradition in how we celebrate Christmas every year. The most obvious: we gather on the second day of Christmas, December 26. We've been scheduling our celebration on "Boxing Day" back since members of my generation began forming families of their own a couple decades ago. Doing it this way avoids problems with conflicting schedules. Everybody has Christmas Day free to spend with their own children, partners, or in-laws who might have holiday traditions of their own.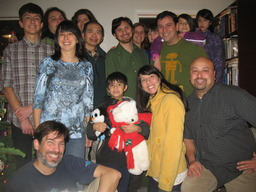 Wong Christmas: Seattle 2012

As well as the scheduling change we've adopted other Christmas traditions to better suit life as adults. With such a large family, gift-giving was complicated even before my siblings started having partners and children of their own. So, another family custom has become established to control the consumption. Each person secretly draws the name of two other family members some weeks before the holiday: one person for whom to prepare a Christmas stocking, the other to give a wrapped present to. It's a good system. It ensures that everybody receives something but nobody feels obliged to buy some token item for each and every other family member. There are no limitations on gift-giving: the nieces and nephews always wind up with lots of additional presents to unwrap, no matter who draws whose names.

All the family members I've seen on this visit seem to be doing as they were when I was last in Seattle roughly a year ago. Those who had jobs are still working at those same jobs. Those who weren't working the last time I was in town are still out of work. Everybody's settled. I don't think anybody has moved house in the time I've been away. It seems to me as if everybody even looks the same--though maybe my perceptions are skewed: I did see the whole extended family in Las Vegas just a couple months ago. But even aside from family it seems like the majority of my friends here are also comfortably carrying on whatever same routine I last saw them in.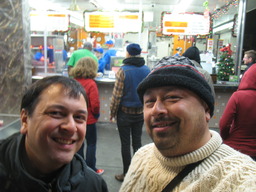 Greg and David Get
Fries at Dick's Drive-In

A few people have been through noticeable change since I was last in Seattle, though. Dad is getting out less often, is less talkative, and seems to have less energy to get together. A couple of friends at whose wedding I was the best man a few years back are now divorced. Of course, everything feels wholly new with my nephews and nieces. Over Christmas, I repeatedly addressed Mai Linh by her sister's name, "Myhanh". Even though Greg's daughters bear little resemblance to each other, seeing a niece stand so tall my mind kept insisting it had to be her older sister. Nick is now nearly as tall as his father and has just aced his first term taking a full load of courses at a local community college.

I'm happy enough to be anywhere that is temporarily removed from the wind, snow, and temperatures I left behind in Quebec. (The predicted snowstorm struck and dumped record snowfall shutting down airports in Montreal and Quebec the very day I left.) Even better than being away from a city paralyzed by weather is being able to get together my siblings and each their families on more of an individual level after our belated Christmas celebration. Ben and Anna have been indulging me by meeting to eat over food they know I crave and can't get back in Quebec City. We've already met up over Ethiopian and Cantonese over the short days I've been back in Seattle. Montreal may have a Chinatown, but there's so much better food on offer everywhere here.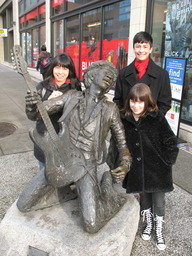 Jen, Nick,
Robin, & Jimi

On another day I ran errands around town with Jen and her children. In the middle of our day out she introduced me to a restaurant she knew I'd like: "Banzai Burger", a Japanese fast-food joint offering black-sesame milkshakes and french fries dusted with seaweed. It's practically tradition that when I'm in town one of Greg's neighbors will be away leaving me a home to housesit. This year I've had the run of two places next-door to each other all to myself with just one cat to mind. I had Alan and Devon come over to one house a few days ago to indulge in a leisurely brunch of pancakes, eggs, and sausage.

Seeing family around town hasn't been entirely about eating food I miss or about observing our Christmas traditions. Yesterday, most family members went to the grand opening of Seattle's Museum of History and Industry at their newly opened location. Dad encouraged me to peer through the full-sized periscope which we both remembered me looking through as a young child on a long-past visit to their old site across town. I would have liked to, but so many visitors came for the first day that lines for the periscope were longer than I cared to wait through. I was pleasantly surprised by how familiar it felt to see other artifacts of a Seattle long past: an old Metro fare box, paraphernelia from the dot-com boom, an NBA trophy I remembered seeing often on TV the season the Sonics took the championship.

I have a little more than a week left in town before I fly back to continue my studies in Quebec. That time already feels too short to see everybody I really want to see around Seattle. It's even shorter than that, really: before coming out here I booked myself bus tickets to Portland to visit for four days over my last days back in the USA. I want to see friends who live down there, too--but am debating whether I shouldn't just stay on here in Seattle where all the people I'm closest to still live.

Next stop: Undecided