Tempest II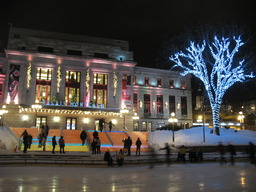 Ice Rink: Place d'Youville

QUÉBEC, Canada
December 20, 2012

I'm beat. Same as any Tuesday, Thursday, or Sunday afternoon, I went to PEPS for my routine of swimming laps. Then, after dinner tonight, I went back out again for more activity. I realized that if I didn't use that pair of skates that Matthew and Bonnie gave me I wouldn't have another chance to do so until the new year. Rather than return to the campus gym for more exercise I finished my evening skating around the small ice rink at Place d'Youville.

Place d'Youville is an area along the edge of the city walls that is charming at any time of year. I was glad I chose to spend my last evening in town skating in the old city. The atmosphere was especially pleasant. All the surrounding buildings were decked out in wreaths and Christmas lights. Christmas carols were piped out from speakers set above the rink. The tunes were identical to those I've heard at the end of so, so many years since childhood: Sleigh Ride, Jingle Bells, and Rudolph the Red-Nosed Reindeer--though all lyrics were sung in French. No matter the language, hearing music I was familiar with and seeing colored lights and holly transported me back to Christmases past. I realized I've missed the aura of the holiday for several years. This will be the first Christmas I'll be back in the U.S., let-alone together with family, since 2009.

Ice Rink: Place d'Youville

In what I take as an early Christmas surprise, I won't have to wake up early for class tomorrow. Madame M. casually mentioned more than once this morning that today's class was to be the last of the year. I hadn't realized that. Evidently, there had been some formal announcement of this fact on that one day of class I skipped earlier this month. We won't meet in the classroom, tomorrow. Our sole campus activity will be a mid-day Christmas dinner featuring a full traditional Québecois menu. That is scheduled to wrap up an and hour and a half before my flight out to Vancouver. Perfect timing.

This all presumes that a snowstorm doesn't cancel either our feast on campus or my flights out of Québec City. Though it felt mild and fine out on the ice this evening the weather report forecasts heavy snowfall and high winds blowing through the province of Québec. That's supposed to start in just a few hours. I'm hoping those won't arrive until after I've met my connecting flight in Montréal and am en route to Vancouver. I don't know what I'll do if my flights out west are cancelled and I'm stuck here longer.

Next stop (barring a flight change): Vancouver