UUU Reunion VII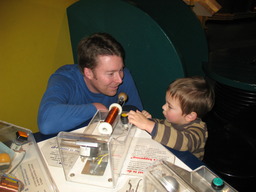 Matthew and Tai T.Complete
Circuits at Science Museum

VIA 54, Canada
December 16, 2012

How could I possibly already know the rules of play? I didn't recognize the packaging when Matthew and Bonnie opened the box up and set the game pieces out on a coffee table. I didn't recognize the name of the game, Perudo, when Matthew explained the rules. But I was certain I must have played this game somewhere before. How... ? I finally remembered just where! This was the exact same game I had played at a Beijing bar some six years ago. Somebody must have just added an instruction sheet and a colorful design to market an old game that requires nothing more than a few cups and a few dice. Plain or fancy, it was a fun game either way.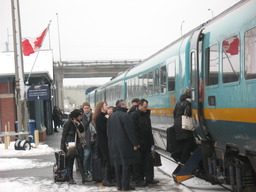 Boarding Via 25, Sainte-Foy

Strange how further on down the road I manage to continually keep re-connecting with so many people (and so many games) I was first introduced to while living in China. Matthew and Bonnie have hopped from Urumqi to Hong Kong to South Africa to British Columbia to their present home in the U.K.. They've come here to Canada for a family Christmas visit. Bonnie was born and grew up in this area; her parents are still in the same house where the entire family lived back when she was in high school. I'd never been to Canada's capital so their visit made the perfect excuse for me to visit somewhere new.

I decided to take the train from Québec City to Ottawa and back again. The service turned out to be nicer than I had expected when Naomi and I made the run from Montréal to Québec City two weeks ago. But, riding the rails this time hasn't been quite as posh as I'd anticipated. The connecting leg from Montréal to Ottawa felt more like taking a commuter line than a journey in a proper long-distance train. The complimentary beverage service and boxed meals that came with my ticket two weeks ago have been nowhere to be seen. (I do still have one more leg to complete after meeting a connection in Montréal.)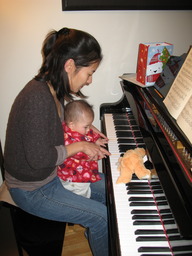 Bonnie Introduces Aila
to her Childhood Piano

Disappointing train journey that it was it's still been great to catch up with Matthew and Bonnie. It was only last year when I last saw them in-person but they've had a tremendous amount of news in their lives over the time in-between. Some of it is sad: a grandparent died just a couple weeks before I arrived. Some of it is happy: the couple have become parents twice-over. Their daughter, Aila, was born just six months ago.

I had to smile when Matthew related how all their family friends who I'd taught how to play Fill-or-Bust summer last year in England had visited them again this summer. The kids were still wild about the game. I think that must be another old game that somebody put clever packaging around to market. I recall playing it a year ago with somebody who knew the exact same rules of play but called the game "Hot Dice" using just a few ordinary dice to play.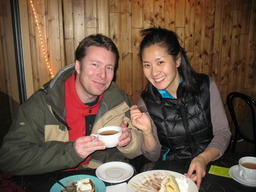 Hot Apple Cider Before
Playing Dice Game

In addition to hosting me Bonnie and Matthew have also run me around town introducing me to Ottawa. Matthew, Tai T., and I took yesterday morning at the Science and Technology Museum. Yesterday evening we buzzed by obvious attractions for a first-time visitor such as the Parliament Building and scenic areas across the river back in the province of Québec. That was followed up with more game playing at a coffeehouse in Ottawa's market area, "Oh So Good", that Bonnie had fond memories of frequenting while in her student days.

During our afternoon yesterday we took a family hour out on the ice. Going skating a couple weeks ago at the rink in Montréal's Old Port really got the idea into my head that I should learn to skate now that I'm living in Canada. Bonnie offered basic advice when I asked what to do: "Bend your knees." At first, following her instructions made me feel like I would fall flat on on my face. After a few laps around the rink I felt like I had more mobility that way.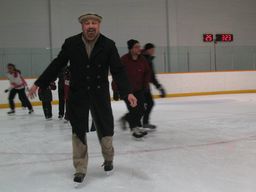 David on Ice Skates

Completing my visit to Ottawa just a few hours ago was lunch with another western couple who Bonnie, Matthew, and I spent lots of time together with while we lived back in Urumqi: Chris and Mary. They were the couple Nisagul and I turned to and wound up living with when our landlady went berserk and couldn't decide whether to raise our rent, lower our rent, kick us out, or move in together with us. When we left that apartment Chris and Mary took us in and we wound up sharing their flat for a number of months.

Chris and Mary are now living here in the Ottawa area. In addition to now having two boys they have also landed two good positions working for the federal government. Chris will actually be returning to Urumqi in a couple months--but this time on business. Their life seems to have turned out really well. It's a shame that it was over five years since we'd last seen each other.

Back Row: Tai T., Matthew,
Mary, Brom, Chris, David
Front Row: Scout, Two
Family Friends, Bonnie

Perfecting the confluence of friends from a particular space and time, just before we all met for lunch I happened to catch Nisagul on Skype. She announced her huge, happy news: as of last night she is officially engaged. Damn. Congratulations all around!

Is there something in the air? Just a week ago I learned the news that Logan is expecting. Am I the only person left among a large circle of Urumqi friends who is neither a parent nor on-their-way to becoming one?

Before dropping me off at Ottawa's main railway station Matthew and Bonnie gave me a parting gift: a pair of ice skates, blades freshly sharpened. "These were just sitting in the basement of the family home here and won't see much use with us living in the U.K.," they told me. "You seemed like you could get a lot more out of them than we could." What a perfect ending to a perfect time catching up. I had literally put "ice skates" down on my Christmas wishlist.

Thanks for the hospitality. Despite such vast distances separating where we all live we'll meet up again somewhere soon, I am quite sure...