Another Getaway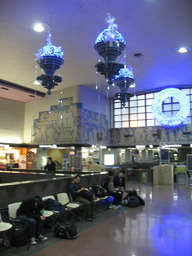 Gare Centrale - Montréal

VIA 22, Canada
December 2, 2012

I rapped on a side window of the airport express bus that had just pulled into downtown Montréal. I could see Naomi sitting inside unaware that she was about to miss her stop. I beat on the glass again, this time more forcefully. Startled, she glanced up then hurriedly collected herself and her bags. The driver opened the front door a second time. Naomi stepped down to where I was waiting on the intersection of Boulevard René-Lévesque and Rue Jeanne Mance. We hugged hello.

"Good timing! I just made it into town and checked in, myself," I said.

"You know something funny that I realized only as I was walking here to meet you?", I continued on. "We seem to be developing this habit of meeting up in international cities that start with the letter 'M'."

Still in a haze of jet lag Naomi did not catch what I was referring to.

"M? What? Where else did we meet... ?",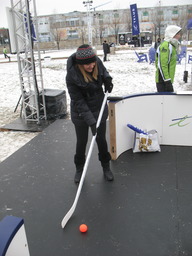 Naomi Wields
Hockey Stick

"You do recall how we met up in Munich last year, don't you?"

"Oh, that's right!"

We walked briskly through the bitter evening cold several blocks south to Rue St. Antoine, dropped her bags off, then began this extended weekend together. First stop: baskets of steamed dumplings at Qing Hua Ravioli Chinois 青花苑灌汤饺子 in Chinatown. (Well, second stop if you count the end-of-month account business Naomi had to square away over hotel wi-fi.) Next stop: a nightcap on nearby Rue Sainte Élisabeth.

Naomi is making a brief getaway from corporate life in metro Washington, D.C. to get together and explore another city just for the fun of it. I'm happily breaking what has become my familiar routine of study back at Université Laval by skipping class and taking the entire permissable amount of time I can away from my language program this term. We're once again maximizing a few days of overlap somewhere outside our day-to-day lives to explore and catch up. The long weekend isn't even half-over and we've already managed to pack in so many activities together around Montréal, alone: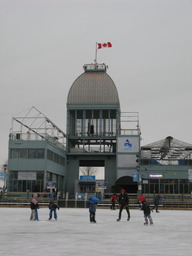 Old Port Ice Rink

Yesterday began by strolling to Montréal's Old Port. The first day of December was also the opening day this season for the ice rink set down there. Neither of us had any connection with the sport. But, I figured skating there might be a good setting to be in to get initial glimpses of the city and a fun activity to do together while keeping ourselves relatively warm.

I think we had to be the only two out on the ice who were absolute beginners. Everybody else seemed to be zipping large circles around us, effortlessly moving at speeds three times faster than either of us could go. Occasionally, other skaters would perform tricks that would have sent me sprawling had I attempted them, such as twirling about from facing forward to facing back without slowing down. My lack of lessons was apparent. Not long after we took to the ice Naomi constructively pointed out something I hadn't even realized I was doing. Instead of gliding from skate to skate I was keeping my balance on one foot and continually pushing off from the other foot. I was happy after we stepped off the ice that we had both managed not to slip and come crashing down. That was really fun. I think I ought to pick up a pair of ice skates and practice to integrate myself into life in this country.

In another stereotypically Canadian activity while at the Old Port we chanced by a charity fundraiser that found each of us wielding hockey sticks for the first time. The presenters seemed baffled that neither of us knew even how to hold the thing. We finally left the port area bound for Montréal's Musée des beaux-arts. Somewhere in-between we detoured into hot chocolate. Before we made it to the museum Naomi found a shop to buy something else traditional to this area: a plush stole that could double as headband. I assume that will become her main souvenir of this visit. We then had just enough time at the museum to take in various collections before closing time. That segued pefectly into dinner.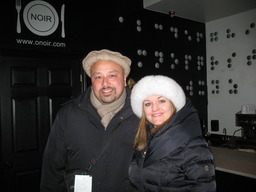 Warm Cap Twins
Inside O Noir Lobby

The museum was just blocks from O Noir, that pitch-black restaurant with blind waitstaff where I first ate when Kim visited this spring. Even though I knew just what to expect--dining without seeing--this return dinner was no less sensorily jarring.

Though this is a departure from my routine back in Québec I'm (perhaps wishfully) telling myself that I'm not slacking off from my workout. Further replicating our Alpine adventure of last year we went swimming before leaving Montréal. Our hotel had a unique feature: though set up on the fourth floor the swimming pool had a glass bottom looking down to ground level outside. We dove down to peer through the glass, wave, and look at people walking around beneath us. Not the same as swimming laps at PEPS but a sort of exercise, nonetheless.

We started today in a more traditional manner: church service at nearby Basilique Notre-Dame. Despite that I haven't regularly attended any service since I was a child and despite that Mass was conducted entirely in French I felt completely aware of everything that was taking place ahead of us. I knew when the collection basket was about to be sent around. I knew when offering the sign of peace by shaking hands with others in nearby pews was about to take place. I'd never heard the Lord's Prayer recited in French but could recognize it as soon as the first few words were spoken.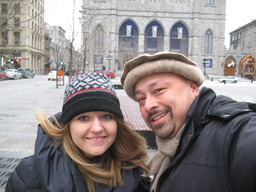 Puffy Dark Coat Twins
Outside Basilique Notre-
Dame de Montréal

I have to confess that I was focusing on the service more as language experience than as religious experience. When the priest crossed himself and said, "Le Seigneur soit avec vous,", my immediate thought was, "Why, he just used the subjunctive!"

We're en route to our second and final destination. We're presently aboard VIA 22 connecting Montréal and Québec City. This is my first time riding the Canadian rails. I'm pleasantly surprised. The service is a lot nicer than that on Amtrak. I hadn't expected the fare I paid for our tickets to include both food and beverage services. We're engaging ourselves in typical train activities. There may be so many other (mostly electronic) potential distractions these days but Naomi and I both associate riding trains with playing cards. So, we picked up a deck beforehand and have been dealing out hands as the scenery rolls by outside our window.

I first learned how to play Crazy Eights as a nine-year-old on a train heading down the U.S. west coast. Decades later, I find that game doesn't hold up so well as an adult--though it might be more fun if there were more players than just the two of us. Naomi played gin rummy with family on train trips as a kid. That game holds up pretty well. It's been a good time maintaining our train traditions.

Okay, they've just announced that the next station will be Sainte-Foy. That's in the suburbs of Québec City. We'd better get ready to get off at the stop beyond that. Busy as our day has already been today is far from over. We have tickets to a concert: an evening with Leonard Cohen. The show will start just a few hours from now. It's always a good experience whenever Naomi and I meet up anywhere.

Next stop (after Sainte-Foy): Québec City