A Guest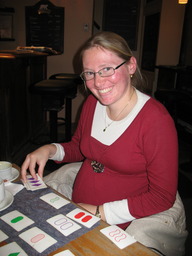 Pregnant Logan
Plays SET

QUÉBEC, Canada
December 12, 2012

For the second weekend in a row I've run around Québec City catching up with a familiar face. Logan just left after visiting for three days.

Though we last saw each other only a few months ago at her and Olivier's weddings in the south of France and in New Hampshire Logan has lots and lots of news. The biggest news is that she is approaching the end of her second trimester: she's about to become a mother.

"We were keeping it a secret. Could you tell at the weddings?," Logan asked me. "I thought it was really obvious. For instance, it was really hard not to drink alcohol, especially at the wedding in France where a glass of wine is such a normal part of the day. But some people never picked up on that until I told them."

"Well, you can count me among the clueless," I replied. "I had no idea. Congratulations!"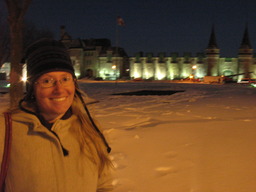 Logan at Place George V

Since I last saw the couple at their second wedding they've begun settling into their new life beyond China. They've landed not far from me. They calculated their options and made a shrewd move: Vermont. It's a location central to Logan's family, most of whom are spread out around New England. She hopes to spend more time together with all of them over the next years. The critical factor in their decision: the State of Vermont offers all its residents health care: a neccessity over any pregnancy.

Olivier is away on-business back in China (among other places) for several weeks so with time on her hands Logan decided to drive up to say "hi". In a stroke of luck the roommate I've shared my apartment with for the better part of a year happened to move out the day before Logan arrived. I was able to offer her a spare room which felt right--Logan has hosted me on more than one occasion in Kunming.

Less on account of her big belly and more on account of the cold we didn't get out and explore as much I have with all the other guests I've taken around Québec City. We did make it into old Québec a couple times though it was too cold to wander the streets for long. Much of our time was spent at home cooking up dinner. We went to the odd cafe for a change of scene and to play SET, Fill-or-Bust, or Logan's childhood favorite card game, Spit. I found that a nearby coffeehouse I'd walked past dozens of times yet never set foot in had a similar theme to the place I went with Logan and Olivier when visiting them in Kunming. Ciné-cure on Myrand had a basic cafe menu and inviting atmosphere--enough to bring me in. But, it was the shelves of board games available to play that will certainly bring me back.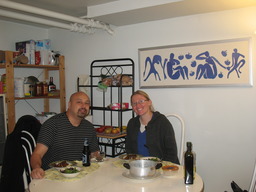 David and Logan Cook Dinner

So glad you could come, visit, and share your good news, Logan! You, Olivier, and your as-of-yet unamed daughter will have to come up and see me here again when the weather is warm. Though, I do again advise you (in all-facetiousness) to come back here before the baby is born. If you deliver your baby here she'll have birthright to three citizenships, right?

Odd as it might seem to connect with somebody I first met on the other side of the planet here in Canada I'll be taking the train again in a couple days to see more friends I originally know from Urumqi.

Next stop: Ottawa.