Family Fun

Bonnie and Tai Stroll
Beneath Round Table

WINCHESTER, United Kingdom
August 3, 2011

The man on the side of the road was speaking English but it still took me a while to understand his directions:

"Take a left at the roundabout. Ride past the civic tip--you'll smell it before you see it--then another left at the hare and hounds."

My difficulty was partially on account of his accent. What I found even more befuddling was the vocabulary he used. A "roundabout" would be a "traffic circle" in American English. (Whatever the name, those aren't very common at any intersections where I grew up.) The "civic tip" turned out to be the local dump. The "Hare and Hounds" was the name of a pub, out front of which hung a signboard depicting a cartoon rabbit reclining against a tree, chomping on a carrot while dim-witted dogs sniffed around off in the distance.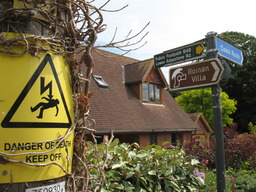 Isle of Wight Signage

All of these landmarks were given when I stopped along the road to ask for directions. I was at the beginning of a day-trip cycling around the Isle of Wight. I had asked how to get to Brading: the town where my great-grandmother grew up.

When I realized that I'd be visiting a part of the U.K. near the Isle of Wight I figured it would be worth the cost of a ferry ticket to explore an area where I had an ancestral connection. But, the journey was less out of any serious genealogical quest and more from a desire to pedal around a pretty area in the sunshine.

I didn't know many details of family history, beforehand. But, e-mail and phone calls placed to family members in the U.S. a few days before my visit gave me enough of an outline of names and places. My great-grandmother was from Brading. Though born in the U.S., my grandfather spent his boyhood back on the Isle of Wight before returning to Indiana. At some point the family lived in Ryde, a larger city along the coast, north of Brading.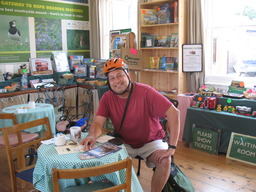 Brading Railway Station Cafe

Aside from my hours pedaling around the island, the longest block of time I spent was at Brading's small railway station. It housed a museum with displays related to train travel. Much of the content was connected to the village of Brading itself. I ordered a cup of coffee and struck up a conversation with the woman who sold tea and snacks. When she heard my reason for coming to Brading, she suggested a book printed a few years prior that compiled interviews with the oldest of the town's residents. I lingered in the cafe area of the old station, browsed the displays, sipped my coffee, and wrote postcards to family.

As I had to return to the ferry slip to catch my return sailing to Southampton I didn't have as much time to explore Ryde. I did manage to take an hour or so around town. As I rode in, I was amused by what I saw. My association with Ryde as the city where my grandfather went to school fixed it in my mind as some place from a bygone era, a place where development would have been arrested at the time he left. Of course, as I rolled in along the road from Brading, I passed modern businesses that would otherwise be unremarkable--an outlet of McDonald's, a car dealership--and felt silly for not assuming that the town would look just like any other in England, today.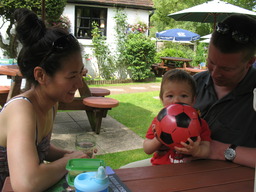 Bonnie, Tai, and Matthew

What (or really, who) brought me down to southern England was wholly unrelated to my trip to the Isle of Wight. Old friends Bonnie and Matthew hop around the planet more than anybody I know. I last saw them at the end of their time living in Canada. They've since relocated to Winchester.

As with all previous times I've stayed with them, Bonnie was busy in the kitchen soon upon my arrival. Dinner the first night was a dish that I'd never heard of but was a staple when she and Matthew lived in South Africa: bobotie. (Its main ingredients are ground beef and egg.) Another night, Bonnie once again made up a huge pot of her yummy chili con carne, just as she did when I visited one time several years ago while the couple was living in Hong Kong.

Since I last saw Bonnie and Matthew there have been major life changes beyond yet another trans-continental move. Most significantly, they've become parents. This was the trip when I first met their son, Tai. He's already a year old. He's begun to babble, not quite yet formulating actual words. He was fascinated by a small gift I brought: a toy soccer ball. Matthew or I would throw it to the floor; Tai would squeal and move his entire head to follow the way it bounced back up again.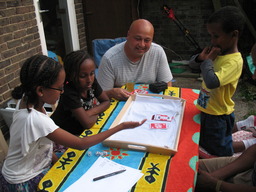 David Teaches "Fill or Bust!"
to Ryta, Selina, and Johanne

Drawing on past work experience the other places he's lived, Matthew came to Winchester to start up a solar energy business, Sun Smart. He and Bonnie have decided that they're committed to staying on in Winchester for at least the next five years, hoping to see the company develop into an established enterprise.

It was wonderful to see old friends doing so well at the fundamental levels: family growing, everbody in good health, stable employment. But, what pleased me the most about my visit was a far more minor point, seeing that they still play a game I introduced to them when we last saw each other two years ago: "Fill or Bust!".

After Tai had been set down to sleep, Bonnie, Matthew, and I played a round the night I arrived into Winchester. The next night, an old classmate of Matthew's, Gherbe, came calling with his family. His three children were eager to learn the game and (despite a setting sun and a ready barbecue) were even more eager to continue on playing until somebody reached 10,000 points. "Wicked!", was exclaimed upon every good throw of the dice. Absolute despondency and sulking was the reaction to every bad throw. Playing with people whose reactions were so extreme made the game a lot more fun for me as well.

Thanks Matthew and Bonnie for hosting me yet again in yet another country and for sharing your food, fun, and friendship. I have no doubt that we'll have more good times somewhere, some year before long.

I'm about to make the last two legs of this long overland journey. I have both tickets booked. First, I leave Winchester on a bus back up to London. Then, late Saturday night, I'll end this trip with a long ride up to Scotland.