2005.11.11 Urumqi, China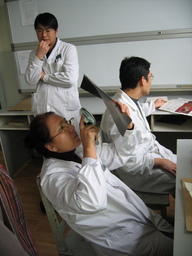 Doctors Examine X-Ray
Negatives of Nisagul's
Fractured Wrist
If your landlady showed up unannounced at your door one afternoon, demanding that you moved out that very night, would you be surprised? Would you do it? This was how my day was spent last Sunday.
There is a prelude to all this: I had been in touch with my landlady by phone several times over September and October. She and her family live in Kashgar; I had hoped to meet with her while visiting that city in early September. However, she was out of town while I happened to be passing through Kashgar. I did manage to take lunch with her husband. I asked him what I thought to be a fairly straightforward question: would they lower the monthly rent?
Since moving in over a year ago I've been paying 1,500 yuan per month--U.S. $185. Nice as the apartment is, a local would pay some amount under 1,000 yuan. I knew it was too much when I moved in, but at that time hadn't planned on staying as long as I have in Urumqi.
I finally spoke with the landlady by phone a few days after leaving Kashgar. We first connected while I was passing through Kaghalik, then again in Lhasa. She seemed reluctant to discuss the matter, but I told her my reasons for wanting to lower the rent. I never mentioned that the rate was too high. Instead, I emphasized that I would soon have to pay for the winter heat, about 2,800 yuan. Additionally, I wasn't going to formally enroll in courses over the autumn semester, so it could make sense for me to go back to the U.S. over the winter, find some temporary work to earn money, then return to Urumqi for the spring term. If I could get a break in the rent, I'd stay on in her flat instead. I'd be willing to stay through June, even advance her more than the current amount due. If she wouldn't grant a more reasonable price, I'd just move out, go to the U.S., then find a new place in the spring.
I knew it was a good deal for her. I would be committing to staying on an additional eight months. Nobody else would pay any amount approaching what I was paying. If I left in November she'd have to cover the winter heat and other expenses during my absence.
The times I called her while on the road she kept putting off a final answer, but finally spoke straight after I returned to Urumqi: "Okay, you can pay 1,200. But make this month, October, the last that you pay 1,500." I consented; it seemed the matter was over.
Near the end of October the landlady mentioned that she'd be up in Urumqi for some time. Apparently, her sister was ill and in need of an operation that would be better performed outside of Kashgar. She started to mention odd things about how she herself would like a place to stay for awhile and perhaps have her daughter along. I told her we could talk after her arrival in Urumqi.
The timeline thereafter:
---
October 29
The landlady came to the apartment. I prepared tea and pastries. We sat and chatted, she asked if I had paid for the winter heat and annual maintenance fee. I told her that I had indeed paid, offering to show her the receipts. She mentioned that she had found somewhere else to stay while in Urumqi, so wouldn't need to impose on apartment space. Everything seemed to be going well.
At the end of the conversation she casually slipped in that she expected to be paid 1,500 every month.
My response was straightforward: She had already agreed to a monthly rent of 1,200. If she were to go back on that, I would leave and spend the winter in America. All of the money for winter heat and the next year's annual maintenance fee should be returned.
Her reply was that she agreed to the monthly 1,200 yuan figure when she was unsure where she and her daughter would stay during her sister's hospital stay. (Never mind that she hadn't mentioned this idea until after agreeing to a lower monthly rent.) I insisted on 1,200--or I would leave. She counter-offered 1,300. I wouldn't budge. I asked her to stick to the price she agreed to before, suggesting it might be better if we spoke again the next day.
---
October 30
The landlady and I met again. Rather than trying to negotiate a price, she this day declared that she had decided to sell the place--prospective buyers would be coming up from Kashgar the very next day. She wanted to move in herself the next night.
Seeing as that story didn't make very much sense, I reckoned that she was bluffing, trying to get me to agree to pay a steeper monthly rent. I was willing to call her on that bluff. I wasn't kidding when I said that I would go back to America to find work over the winter if the rent remained too high. My reply was that I'd give her keys to the place when she refunded me the full amount of the winter heat and maintenance fee.
---
October 31
The landlady came to the apartment and laid out 3,500 RMB--the amount I had paid for winter heat and the next year's maintenance fee, less the cost of a couple weeks' heat. I gave her keys, but asked for the courtesy of staying through November 15, as I had no place to stay and needed to move my belongings--all on a day's notice. She agreed to let Nisagul and I each keep one key, though insisted that Nisagul move out of her bedroom that day.
I started to look into airfares that would get me back to the U.S. in time for Thanksgiving.
---
November 1
The landlady moved several bags of her belongings in. She also installed an expensive mechanical clothesline system for drying laundry. It didn't seem that she was actually going to sell the place. I figured her saying that she would do so was a fib to make her suddenly moving in somehow more acceptable.
---
November 2
Nisagul and I began packing our things. We started moving them out. A couple months prior, a Japanese student at Xinjiang University--Kitami--had moved into an apartment on the same floor as mine. We were acquaintances, but not terribly close. He was kind enough to allow us to use an empty room in his flat as a winter storage area.
---
November 3
I returned to the apartment around midnight. The landlady was very polite and apologetic: her brother had flown up from Kashgar and talked her out of moving in. He declared that the neighborhood wasn't appropriate for a family, and that she could make more money off it as a rental apartment. He owned a place across town so decided that he would evict his present tenants, move her into his property, and if necessary buy the apartment from her and keep Nisagul and me on as tenants.
I was confounded. I truly had expected to leave the apartment. I told her I'd have to sleep on it, being so late in the evening.
---
November 4
I decided I would stay, but wanted to confirm the price. Her response: "Well, I'll go down to the price you wanted: 1,200 yuan. But that rate will be only through March, the period that you're paying extra for the heat. Thereafter, it will be 1,500 yuan every month." I couldn't believe that she was still trying to squeeze a higher price out of me. I told her the price had to be 1,200 yuan every month through June, upon which time I would leave the apartment. I asked that she give me final word the next afternoon.
---
November 5
The landlady agreed to a monthly rate of 1,200 yuan through June. She wrote up a contract in Chinese to that effect. She and I both signed our names to it. She said she would make a copy of it for me, then move her stuff out either that night or the next day. I browsed online for tickets back to the U.S., buying one with a departure just before Christmas. I'd wanted to visit family and friends, but figured it should be a shorter trip--under a month: Urumqi is where I want to be now. I also felt that having to pay so much money for heat and rent I might as well actually occupy the flat.
---
November 6
The landlady came to the apartment. Rather than taking her things, she declared that her mother was sick and dying, so she needed to move her entire family in immediately. We needed to be out that night.
I wasn't in when she delivered the news. She mentioned it casually to Nisagul, stating: "I'm really not sure whether I should say I'm sorry or not. Really, my priority is to my family, of course?"
---
I knew something was wrong as soon as I returned. Nisagul can be snippy when out-of-sorts, and barked at me from the hookah room: "What are you doing!" while I was still taking off my shoes at the door. I just laughed when I heard the news. Could there be anything more ridiculous about the situation? How many times had we gone back and forth, with the landlady giving excuse after excuse for why things needed to be different.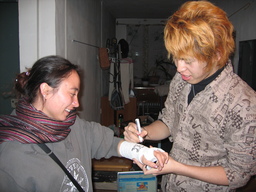 Kitami signs Nisagul's Cast

Nisagul had already moved most of her belongings to her friend Zulphya's apartment. I had already lent my guitar to Shamsiya, boxed up my books and purchased sturdy plastic sacks for the move several days before. We were leaving a furnished apartment, so getting my stuff out basically meant folding a few clothes and sorting out the few kitchen items that were my property.

As far as I was concerned, the landlady and I were square regarding money. The main problem was that after signing the contract I had bought that ticket for my visit back to the U.S. with a December 22 departure date. The itinerary couldn't be changed. I now had nearly seven weeks to kill in China with no home.

Most of my belongings went right across the hall to Kitami's place. Nisagul and I are presently crashing at the apartment of a foreign couple: Chris and Mary, a Canadian couple who study languages and teach English in Urumqi. They've stayed at my flat for a couple days before, so I don't feel completely guilty about my sudden imposition. Still, I'd rather not force my presence on them for more than a brief while, so am figuring my options. Ideally, I'd like to stay on in Urumqi until the end of November, take the train to Beijing and visit with Joyce for a week. From there I'd head south to Nanjing, where Aaron is now studying, then visit with Zach and Lisa in Shanghai before hopping my flight back to the U.S..