Carnival Time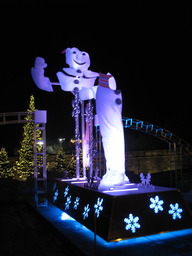 Bonhomme Carnaval
in Pieces

QUÉBEC, Canada
February 3, 2013

Carnival has come to Québec. Everywhere throughout the city are images of a jolly snowman in colorful sash and stocking cap. Bonhomme Carnaval has been the festival's official mascot for over fifty years.

There are parades, ice sculpture, canoe races through ice, a crystal castle, and some sort of super-boozy winter beverage called a "caribou" that seem to define Carnival in Québec. Though they're happening all around me I haven't yet participated in any of these Carnival-specific activities. The party carries on for two weeks. Rather, I've been keeping myself busy about town in familiar ways:

Friday was our last regular day of lessons. (It's all final exams from here on out.) I started Saturday with a return to the outdoor ice rink in the old city. That afternoon turned into late evening cafe-hopping with Annie, our class's recent substitute teacher.

It's so good to finally have somebody local to casually hang out with around town. In the near-year I've lived here I haven't forged strong connections with local Quebeckers. I do adore my fellow foreign classmates. But, it tends to be only over specific gatherings such as on somebody's birthday that we get together outside of class.

Piping-hot mint tea and chocolat chaud indoors seemed a better way to spend our day than whatever Carnival activities were going on out in temperatures far below freezing. Annie clobbered me at Anagrams. I won't even allow that it might have been because we played the game in French--I suspect she speaks English just as well as I do. I suppose I'll be better prepared with new vocabulary learnt from our play whenever we have a re-match. One such word that is likely to come up again as the tiles turn: jalon, meaning a marker of some sort.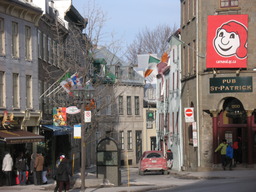 Bonhomme Carnaval on Wall

Over the next days classroom French will wind down. Finals start tomorrow with two hours of written composition. Tuesday will be the oral evaluation, but--as opposed to previous terms--this one will be held as a mock debate rather than as individual interviews. Our last day of the term will be Wednesday with a test of reading comprehension.

What I'll do in the immediate weeks and months after the end of the term has become clearer. The director of the program just sent out an e-mail announcement that the next level beyond francisation, the writing and composition course, won't start until early March. Excellent. That will give me an entire month free after the last of our final exams.

I've already decided how I'm going to spend that free time between terms. I'll hang out here in Québec City for a week or two to soak up the Carnival atmosphere. Then, I'm going to work a big circuit down the east coast to call on friends and relatives. I'll start in New England where a baby shower is planned for Olivier and Logan. I'll continue on south to see friends and relatives in New York and D.C.. Finally, I'll loop back up here to Québec City for more language lessons come March.

I'm becoming really comfortable living in this corner of the world. What's not to like?