Former Classmates II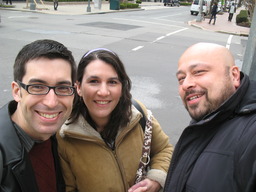 Jason, Allison, and David

Washington, D.C., USA
March 1, 2013

I do have friends and family living here who wouldn't know Urdu from Uyghur from Uzbek. But, not any of the people I've called on these last days. Coincidentally, my final days around D.C. have finished up by seeing only friends who I first met back as classmates in some language course or other years and years ago.
Jason and Allison
Brunch this morning was with Jason and Allison. They're both intensely busy living life on either side of finishing their respective Ph.Ds. (Jason, already done; Allison, soon.) On top of life as usual they're preparing to move back to Beijing this summer so are extraordinarily consumed with everything. I was glad we could meet, eat, and chat together for even a couple hours at a casual restaurant, "Bread and Chocolate" at 23rd and M St.
We talked of the travails of academia: applying for funding, researching, writing, and living abroad. For them, it's a present reality. For me, it's a direction that looks I'll be moving back into myself very soon.
Connection: Allison and I first met each other as students of Uyghur three years ago at Indiana University, Bloomington.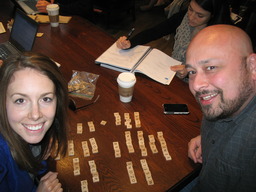 Ashley, Anagrams, David
---
Ashley
Ashley was the surprise connection over this visit. She's lousy with e-mail and I'm not on Facebook so we nearly unknowingly missed each other. I admit it's really my fault being overly old-fashioned in my communications, trying to keep up with people through handwritten letters and in-person calls. If it hadn't been for Allison replying via e-mail (to the postcard I sent her and Jason announcing that I'd be making this visit to D.C.) to let me know that our former classmate was also in town I wouldn't have seen Ashley, at-all. It's been great to hear her news and have some time to re-connect.

Since the time we last saw each other in Indiana Ashley ran off to Urumqi. There, she settled into a routine similar to the one I had: language class in the morning, running around town with Nisagul in the evening, soaking up the weirdness of the city, overall. She broke herself off from that comfortable existence to finish up her Master's back here in the U.S.. She just moved to D.C. a couple weeks ago and has since landed a job at Voice of America beginning Monday.

We've managed to get together twice. Our initial catch-up was over coffee and cake at Kramerbooks off Dupont Circle. I asked that she bring Scrabble tiles to play Anagrams: I remember her boyfriend being exceptionally good with the game that summer we were back in Indiana. Since then, she's evidently played less of that game but kept up religiously with SET.

Another afternoon we went for Ethiopian at 14th and P then loitered about town and her apartment playing more games. While to Ashley herself the biggest news is likely her recent move to D.C. and new job at VOA, what I found most intriguing over our catch-up was the nature of "odd jobs" she's been working for pocket money:

Evidently, a friend of Ashley's who is far too busy with her career has outsourced everything else to do with her life--from daily errands to the search for Mr. Right--onto Ashley. Finding out answers to simple questions, dealing with legal matters, even crafting an on-line dating profile and responding to prospective suitors--all of this is being ghost-written by Ashley.

I'd never heard of such an arrangement, before. I do understand employing a personal assistant--but found it both intriguing and bizarre that anybody would hire a virtual doppelganger to masquerade as themselves in all aspects of life. What if you actually did meet your match? Would you later confess it wasn't really you who wrote your own profile? Is this common practice? Is there a cottage industry for people paid to assume others' identities? It actually strikes me as something that would be really funny to try for awhile: adopting somebody else's persona and carrying out their affairs with their permission.

Connection: Ashley and I first met each other as students of Uyghur three years ago at Indiana University, Bloomington. She was in the same class with Allison.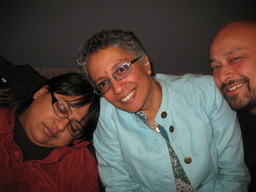 Mala, Vega, and David
---
Vega and Mala
Vega and Mala have been my third and final hosts on this six-day dash around metro D.C.. I finally stayed in the central Rockville aparment they moved to a year ago. Both of them are employed doing noble deeds: Mala in the IT department of a major American union and Vega at a small, start-up non-profit that seeks to extend legal services and solutions to people who might otherwise not be able to have access to decent counsel.

Vega has become a passionate solver of crossword puzzles in recent years. Next week the couple will make another trip up to the American Crossword Puzzle Tournament held up in Brooklyn.

Connection: Mala and I first met each other as students of Hindi/Urdu in the same class when I was a teenager at the University of Washington in Seattle.

Next stop: Burlington, Ontario