NOSCE TE IPSVM II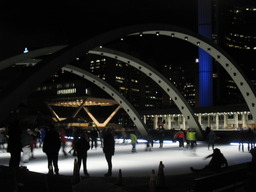 Ice Skaters:
Nathan Phillips Square

TORONTO, Canada
March 2, 2013

The standard narrative I so often hear is how immigrants to Canada preserve their identities better than those who settle in most other countries. This country is not a melting pot of diffusion but rather a rich mosaic of enclaves, at least, so the story goes. Ethnic identity is not just tolerated but celebrated--especially in hyper-cosmoplitan Toronto.

Aside from the elephant-in-the-room of the entire province of Québec and its determined policy of francization belying this myth I've just been given a first-hand account of the other side of the coin: how hard it can still be for somebody who actively wants to participate in society finding it hard to engage at a normal level here.

I just spent the evening getting together with Akbar. The Toronto suburbs where he lives are en route--at least for me--from Washington D.C. back to Québec City. They're along the way only if you string together cheapo overland options on trains, buses, and rideshare lifts the way I travel. I proposed that we get together this time in nearby Burlington rather than in his hometown of Hamilton where we last met. The former city was far more convenient for me to meet in while en route from the U.S. border on back to Québec City.

I had only a few hours to meet my connection so Akbar suggested that we eat at an Ikea near the transit station from where I would later head on to Toronto. Ikea wasn't far from the bus-and-train depot so could make for a convenient location to take supper. Sure, why not? I'd never eaten at their café but knew they sold at least one food item I couldn't resist. I always wound up additionally buying crispy Swedish gingersnaps from their marketplace each time I had come to shop for furniture.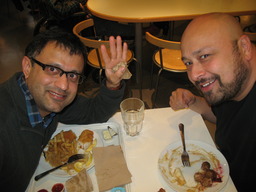 Akbar, David, Supper

We polished off platters of Swedish meatballs and fish-'n'-chips while catching up on what-all had been going on in our lives since we'd last met face-to-face. At one point we talked about changing jobs and looking for work. I mentioned how I'd likely need to seek something part-time after returning to Québec City:

"I've worked in bakeries, banks, schools, hospitals, restaurants, and multi-national corporations. I think I'll land something," I said to Akbar.

"Don't forget 'census taker'," Akbar reminded me.

I laughed, having forgotten how as regular reader of my travelogue he in some ways knew my life story better than I myself did.

Then Akbar told me the story of his recent attempts to land a job. Though he related it good-naturedly it belied the notion of cultural enlightenment that people in urban areas of this country such as here in greater Toronto are supposed to have: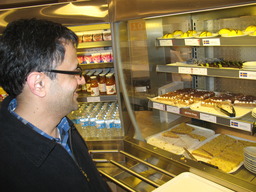 Akbar Eyes Dessert

"My on-line business had been winding down so I was looking to get into something regular and 9 to 5," Akbar related. "I have the qualifications to do accounting but not the work history on-paper as I've been running my own business for so long. So, I sent out my resume to exactly one-hundred local businesses. I didn't receive a single response.

"Then one of my friends gave me some advice. 'You know, your name isn't helping you out any,' he told me.

"I knew my last name wasn't the problem. Nobody can figure out what it is, anyway. Maybe they think it's Italian--it sounds like it could be from anywhere. So, when I sent my resume out to 10 more companies I changed just one thing: I changed my first name to 'Alex'. I got called in for three interviews and have been working at one of those companies for the last months."

I tsked, tutted, and cried prejudice but Akbar, a.k.a. Alex, took it in stride.

"I'd say it's more a matter of having preconceptions than being prejudiced," Akbar said--making some fine distinction and being far more forgiving than I would have were I in his situation.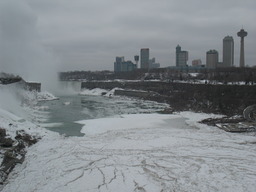 Niagara Falls

I reflected on how people could unconsciously exclude others:

"You know, I suppose the thought process underlying the decision selecting just who it is you're going to call in for an interview is somehow simultaneously subtle, complex, and rationalized," I said. "I guess, in a way, I was recently on the other end of what you experienced, not realizing how much preconceptions of names were playing into my choices.

"Some months ago I signed up for an informal language exchange program at Université Laval. I was looking for somebody to exchange English conversation for French conversation once a week. I ruled most people out right away. I looked at the spreadsheet of names they'd sent out to everybody who signed up. I immediately dismissed anybody under 30--the vast majority--assuming that we'd have less in common to talk about on account of difference in age. Out of the remaining students on the list I selected one with a specific surname: Mercier. That sounded Quebecois to me. Most of the rest were multi-syllabic names I couldn't place. I presumed they were also foreign students like me and might not have the same level of French as a local. Why not choose the best person for conversation exchange?

"The last laugh was on me, though. My language exchange partner turned out to be a law student from Haiti. We actually get along great and still meet for our conversation exchange weekly. So, not that I'm forgiving or excusing it--but I guess I've seen how it is on either side of your situation... "

Akbar smiled gently.