NOSCE TE IPSVM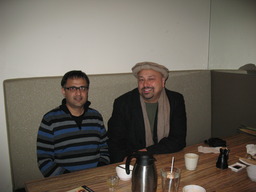 Akbar and David

TORONTO, Canada
November 13, 2012

Shouldn't I be the one who is the ultimate authority on this website? I have written everything (with the rare exception) that appears on davidwong.com. Everything I post pertains to my own life so it feels odd to have met somebody who can bring up details even I didn't recall writing.

Akbar and I had dinner just a few hours ago. He and I met in-person for the first time only some minutes before that. Despite having no other link we've carried on correspondence in an old-fashioned way, as pen pals, for several months.

So, just what is our connection? When I moved to Québec City this spring I sent out an appeal for "real mail" to my new P.O. box. Though it's tapered off recently I have scores of postcards and letters hanging about my room in a house off-campus. Several of the letters were sent by Akbar.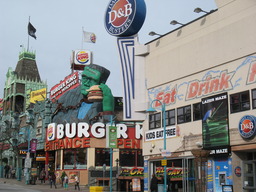 Niagara Falls

I was surprised upon receiving his initial mail. He sent a genuine old-fashioned letter sealed in a white paper envelope. It was brief, mentioning how he'd been an occasional follower of this weblog for years. He'd happened on that entry I'd written pleading for postcards. He finished something along the lines of, "Well, if you're ever anywhere near Hamilton... ".

I replied by souvenir postcard of Québec City. We kept up an informal exchange over the past months. He always by letter and I always by postcard. I confessed that I had never actually heard of Hamilton so had to locate it on a map to learn that it was somewhere between Toronto and Niagara Falls.

At some point before setting off on this trip from Québec City to Niagara Falls I realized that my route would take me through Hamilton. I sent Akbar another postcard just before leaving Québec City. Coffee? A bite somewhere? I'd be curious enough to meet new people anywhere, anyway. But meeting somebody who had followed my site for years warranted making an extra stop-off.

Bus from Niagara
Falls to Hamilton

It was only as I stepped off the final connecting bus from Niagara Falls and into the central Hamilton depot I realized that, despite our regular correspondence, I knew none of the most-basic things about Akbar. I had no idea what he looked like. I had no idea where he was from. It dawned on me only as I was walking from the bus out to the street that I probably shouldn't be looking for the guy in his mid-twenties I'd mentally conjured up when corresponding by pen. He'd probably be somewhere closer to my age or perhaps even older.

It turned out that Akbar was Pakistani, originally from Karachi. He'd evidently stumbled onto this site sometime while he was working in Shanghai. Overlap across so many places we'd both lived put him in a rare group. I don't think I've met many other people who have lived in as many of the same countries I've lived including the U.S., Pakistan, China, and presently, Canada.

From the depot Akbar drove me back to his home in a Hamilton neighborhood referred to as being atop the "mountain". Before then the address I'd used to correspond with him was just a house number and a street name. But seeing those same numerals posted next to the front door of a house on a block with that familiar street name printed on a signpost down on the corner felt like stepping into a book. I wondered if he felt as surreal meeting me in-person as I did meeting him. Probably more so.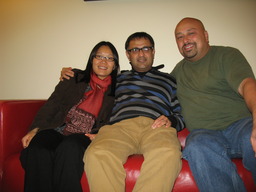 Sarah, Akbar, and David

Inside, he introduced me to his wife. The two first met while living in Shanghai. Though ethnically Chinese and originally from that city she also went by the English name Sarah. My first thought upon meeting her was whether I will ever be able to carry on a conversation as well in the French I'm currently studying as she can now in English. I found them to be a lovely couple. On top of our common ground of places lived and languages spoken the fact that all three of us are immigrants to Canada enhanced what would have likely been an easy time getting along even without those shared experiences.

Akbar was a really interesting guy, himself. Among other points, in his letters he'd mentioned that he was Ismaili. It was only when he said that out loud I realized it was a word I'd never heard spoken. I'd always imagined it pronounced something like "is my eel e" though he pronounced it like "a smiley". Knowing his religion I'd presumed that he'd first chanced on my site when I was writing about encountering Ismailis in the Pamir Mountains. Nope, he'd been a regular reader long before then.

"I'm suprised reading your website by how you keep writing about things I'm connected to," he said somewhere along our conversation. "I first found it when I was living in Shanghai but wanting to move to Central Asia. I searched on the Web for information about Xinjiang. I found your site and started to follow it. Next, you were traveling in Pakistan: the country I'm from. Then you were writing about my people, the Ismailis. Finally, you moved to Canada just the same as me."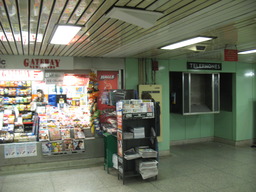 Newstand, Toronto Underpass

At one point he recalled how he was able to share with Sarah (back in their pre-marriage days in Shanghai when they were just dating) one entry in-particular. "Your experiences as a foreigner living in China were similar to mine in many ways. But, you had perspective of Pakistan, too. I remember you writing about crossing out of Pakistan once and heading back into "bean-less" China. I had to show that one to Sarah. 'This guy gets what I'm going through, this is what I've been telling you when I tell you I miss familiar food', I told her."

"That sure does sound like something I'd write about," I said--not sure whether my tone let on that I didn't remember composing that particular entry. I did go back just now to check. Akbar was right. On one journey over the Khunjerab Pass I did write about returning to "lentil-less China".

Akbar, Sarah, and I spent most of our brief time together last night eating at Sushi Star, a restaurant in downtown Hamilton. The sushi tasted just fine but it was obvious the place was run not by Japanese people but Chinese. There was nothing but traditional characters and not one syllable of kana anywhere on the menu. A further indicator of who was running the show was the back page of the menu offering dim sum favorites. The double selection suited me just fine.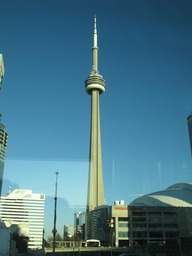 CN Tower

Dinner was all-you-can-eat so I ate all I could while enjoying getting to know Akbar and Sarah over yakitori, cha shiu bao, flying fish roe, and ginger ice cream.

They're interesting people who I'd like to keep up with. Akbar has been doing well as an independent entrepeneur with a retail website he crafted to sell shoes. He sources from India mostly these days. Sarah completed a medical degree back while living in China but getting those credentials accredited here in Canada seems more hassle than it would be worth. She's presently enrolled in a master's program that will see her become nurse practitioner. Moreover, they're both well-traveled and have hopes to explore further.

Thank you, Akbar and Sarah--and not just for the sushi. It really was more than a pleasant evening over a meal and conversation. With as much overlap as our lives have had without trying it seems inevitable that we'll see each other somewhere again now that we've actually met in-person. Before dropping me back at Hamilton's GO bus depot we spoke of places we'd all love to travel. Xinjiang? Morocco? Perhaps some country none of us have ever been to? Wherever it winds up being, I do suspect we'll see each other somewhere again before long...

After being dropped off at the depot I caught the onward bus here to Toronto. I won't stay on long. My next stop will be Montréal in a few short hours. Though, I won't hang about long there, either. I've got to get back to Québec City. My final term of language study at Université Laval starts tomorrow. Happily, I'm recharged and ready to take on my last session. Meeting people I shared a good connection with has been the perfect end to this break between terms.