Easter Dash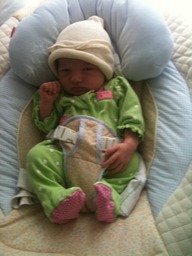 Olivier & Logan's
Daugther, Lily

Brattleboro, VT, USA
March 29, 2013

I didn't think I went super googy-gaga over babies. But Olivier and Logan's daughter is adorable and I couldn't stop gushing over her. I suppose maybe there is some innate reaction of, "Isn't she cute!" whenever seeing anybody who is only 9 days old.

I'm pausing briefly in Brattleboro, Vermont, the town where the family have recently settled. It's a point en route between Québec City and New York City so worked out as an easy stop to see friends.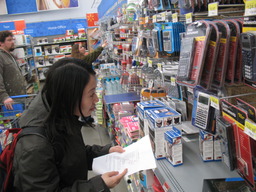 Siliu Shops Wal*Mart

Seeing the newly grown family comes in the midst of a roadtrip to New York city over Easter. It's a four-day weekend back up in Québec. I rented a car with former classmate Siliu and picked up a couple of random, paying passengers from France who connected with our ride through ride-sharing website Amigo Express.

This is everybody else's first visit to the US, so it's been fun to show them what consumerism looks like in this country, today. Before calling on Olivier, Logan, and their tiny newborn daughter, Lily, we dumped the French couple off at the Wal*Mart across the river in tax-free New Hampshire. They went bananas buying everything from baseball mitts to hard drives to Monopoly board games.

I had been worried that our passengers would be irked that they had to spend a couple hours breaking the journey while we called on friends. Rather, they were far from finished shopping when we returned to pick them up. Before moving along south to New York, Siliu and I also took advantage of shopping outside of Canada. She bought herself an iPad mini, a scientific caluclator, and some cosmetics. Me, I picked up eggs, bacon, and milk to turn into brunch for our upcoming stay with friends in Brooklyn.

Welcome, all, to United States of America!