Festival Ticket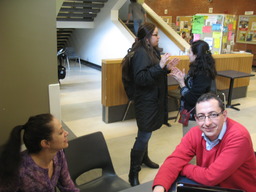 Lunch: Annie & Andres

QUÉBEC, Canada
April 12, 2013

My alarm clock woke me just before 8h00. A D.J. was in mid-sentence:

"...we have two of these passes to give away. These are all-event passses good for admission to the entire festival. Call now at (418) ... "

I dialed the number they were announcing. I won one of the passes.

I kept to daily routine and gathered with friends from my written French course over lunch in the cafeteria. Good people to hang out with and good practice for my spoken language. Added bonus of the day: former sub Annie happened to be standing in for another teacher that morning so joined us at our table.

I mentioned my prize to everybody:

"I was listening to the radio this morning. They were giving some kind of tickets away so I called in. I won! Though, I'm not sure exactly what it is I won."

"If you've hit the Lotto then I'll be your new best friend!", Annie joked.

"Aw. You're already my best friend in Québec," I answered back in exaggerated tone. As soon as I said it I realized that, all silliness aside, it was probably true. Annie and I have been spending a lot of time together around town these past weeks.

"I'm hoping it's a laissez-passer for the Festival d'été!", I speculated. "I went to see some of the concerts at last summer's program and wished I'd bought a pass for the entire event. Can any of you think of any other festival coming to Québec they might be giving away passes for?"

Nobody could think of any other festival coming to town. Did I have a ticket to 11 days of music?

"What are you doing this afternoon?", I asked Annie as everybody began tucking their Tupperware tubs back into their bags. "Want to come with me to Radio Canada headquarters to pick up whatever ticket I've won?"

"Sure. I don't have to be back here at the university to teach my evening class until 18h30. But we can't be out on the streets much in that area. I ditched work from my day job at the National Assembly to sub here this morning. That's right down the block from Radio Canada. Might run into somebody."

We rode route 7 from campus down Rue St. Jean. We got off at the last stop before the city walls.

"It's funny. I've passed this building so many times but never been inside," Annie commented as we stepped in beneath a sign reading "CBC/Radio Canada" and the building number 888.

I hadn't been inside either but guided us around based on notes I'd taken after winning the ticket.

"First floor. First door on left. I guess this is it... "

A sign on the glass door gave away a detail I hadn't divulged:

CBC ENGLISH LANGUAGE SERVICE

"You listen to radio in English!" my former French teacher chided me in what might not have been mock incredulity.

"It was the first time in months," I started explaining myself away. "I tuned the dial to another station last night to listen to a report and forgot to tune it back again. When the alarm went off this morning it just happened to be in English. I really... "

Though my excuses were all true, why did I feel so sheepish about getting caught out listening to my native language?

A woman received us at the door, brought us into the bustling office, noted my name, and handed me an envelope.

"These are really hard to come by. I think they're totally sold out, now. A few of us here at the station were trying to buy some on-line this morning but they're not available anymore."

"Wow, I guess I must be really lucky, then. So, it's a pass good for all the events at the Festival?", I asked, trying to express appreciation for the ticket I'd won while not giving away the fact that I had no idea what the event was.

"Yep. Have fun!"

Annie and I stepped out of the English Language Service office and back into the hallway. I tore the envelope open.

"Well, it's not for the Festival d'été," I said, glad that I hadn't mentioned the subject of music to the woman who had just handed me the festival ticket. "But it's for something I think I'll enjoy just as well. It's a writers' conference. I know who some of these guys are. I'm definitely going to go to hear this guy, Jian Ghomeshi," I pointed to a face and name on the ticket. "He has a program I listen to sometimes called 'Studio Q'." I again felt embarrassed for no good reason admitting to Annie that I did occasionally indulge in English-language broadcasts.

Inside Morrin Centre:
Jian Ghomeshi Reads

We spent the rest of our afternoon sipping coffee and playing Anagrammes at a new cafe on Avenue Cartier: close enough to Radio Canada to be convenient but far enough from the National Assembly to not worry about getting busted for playing hooky.

I went to the first of several events I've added to my calendar, this evening. The writers' festival was held at a site I was previously unfamiliar with, the Morrin Centre. Based on the address I could tell it would be in the heart of the old city. Out front of the building was a plaque describing its status on Canada's historical register. The interior had halls with high ceilings ringed by interior balconies. Though the building and site were far older, the existing society was a remnant of the early 19th century when Quebec City's literati mandated distribution of English-language books. No wonder I'd managed to get through on the phone to win my ticket. What percentage of people in this town would be listening to the radio, in English, and further be inclined to attend an English-language writers' conference?

The talk was dynamic, engaging, and funny so did exactly what a book tour is meant to do: it inspired me to read the book. Well, more precisely, it inspired me to go on-line and place a hold for the next available copy at the Bibliothèque de Québec. While on the library website making the reservation for the book I'd just heard touted I recalled that I needed to make another reservation. With only a few pages left in the third of the series of mystery novels set here in Québec I might as well place a hold for the fourth. I skimmed synposes on the author's website to see which book came next. A title later on in the series caught my eye:
"As Quebec City shivers in the grip of winter, its ancient stone walls cracking in the cold, Chief Inspector Armand Gamache plunges into the most unusual case of his celebrated career. A man has been brutally murdered in one of the city's oldest buildings - a library where the English citizens of Quebec safeguard their history... "
I finally connected it all. I had heard about this place, before. When Kim came to town a year ago she'd asked if there was some historic old library that the anglophones maintained. She was one of several who had cued me into the Inspector Gamache series. She must have been talking about the Morrin Centre.
Now, I have two reasons to be excited. I can't wait until I get through the next titles in the series and into the one set in this building. More immediately, I can't wait for the next author talk this weekend just to go back inside the building and appreciate it with new eyes.