Flash Roadtrip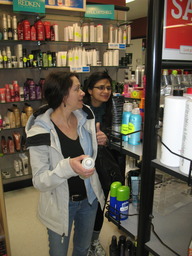 Annie and Milena

Plattsburgh, USA
April 15, 2013

I felt immediate pity when a Colombian classmate asked me an innocent question last week. Milena had caught me in the back of the cafeteria away from the other students in our French immersion courses.

"Do you know this city,"--she couldn't get the name out--"Plzvo? Plaisbeur?"

I reached across the table and took her printed itinerary.

"Umm... Plattsburgh. Yeah, sure. That's just south of Montréal but in New York State." I scrutinized her ticket more closely. "Oh, no. Spirit Airlines. I know what happened... "

Without her telling me anything further I immediately knew what must have happened. Which meant I knew even before poor Milena did why her journey was going to be far longer and far more expensive than she'd expected.
---
The only thing Spirit Airlines has going for them is that their fares are super, super-cheap. I flew them from L.A. down to Costa Rica a little over a year ago. The total cost was $140. Full disclosure: in the end I did make it to my destination just fine without paying anything more. But, that was knowing in advance all the "quirks" of flying with an airline that somehow has managed to shave services off the no-frills experience:
No cabin baggage is allowed: a $50 fee is charged to carry any bag on-board. The pitch between the rows of seats was the most scrunched up I've ever sat in. While "fly-by-night" might offer a different negative connotation, that is literally what the airline did for both of my legs. My first flight out of California left just before midnight, followed on by a 16-hour layover in Fort Lauderdale to meet my next night flight. (Which I took as an opportunity to head down to South Beach and spend the entire day seeing Florida for my first time.) Charges to print boarding passes, charges to select seats: any ticket on Spirit means flying last class.
It wasn't just their cramped planes and abundant "optional fees to empower customers to save money!" that concerned me for Milena's trip. More so, it was Spirit's practice of exaggerating proximity. I'd previously noticed that their website lists Montreal as a departure city. In reality, they fly nowhere in Canada. The full text states "Montreal, Canada AREA/Plattsburgh, NY (PBG)". Not a distinction likely to make much of an impact on most Canadian travelers. But, the impact was huge on my classmate who had nearly no English ability, who had neither car nor driver's license, and who suddenly required a visa to cross a border and make her first trip into another country just to meet her flight.
I first confirmed with Milena whether she could get her papers in order. She said that she'd already obtained a U.S. visa thinking she might use it sometime long in the future. Good. That settled, I outlined the cheapest way she could get from Québec City to Plattsburgh:
"From here to Montréal, if you go by rideshare with somebody off of Amigo Express, that'll be $20. From Montréal you can take a Greyhound bus to Plattsburgh for another $20. I have no idea where the airport is relative to the Greyhound depot but I'd guess another $20 to get between the two by taxi. So, $60 to make your flight. That's not too bad, is it?" I thought better of mentioning that, if it was me making the trip, I'd probably find a local city bus in lieu of taxi to save $20 on the final leg to the airport.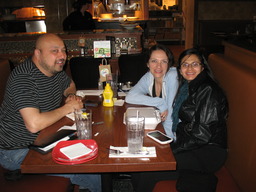 Dinner in Plattsburgh

Milena looked dubious. She asked questions about meeting connections in Montréal in a manner that made me pretty sure that she wouldn't be comfortable with the further stage of crossing the border solo--let alone expressing herself in English to find a cab to the airport once in Plattsburgh. I finally offered up what I thought she might be driving at:

"Your flight leaves at 2:00 in the morning. If you're willing to pay for the cost of renting a car and all the gas there and back, I'd be happy to drive you to Plattsburgh, myself. We can leave right after class Monday afternoon. But doing that would cost you at least twice, maybe three times as much as if you strung rides together the way I just told you."

"Let's rent the car. I'd rather have you along, even if it costs that much more," Milena said.

We booked the rental car.
---
Purely benevolent as I'd like to imagine my motivations were, I confess that I'll jump at any chance for a road trip. And why not share the opportunity? I did need somebody to keep me awake for the return leg back to Québec City after dropping Milena at the airport... The next time Annie and I got together I had a proposal for her:
Me: "Hey! What are you doing Monday night? Wanna have dinner in upstate New York?"
Annie: "Euh?????"
Me: "You remember Milena from back when you were our sub? Deal is that she's going back to Colombia to get married. But, when she bought her ticket she didn't realize that it was leaving from Plattsburgh, just across the border. So, we're going to rent a car to get her there. Flash-dash. Just a few hours across the border; dinner in America."
Annie: "Sure. I'll come along. I don't have to work Mondays."
Our mini-roadtrip was on. And that is how I wound up coming here to spend one evening south of the border with one of my former classmates and one of our substitute teachers.
Québec City to Plattsburgh was a three-and-a-half-hour drive. That alone was enjoyable enough for me. I just like to be behind the wheel and out on the road no matter how brief the occasion. As with other short trips back to the motherland, I've done a little grocery shopping. I picked up lots of dairy products, mostly various kinds of cheese: parmesan, pepperjack, cream. Though, I'm not the only one contributing to commerce. All three of us have taken advantage of the differences in prices to shop for small things. Milena picked up several different bottles of perfume to bring on to Colombia. Annie, despite professing that "she had need for nothing" before we crossed the border was ultimately seduced by the lower prices and ended up spending even more than I did: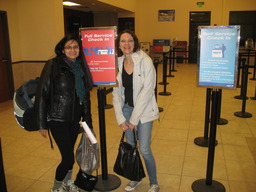 Milena and Annie

"These hair styling products are really cheap... those cost half what they'd cost in Québec. And this curling iron: $10! It would be $30 in Québec. I have to get it."

All of us went a little crazy in the candy aisle. I hadn't realized the others had a sweet tooth, as well.

As roadtrips sans-GPS to a destination entirely new to everybody go, this one has been excellent. We made only one wrong turn the entire trip. At some point after following signs (that turned out to lead to another, defunct airport) we realized that we must be lost. Well after dark and with few businesses nearby, let-alone still open, I made what I thought was a logical choice:

"There's a Subway over there. Their drive-thru window is still open. I'm going to ask them how we get to the airport."

This seemed like a reasonable course of action to me. Annie was beyond incredulous. She couldn't stop laughing. "No! You're really going to ask them? Can you do that! Through the drive-thru!", Annie somehow found this hilarious.

Was I the weird one here? What better place to ask directions than somewhere where you don't even have to step out of your car? Regardless, we made it to the airport over three hours early for Milena's flight.

The flash roadtrip is almost over. Milena is now waiting in the security line at PBG. We've bid her goodbye and good luck. Annie and I are about to head out of the airport and drive back up to Québec City.

Meilleurs vœux de bonheur, Milena! Let me know if you need a lift on your way back up. I'm always down for a roadtrip.

Next stop: Québec City--12 hours from when we left it